Hi my name is Candy and I have been told my peachy wet & wild massage is as sweet and tasty as my name! I I thought I would tell you about my favourite massage to perform, the Peachy Wet & Wild. I have been with Peachy London for 2 years so I am an Elite Peach 😉
I think every masseuse has a favourite massage and mine is the Peachy Wet & Wild one, there is just something so sensual and relaxing about being in water. One of my regular clients also loves this massage, I wonder if he loves it so much as he knows how much It turns me on. I always meet him at a famous hotel in London where the deep marble baths suck you in and they make the experience even better. We always start the experience with dinner this makes everything more intimate it means I can tease him and flirt with him for 2 hours giving him the 'starter' before his main. He always make sure the bath is filled by the time we have finished dinner, I mean why waste time 😉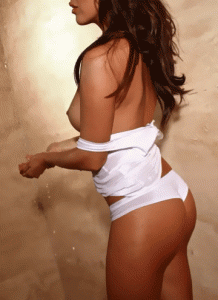 I always take control and lead Mr C to the bathroom, once there I rip open his shirt slowly caressing his body then I move to hand to his belt, undo it and pull his trousers down in a quick sharp movement. Then I make him sit down on the edge of the bath while I unzip my dress very slowly, and lightly drop it to the floor revealing my peachy colour underwear as I am his peachy mistress after all. I start dancing around the bathroom to the music playing, slow sexual moves and slowly taking off my bra showing my 34C breasts,my nipples smiling at him happy to see him and I throw it at him. I can see him looking lustfully at me calling out for me but the teasing is the best bit. I then slowly slide my thong off flinging it towards him with my foot, but I always keep my heels on even in the bath. After letting him see my body, letting him enjoy my curves while I dance to the music for him I go over to him taking his boxers off revealing his big hard cock, I tease him running my finger up his inner thigh, letting my tits brush against his hard cock. I take Mr C's hand and lead him into the bath, I sit on the edge of the bath grab some peachy soaps apply it to my hands, I make Mr C put one of his legs onto my thigh and I slowly but sensually massage his leg. Then rinsing the soap off with hot water I pour some water on myself at the same time so my breasts glisten in the light making sure his attention is always on me. Next I massage his chest and stomach letting my now dripping wet body rub against his brushing my tits against him, giving him a cheeky smile then moving away. I can tell this turns him on he as he lets me know that he his tingling at my every touch which gives me great satisfaction.
I grab the champagne glass on the side of the bath and give it to Mr C to enjoy I then pick up the bottle and start pouring it over myself rubbing my breasts and moaning in the thrill and pleasure of it, I hear him moan as well knowing that he wants to lick it off my body. I pour the leftover champagne that's in his glass on his chest and starting licking and kissing it off him, making sure to lick his nipples and moaning, it is clear that we are both enjoying this. I join Mr C in the bath wrapping my legs around his waist keeping them tight around him, making sure he can feel my pussy and tits against his body, I start massaging his shoulders, kissing his neck and running my fingers through his hair. I whisper in his ear all the pleasures I will bring to him, moving my hand down to his very hard cock and running my fingers up it, teasing its head. I then nuzzle into his neck and in between kissing him I tell him to follow me for the real 'exotic adventure.' I get out the bath first wiggling my arse in Mr C's face as I know all he can concentrate on is my fully naked wet body, he then follows and I towel dry him lightly paying special attention to his cock and balls but I am keeping my own body wet. I lead Mr C to the boudoir giving him a cheeky smile letting him know I am enjoying this as much as he is, when I lie him down I use my torso to slide against his body, my tits resting on his cock then sliding up placing them close to his lips knowing he wants my perky nipples in his mouth and to suck them badly. I move them away and then start kissing his whole body slowly and sensually my hands wildly start exploring every part of his body I can no longer control them. Finally after being turned on so much I grab a glass of champagne pouring it over my tits like a champagne shower, rubbing them and moaning, I grab his big hard cock and start tossing him off gripping it hard and playing with my own nipple then he lets out a massive moan and erupts like a volcano all over my tits.
Candy
Peachy Massage London
Candy has providing Erotic Massages in London for 2 years.