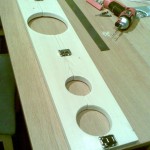 The classic wooden stocks are a popular restraint in BDSM play. Whether it is floor standing stocks of a simple plank of wood to clamp the victims limbs in. Buying a set of bondage stocks can be a costly affair, yet with a little time and some basic carpentry skills, it is not hard to construct your own bondage stocks.
Building your own bondage stocks allows you to customise them as you see fit, tailoring them for you submissives' physic, play preferences or with whatever additions you find useful in your BDSM scenes.
In this guide I will be showing you how to make you own simple bondage stocks to clamp in place your submissives' ankles, wrists and/or neck.
Materials & Tools Required
1 Plank of wood. Length of your choosing, but will need to be at least 145cm wide to cater for neck.
30 cm (approx) of dowel, 6-8mm diameter.
Small toggle catches, preferably four, but two will suffice.
Hole saw drill bits (I used 64mm, 76mm and 127mm diameters).
Drill bit to match dowel diameter.
Sandpaper, selection from coarse to fine.
Drill, saw, screwdriver, rule etc.
Marking Out The Design

The first thing to do, is cut down you plank of wood to the desired length. Longer will allow you to spread your submissives' limbs farther apart. I suggest you lie your submissive down and measure the distance between their limbs, whilst they're in the position you'd like to clamp them in. But do untie them afterwards, this project might take a while. I opted for a length of 90cm.
Next you need to mark on your plank where you want the holes. Start by dividing the plank in half length ways, then space the holes along this line. Ensure you maintain at least 3cm gap between edges and each hole, otherwise strength will be compromised and your submissive may break free. 3cm also left room for the smallest toggle catches I could find too. For the wrist holes, I used a 64mm diameter hole, for the ankles a 76mm hole and 127mm for the neck. I chose these values, simply because they were the sizes of the hole saws I had in my set, but you need not be quite so exact. I placed the ankle holes nearest to the edge, rather than the wrist holes, to spread my submissives' legs more.

Cutting Out
Once you have marked out your design, go back and measure it all again. Remember – 'measure twice, cut once', you don't want to screw it up. A good dominant is not slap-dash when it comes to the well being of their submissive.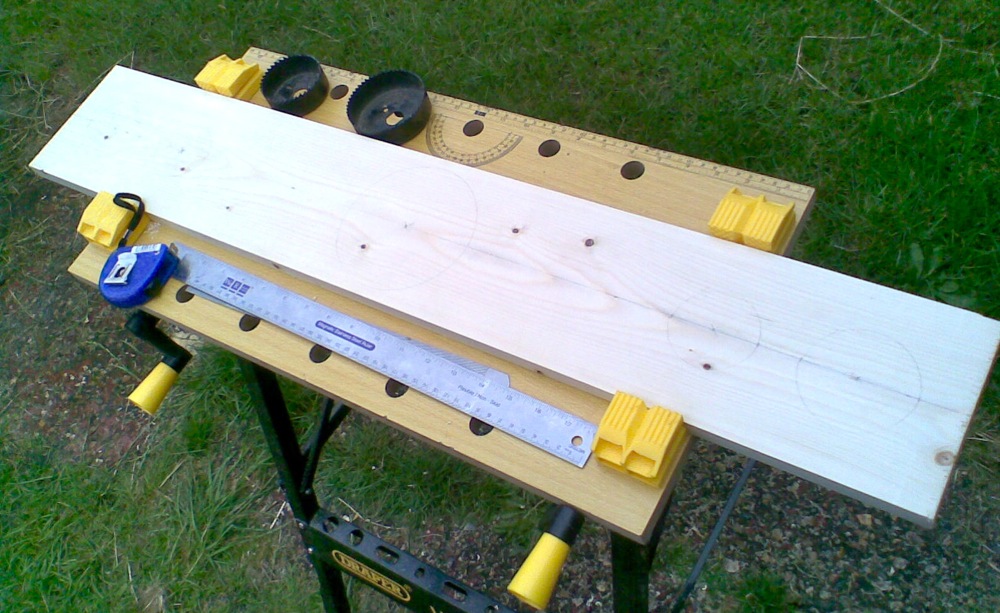 Go easy with the hole saws, they can be tough on the drill as they bite in. Clamp down your plank and brace the drill against yourself, it can easy snap, spinning the plank into you or causing the drill to twist and strain your wrist.
Cutting Plank Into Two Halves
Next we cut the plank into the two halves that will clamp together. Simply cut along the centre line you drew on the plank. I used a plain hand saw, but feel free to use a jigsaw, band saw etc if you have one at hand.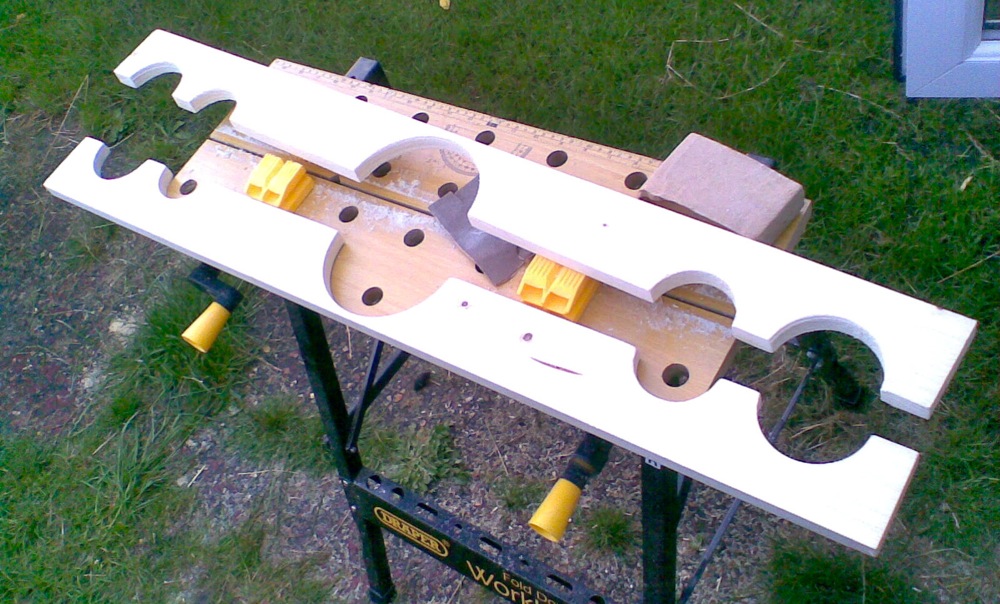 Sanding Down
The next step is to give the two halves a really good sand down. Start with a coarse grade paper, then work up to fine. I found the hole saws cut very rough holes, requiring a lot of sanding to get them nice and smooth. Take your time and be thorough, as much as you want to hurt your submissive, splitters just aren't sexy.
Dowel Pegs

To ensure the two halves come together neatly and securely, I used four dowel pegs. These locate the two halves to stop movement and unwanted pinching of your submissive. For my design, I opted for pegs of 80mm length and 8mm diameter.
Simply mark where you want the pegs and drill the holes in each half to match. I deliberately put two pegs asymmetrically to aid putting the two half together the correct way around.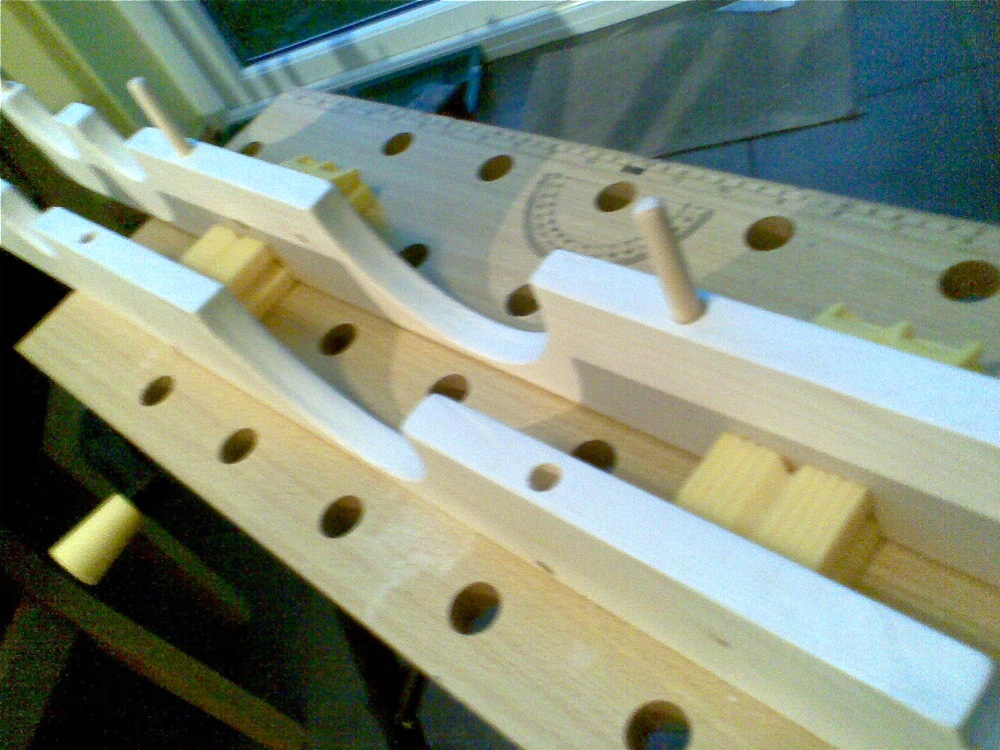 Finally glue the pegs into one half of the stocks. Then smooth sand the protruding half, giving the dowel a nice rounded smooth head. You might also find it helps to make the peg holes in the other half ever so slightly larger than the pegs, to ensure the two halves slide together nice and easy.
Attaching Toggle Catches
Next we attach the toggle catch halves to the two halves of the stocks. I opted for four, to ensure the two halves are secure and don't flex, causing unwanted pinching. However if you opted for a design shorter in length, you might find two toggle catches suffice.
The toggle catches merely screw on. Simply put together your two halves, screw on one half of the catch, then use that to locate the other half. Do mark your screw holes and pre-drill small holes first, you don't want to split the wood.
Finish
Construction is now complete, however you may want to finish the wood to improve aesthetics and protect it. You could varnish it, wax it, stain it, paint it, the options are endless.
That's it! Your bondage stocks are ready to use. Do let us know how you got on with your builds.
Future Improvements & Variations

Ultimately, these bondage stocks are a relatively simply design, there are numerous things you could do to improve them further. Below are just a handful of ideas you could try pursuing:-
Add extra eyelet hooks, for tying the stocks to furnishing and suspending from ceiling (obviously not with your submissive weight supported by these stocks!).
Extra holes, for greater variation of use. e.g. two wrist holes on one side, to clamp around neck and both wrist in front.
Padding. Although the wood is sanded smooth, long sessions may benefit to some soft padding added around the holes.
Simple cuff version, much shorter with just two wrist or ankle holes close together.
Apologies for the naff quality photos, my camera is out of action and I had to use my camera phone. I'll update with better pictures in the near future.