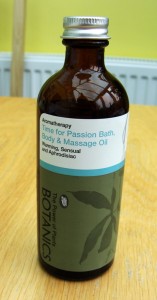 Boots may not readily spring to mind as a purveyor of kinky products. However they do stock many bedroom essentials and some rather nice massage oils.
This product is from the Boots Botanics range, which have their essential oils authenticated by Royal Botanic Gardens, Kew. It contains geranium, black pepper and jasmine mixed in a base oil, which are intended to be relaxing, warming, sensual and act as an aphrodisiac.
In use this massage oil, smells delightfully fragrant, whilst soothing and arousing your sub wonderfully. It lives up to its name, Time For Passion, relieving your daily stresses, as you switch mindset to the kinky activities you have planned. You can be assured its aphrodisiac claims have been tested and do hold true.
Purchase product here at: Boots.com.