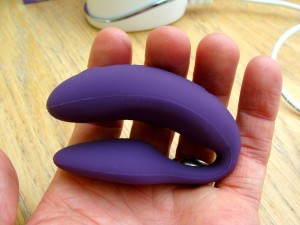 Whilst at Erotica a few weeks ago, Ms Kinnk and myself saw the brand new We-Vibe 4 first hand, fresh from the factory and featuring many updates, tweaks and improvements. Not that previous incarnations were particularly bad, but it's good to see We-Vibe are not resting on their laurels. As owners of the We-Vibe 2, we were intrigued and couldn't resist picking one up to play with and review for you all.
Best laid plans and all that. After only having chance to try the new We-Vibe a couple of times, illness struck the household. Sex with sore throats, snotty noses and ear infections just ain't sexy. 🙁 Nonetheless Ms Kinnk and myself are now back on form and Ms Kinnk promises a full detailed write up in the very near future. In the meantime, let me run you through some of the key new features.
Charging Station: Like the We-Vibe 3, the 4 has it's own special contact-less charging station to seat the vibe and the remote, both of which can discreetly be hidden under a cover. The 2 merely had a charging wire you shoved into it.
Material: The 4 is finished in a silky smooth and soft silicone, unlike the 3 and 2 with their high friction rubber-eske feel. The smooth silicone is definitely to touch and gives less drag in use.
Shape: The 4 has a more compact C shape with a tighter apex, allowing it to hug much closer to the clitoris and G-spot, aided by the flex in the C shape being much stiffer. The internal G-Spot stimulation part is also wider.
On first impressions the We-Vibe 4 appears light years ahead of the We-Vibe 2 and has had a considerably redesigned shape and feel to the We-Vibe 3. Needless to say, we have both enjoyed it so far. Watch this space for the full low down by Ms Kinnk.
Kinky Kompare!
Check out more info on the We Vibe official website.