Things have been a bit slow around here lately. Sometimes real life just gets in the way, from summer holidays, day jobs, study and family – ultimately, all have to come first. With everything going on, it can be tough just finding time for ourselves to relax and enjoy one another's company, let alone try out all manner of kinky apparatus and publish interesting reviews of it here. A sad state, as we do very much enjoy playing with our kinky apparatus. Apologies all for the lack of updates, but panic not, Kinky Testers isn't disappearing any time soon, we will return very soon (at which point Ms Kinnk may well be a Dr. Kinnk).
In the meantime you will now find Ann Summers are in the Kinky Kompare sex toy price comparison search.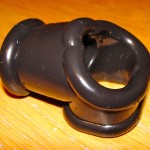 Also, check out ÜberKinky's massive birthday celebrations this month, as we like ÜberKinky, a lot. This week they're giving away a funky Oxballs Cock Sling (our review here) with every order over £75 (offer ends 7th Sept).
Stay horny and keep playing!