"Variety is the spice of life." said Oscar Wilde. Variety is exactly what you get with this little Remote Control Love Egg Vibrator. Featuring ten different vibrating patterns, of varying intensity and rhythm. All of which can be chosen via the separate remote control (quoted range of 40ft). This opens up a wealth of fun and games to really get your submissive going.
Think secret kinky fun in public, surprising from a distance or vibration action whilst trussed up in heavy bondage. Your sub will love the many settings; for warming up, teasing or a high intensity release.
Intensity, how can we not mention this. On a low intensity pattern, it merely teases/frustrates my favourite sub. On high, it is more than ample get your sub climaxing, should they have you permission. To enhance sensation further, a removable silicone sleeve with nobbly bits is provided. This also serves to ensure the Love Egg remains in situ, when your sub gets rather wet and slippy.
My favourite sub occasionally complains of the wire protruding from the base of the Love Egg being uncomfortable. This wire doubles as an aerial and retrieval aid. I can sympathise that this wire could become irritating over time, however a complaining sub most definitely should be punished accordingly.
Batteries. Damned them batteries, they never last long enough. Awkwardly, this Love Egg takes some dinky little LR1 batteries (three in total), and the remote one dinky A23, which looks almost the same, just different voltage. Both aren't commonly available, so when you need more juice to keep your juices flowing, its a special trip to Maplin.
To make matters worse, the batteries in the Love Egg will discharge if left in for some time (presumable to power the radio receiving gubbins). So, you can have the annoying situation of putting the Egg away with plenty of juice left, but then coming back to it a week later to find its flat. Very frustrating.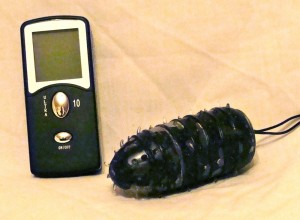 Overall, this is a fun product, which opens up many interesting possibilities. It is only let down by the above mentioned battery issues. However at its price, one can't complain much, many rechargeable vibrators sell for a good deal more.
Buy Remote Control Love Egg Vibrator from Lovehoney.