BDSM is a direction in which a lot of people around the world are interested in. BDSM is considered by few people to be a perversion, but more and more people are trying to delve into this culture and try all its charms on themselves.
BDSM paraphernalia is something without which this direction could not fully exist, therefore in our article, we will tell you exactly about the types of BDSM sex toys.
BDSM sex toys can be divided into four main types:
Electrostimulation sex toys;
Wearable accessories, for example, collars, chastity belts, gags, and masks;
Body fixators – corset belts, special kits for tying arms and legs, handcuffs, body bondage, and much more;
BDSM paraphernalia for games – floggers, whips, and stacks.
Let's take a look at some of the different sex toys in the Bondage and SM categories.
Blindfolds
In BDSM, it is used for sensory deprivation – this is the name of the limitation or loss of any of the feelings. The bandage allows you to temporarily "turn off" your vision to enhance your other sensations during sex.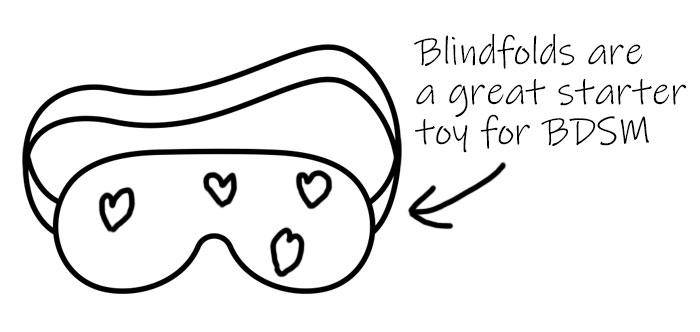 Good idea: Give your blindfolded partner a sensory massage. For example, ice cubes, a brush, or a feather. He will definitely not forget these feelings.
You can get a really good blindfold for under $10; we've reviewed such a product in this Lovehoney Tease Me Satin Blindfold review here.
Electrostimulation sex toys
One of the main features of such toys is that they are connected to a special station in which there is a slight electrical tingling, and other pleasant, gentle impulses.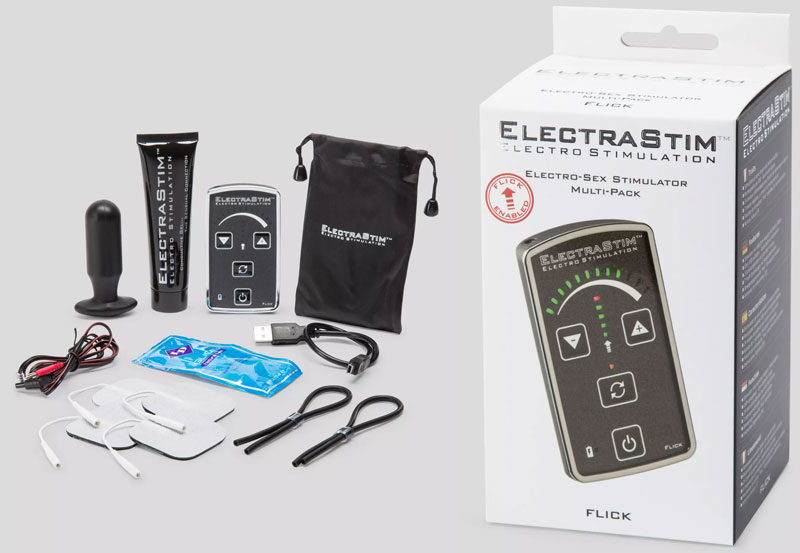 Users have the opportunity to independently choose the activity of the device – gentle, caressing, maximally sensitive, and the combination of pleasure and pain.
Thus, the units can be used not only in the process of standard intercourse but also in moments of BDSM pranks. Small currents can stimulate erogenous zones such as:
nipples;
anus;
clitoris;
penis.
Thanks to even the slightest stimulation, sensitivity is significantly increased, which makes your orgasms as fantastic and bright as possible.
Very few new BDSM players dabble into EStim as their first "tool", but it's well worth a try if you ask me. You can find our guide to EStim sex toys if you wish to give it a try.
Shackles sets
Shackles are a fairly broad concept, but most often they are handcuffs and leggings made in the same style and connected by a chain. Often the shackles are also connected to the collar with a chain.
Sometimes, instead of chains, metal spacers are used, which limit not only the maximum distance between arms and legs but also the minimum.
With the help of such struts on the legs, you can, for example, change your gait – the steps will be small with a short strut.
Wide and "round-shaped" with the use of long struts, although walking in the struts is fraught with injuries in the event of a fall. Such paraphernalia is perfect as a device for dominance.
Bondage kits
A modern set of bondage allows you to fix individual parts of the body with handcuffs, a collar, leg braces, a gag, and other sophisticated devices.
Binding devices can be divided into the following types:
rope bondage;
bondage with leather elements;
latex bondage;
sophisticated bonding with metal elements;
costume bondage.
If you crave total control, you should buy a bondage kit with bed restraints. We did a review of the Fifty Shades of Grey Submit to me set a while ago and it's a great set if you wish to get a good start.
Bondage tape and rope
BDSM bondages are accessories that restrict a partner's freedom of action and are intended for sexual pleasure. This type of BDSM sex toy creates a real culture that includes bondage practice, rope, and long-term fixation.
The main accessories are BDSM ropes and ribbons, which provide unusual and impressive sensations not achievable with regular sex. They increase arousal, sensitivity and, most importantly, make you trust your partner, submit to his authority and enjoy the process comprehensively.
Hanging bondage
The suspension must be approached with extreme caution due to the increased likelihood of injuries that can occur when the body is exposed to loads that occur during suspension – constrictions of blood vessels, dislocations of joints, etc.
In no case should you use ordinary BDSM sex toys made of traditional materials – handcuffs, collars, harnesses, etc.
Either very strong and thick leather or synthetic materials such as parachute lines are used as special materials in suspension devices. Suspension devices use heavy-duty rings and fittings to support the weight of a human body.
Restraints
The BDSM spreader bars are a device that provides quick, effective support for the arms and legs. The chest and genital areas remain accessible.
With this BDSM accessory, you can create a comfortable stretch that will allow you to realize your wildest sexual fantasies.
Pay attention to the set for fixing on the bed. It includes the most necessary things for love pleasures in the BDSM style – soft handcuffs and ankle cuffs. Cuffs with carabiners, the girth is adjustable with Velcro, the tape has a length regulator.
Chastity cages
Chastity cages offer the opportunity to keep your man from getting a full erection. Imagine that your male partner is under your complete control until the moment when you can arouse him, but he cannot get a full erection.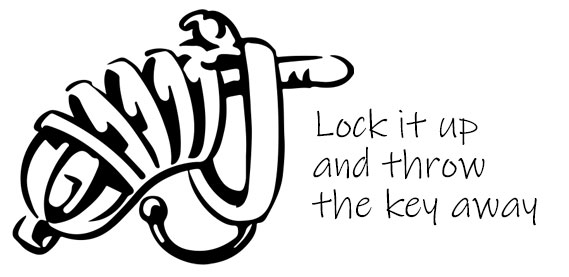 The kit always includes a lock and key to have complete control over the chastity cages. This accessory is made of stainless steel. The peculiarities of this material are that it is hygienic, shock-resistant, and easy to sterilize.
Gags
As in other cases, first of all, you need to understand why you want to buy a gag. See the BDSM Gags page for details on how to safely use and choose a gag.
This toy in BDSM is used for the purpose of humiliation – dripping saliva and slurred speech make the submissive funny and pathetic. Another goal is to limit the ability to speak and to remind that he/she should be silent.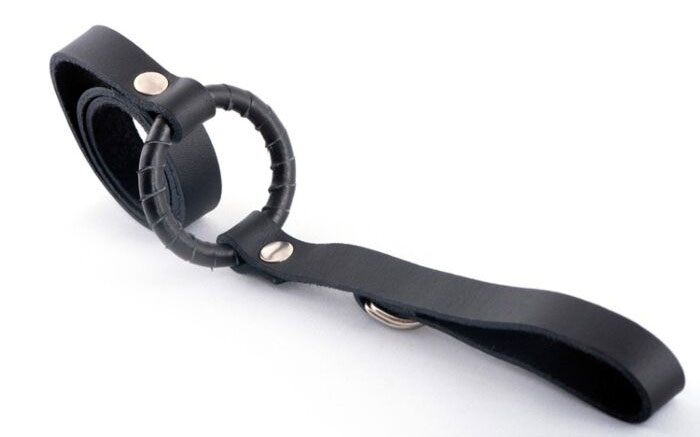 When choosing a gag, do not get carried away with its size. The fact is that too large a gag is uncomfortable and cannot stay in the mouth long enough (and this is what it usually needs).
You can read our Leather ring gag review if you're interested in a different style of gag.
Floggers and mini floggers
The flogger is the most common BDSM percussion device, consisting of a handle and "tails" cut from sheet leather or other material.
Mostly, of course, leather is used and we recommend not to save on this and not to buy low-quality cheap leatherette floggers. The number of lash tails can vary from 6 – 8 to 40 – 60 pieces.
The total length of the device is usually no more than 900 mm. Depending on the performance, thickness, the number of tails, skin structure, the flogger can be used both for light play punishments and influences and for serious painful effects.
Therefore, when choosing a flogger, pay attention to his tails. If spanking women is more of a "fetish" game for you, you'd better limit yourself to light, soft, low-weight leather tails that do not cause pain even under strong impact. If your partner is a real masochist, take a flogger with tougher tails.
Floggers and whips are some of the most popular BDSM toys and there are 100's of different products which can be a little overwhelming so we've created a flogger guide with some of the best floggers and whips.
Scourge
The lash consists of a hard or soft handle and one (rarely several) braided tail with a core. The tail ends in a knot or flapper (ends of leather that are not intertwined).
The length of a single-tailed whip is usually 600 – 1000 mm. In BDSM, silicone cores are used so as not to make the device extremely heavy and traumatic.
The lash you buy should be soft, bending equally in all directions. This allows her to have good longitudinal stability in flight, and, accordingly, the accuracy of hitting the place where you are aiming.
Lash
A multi-tailed lash – a lash with several tails braided into pigtails. By weaving, there are round-braided and flat-braided multi-tails. The same element for these two groups is a rigid leather-braided handle with a length of 200 – 500 mm. The number of tails in a multi-tailed lash range from 3 to 9.
The device is quite versatile. However, despite the fact that flat braids are softer than round braids, uneven effects of braids are possible when they are struck by an edge.
Round braided tails are stiffer and heavier. They can deliver the same blows as the previous class of lashes, but at the same time spending less effort.
When using a multi-tail, a large surface of the body is covered, and the accuracy of blows is reduced. The force of a lash is more significant than a flogger's blow but less significant than a single-tailed lash.
Whip
The whip in between all BDSM sex toys is one of the most spectacular, beautiful, and at the same time dangerous percussion devices. They can really be screwed to death.
Therefore, when working with a whip, special care should be taken and it is advisable to first take a few lessons of skill from more experienced colleagues. The whip measures from 2 to 8 meters. The length of the handle is 20-100 cm. There are also options without a handle.
Depending on the length and force of the blow, the speed of the end of the whip can exceed the speed of sound, and the impact energy released at the point of contact with the skin of the lower one can be such that it easily cuts the skin.
Therefore, before conducting a BDSM session with a whip, you need to practice. And use a device no longer than 2 – 3 meters.
The use of the whip is also limited by the space around you – in an ordinary apartment, you are unlikely to be able to work with it more or less comfortably.
Belt
Nothing unusual can be said about him. This is exactly the same ordinary belt that can be bought in leather goods, and which is inserted into the trousers of any man. It looks quite impressive when a man begins to slowly unbutton his trousers, unfastens his belt … And instead of taking them off, he gets the light spanking for his girlfriend. At the same time, you should know that this is still a rather tough BDSM device for spanking.
When flogging with a strap, make sure that it does not turn with an edge. At the same time, it is difficult to regulate the force of the blow, because the belt is a very short item.
Stack
The stack is a percussion instrument originally designed for horse dressage and horse racing. It consists of an elastic and flexible base (metal bar), braided or sheathed with leather or other materials, and a handle with a loop for putting on the hand. Usually, the end of the stack ends in a narrow leather or rubber strap.
In terms of the impact and force of a direct blow, the stack does not fundamentally differ from a thick rod or a rattan rod. The main purpose of the stack is not punishment per se. It is a symbol of power and an indispensable attribute of dominance and submission games. A kind of "remote control" for a slave.
Rattan
Rattan is a natural material, a liana of one of the types of palm trees, which after special processing becomes a light, flexible porous material, pleasant to the eye and the touch. BDSM uses rattan rods and canes.
These devices are easy to use, easy to learn by beginners in the subject, not dangerous with "overlaps". With rattan, you can either easily pat the bottom, or work hard all over the body, leaving red streaks and bruises.
Rods
Rod is a domestic analog of rattan. Branches of willow or other trees are used, the branches of which have high flexibility and strength at the same time and are dried in a special way.
Then, during punishments, the rods are often moistened so that they become more flexible.
Traditionally, they were used in educational institutions to punish delinquent children and adolescents. This suggests that the rods have a little more pronounced effect and can be used for light flogging. You can use either one twig or a bundle.
Paddle
A paddle is a short handle (no more than 20 cm), which ends with a striking part in the form of a variety of objects. In the classic version, it is just a rectangular or round piece of leather.
The striking part itself is a paddle, it can be performed in the form of a heart, an arm, a leg, a penis.
If the paddle is wooden, then it looks like a wooden spatula for stirring food in a frying pan.
The advantage of this device is that, due to its short length, it allows you to precisely control the force of the blow, it is convenient to manipulate it in a confined space or to deliver partial and light blows.
You can even buy EStim spanking paddles if you want to go crazy and mix the two. You can find more information about such a product in our ElectraStim Leather Spanking ElectraPaddle Review.
Nipple clamps/clips
Nipples are one of the most sensitive erogenous zones, both for women and men. Chances are, you've already tried stimulating them with your tongue or fingers during sex.
The clamp will make it possible to make such exciting stimulation constant (for the time of bed pleasures, of course).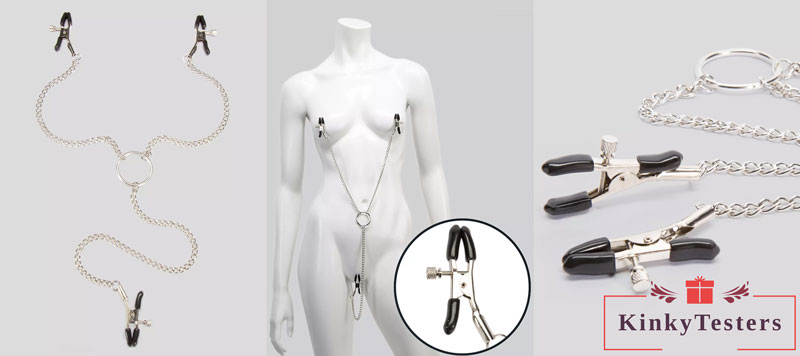 There are many of these toys, including hard metal clothespins or models in which nipple clamps are chained to a clitoris clip. But first, choose the simplest option with soft silicone caps.
You can find a list of the best nipple clamps here or why not do it yourself with our guide to homemade nipple clips.
Wartenberg wheel
This is the name given to a massager the size of a toothbrush. It is equipped with a rotating head with many metal pointed teeth.
It looks intimidating, but in fact, the teeth are not sharp enough to do a real hurt. But the Wartenberg wheel is quite capable of stimulating the nerve endings on the surface of the skin and increasing the flow of blood – for example, to the thighs, buttocks, or chest.
You can even make your own BDSM pinwheel if you have some time on your hands.
So which BDSM sex toy should I choose?
It can be quite overwhelming with such a large selection of BDSM sex toys at first and that's why BDSM starter kits are so popular. They give you a bit of everything so you can get your hands dirty and try a few things without committing yourself 100% to one style of toys.
I would personally recommend the "Bondage Submissive kit" if you want a good quality Bondage/SM set for a cheap price.