Over the last few years, the popularity of sex toys has increased by leaps and bounds. Many pieces of research suggest that the taboos centering on sex toys like vibrators are gradually dissolving.
Enhancing the prospects of physical pleasure is a sure way of improving satisfaction that both partners crave for.
And the results imply an unforeseen pleasure in bed along with a fulfilling relationship.
It's time to shed off the misconception that using sex toys is synonymous with the fact that your partner is just not good enough and invest in some extravagant Estim sex toys.
Estim sex toys work on the mechanism of electrical impulses and even though it may sound painful, the pleasure you will derive will be exactly the opposite. At times, the sensations would be so intense that you will be on the verge of hands-free orgasms and crave for more.
Moreover, with these sex toys, you can easily control the shock intensity as per your preferences.
This means you won't have to experience any kind of pain or discomfort unless you enjoy that.
Let's take a look at the top 5 Estim sex toys that will make you push your limits and lets you have a fantastic time alone or with your partner.
Top 5 Estim Sex Toys
1. ElectraStim EM 60-M Flick Electrosex Stimulator Multipack Set
If you are looking for the best sex toys to start your kinky journey with, this is probably the most suited one for you.
This finely crafted set comprises a 3-inch probe, four adhesive pads, two loops for cock, conductive gel, and most importantly, a brilliant electro stimulator.
This means you will get everything you need to set your sail through the voyage of electrostimulation.
You will get 24 different levels of intensity along with patterned options and, there are adequate choices and exciting settings for you to explore.
If you are not alone and want to have a great intimate session with your partner, all you have to do is to apply each of those adhesive pads on both of your bodies and get swayed by the electrifying experience.
On the flip side, if you prefer private time alone, you may try putting the adjustable penis rings over your manhood as well as balls for a never-felt-before kind of orgasm.
You can also have those silicone probes placed within your vagina or back and feel what it means by a shock-induced ecstasy.
We've written a full article about the EM 60-M ElectraStim pack if you wish to lean more about it.
Pros:
Suitable for beginners with a lot of accessories
Ideal for both solo exploration and enjoying with a partner
Equipped with toys for external and internal zones for extra sensations
Cons:
Cords are way too small
The anal probe would be very small for advanced users

---
2. Impulse E-stim Remote Control Rechargeable Kegel Exerciser
Have you ever thought that pleasure toys can also help you strengthen your pelvic floor muscles? Well, this is what the Impulse Remote Control Kegel Exerciser does.
This is one of those brilliant Estim sex toys that's made of body-safe silicone so that it can be completely inserted down your vaginal canal for a luxuriously soft feeling.
With the Impulse, you can get 7 vibration modes that are ultra-pleasurable for a complete stimulation of your pelvic floor.
Moreover, there are 5 electrical stimulation modules that can drench you in an ocean of pleasure from the lowest zap to an intense shock.
But it's worth mentioning that even the lowest mode can be extremely satisfying for beginners and thus, you should beware.
But what's fabulous about this device is that it's completely remote-controlled and doesn't come with any irritating wire. You may choose to play with it even in public as long as the remote is in your hands.
The exerciser is on the quieter side but it may not be ideal for use in completely silent settings. Last but not the least, the price of this amazing product won't dig a hole in your pocket.
Pros:
Great instrument for improving your pelvic floor muscles
Has a luxurious feel
The stimulation modes are highly powerful
Cons:
Remote doesn't come with much range
Vibrations may be a little stronger for beginners

---
3. ElectraStim AXIS Electrosex Stimulator and ElectraPads Set
Now comes one of the most powerful Estim sex toys with 8 different modes of operation so that you land a pleasure zone you have never been into. According to the users, the Pulse Mode and the Wave Mode are highly rated.
With the Pulse Mode you can experience short but very sharp shocks whereas, in the Wave Mode, the intensity of the shock goes up and comes down gradually.
The Gesture Mode also deserves attention where you can use your hand gestures for changing the intensity of shock and switch from one mode to the other. All you need to do is to wave over the gadget and it will take care of the rest.
Another important feature of this pleasure instrument is that it can be connected to your PC for installing new updates and fixing bugs.
This implies that your sex toy will remain up to date with the latest updates and advancements. If you are fond of electrical impulses and pleasure tools, you can invest in this toy.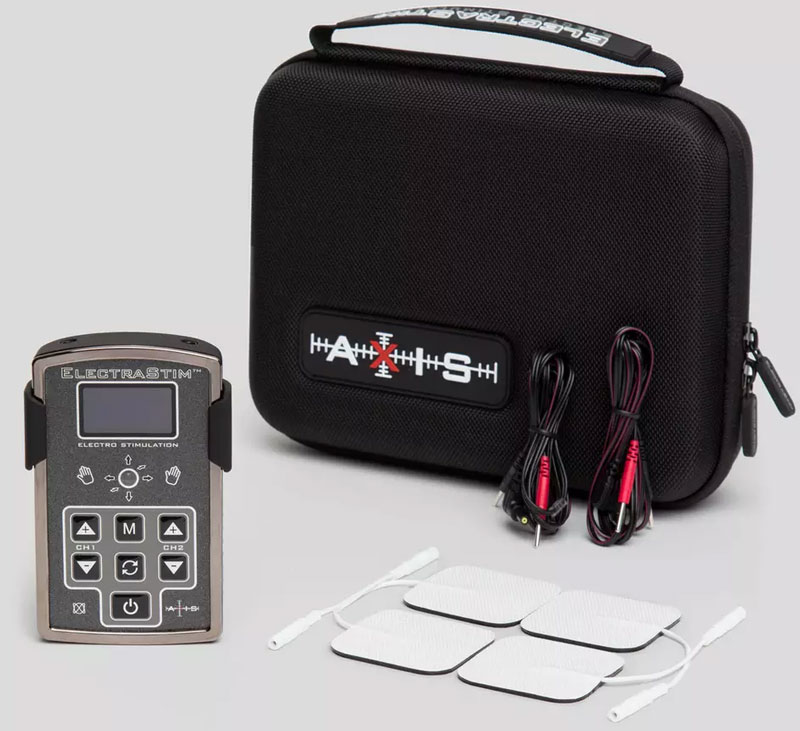 Pros:
Comes with a wide range of shock modes for a great pleasure time
Different shock modes
Can be updated with new firmware updates
Cons:
A bit on the pricier side

---
4. ElectraStim Bi-Polar Electrosex Silicone Noir Rocker Butt Plug
Looking for a sex toy that can give you a spellbinding anal experience? Then gear up for shocking time with this 4-inch butt plug that goes well both for experienced users and beginners.
This sex tool is made of medical-grade silicone which gives a silky-smooth finish not just on your hands but also when you insert it into your anus.
It has a tapered shape with a broad t-shaped base so that you can safely insert it within the anal canal. There are 2 ports that can be plugged on the base side where you can attach the stimulator.
As these cables are placed at a 90-degree angle, you may sit comfortably over the plug without any annoying wires getting in your way.
You can also lower yourself a bit on the tapered plug, and then gradually go back and forth for some hands-free pleasing experience.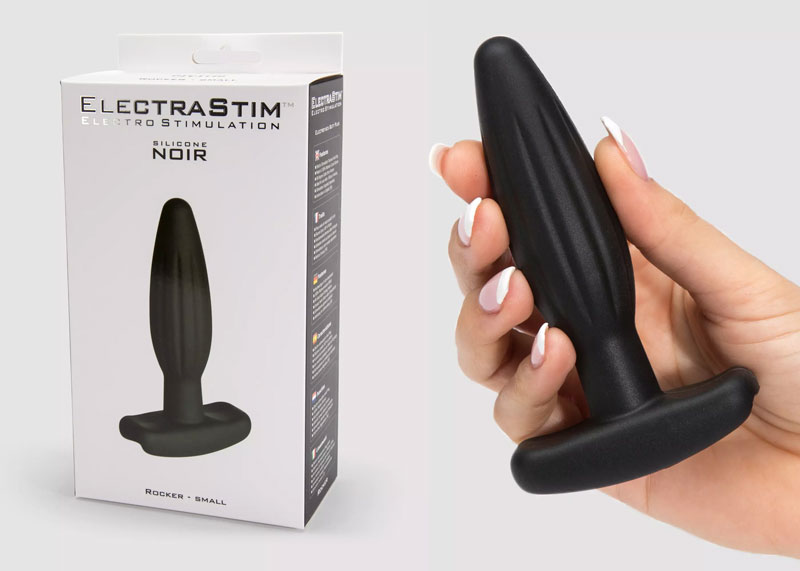 Pros:
Perfectly suitable for beginners as well as advanced users
Can be used in a seated position
Comfortable to use for the expansive duration
Cons:
The plug isn't submersible implying that you need to be careful while cleaning

---
5. Mystim Opus E Vagina
The last one in our list of Estim sex toys is only meant for the men! With this spectacular innovation, now men and grown-up boys can have an exhilarating session of penile masturbation.
This device functions by stroking the penis and can take you to the epitome of pleasure. The skin-like canal is made of premium-grade materials that are safe for insertion.
It has a lining of series of raised dots for maximum stimulation. And when you combine it with the pleasure settings with a terrific electro-sex Bi-Polar power unit, this sensational you can take you to a whole new level altogether.
It measures about 8.3 inches long with a girth of 3.5 inches, the insertable length is 7 inches which should be plenty for most guys.
Nevertheless, it gives you scope for maximum pinpoint masturbation. This means it is a perfect sex toy for you in case you want to improve your sexual stamina or enhance the quality of your foreplay.
Moreover, the conductive gel is inserted through dedicated ports that keep the device safe throughout the pleasure time without any chance of manual overriding.
If you wish some more options of this kind then take a look at the different male masturbator reviews.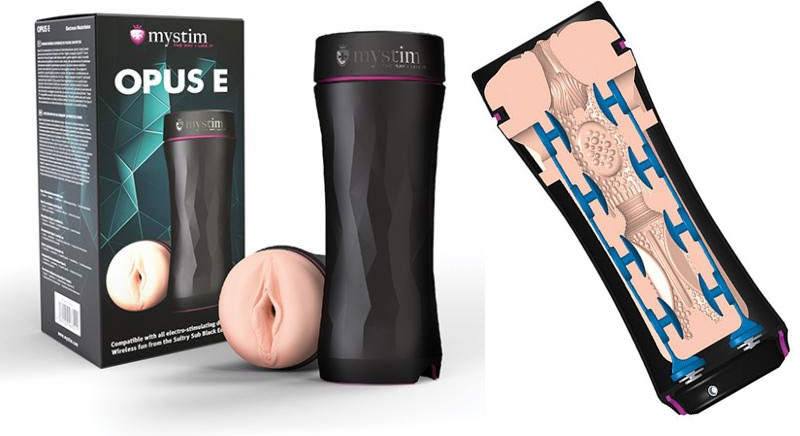 Pros:
Malleable outer casing for tailored tightness
Made of high-grade materials suited for insertion
Suitable for both stroking as well as a non-stroking motion
Can be used by men having restricted mobility
Cons:
May not accommodate all penis sizes

---
How Do the Estim Sex Toys Work?
Electrosex toys offer a unique kind of stimulation that doesn't replicate with other vibrators. It stimulates the nerve endings with the help of electrical pulses and provides a more satisfying range of sensations with the involuntary clenching of muscles.
Some of the Estim sex toys allow you to enjoy hands-free pleasure and orgasms as the internal stimulation works towards it.
One of the best aspects of these sex toys is that you can also share them with your partner in a very efficient and tactile way. These toys often have a dual purpose which is suitable for both G-spot as well as P-spot and gives equally fascinating pleasure to both the partners.
What Are the Safety Tips You Should Be Aware Of?
When using Estim sex toys, there are certain safety tips to maintain. There are definitely some risks involved with these toys. First of all, electrostimulation is not meant for faint-hearted people.
Even though there are some toys, meant for the newbies, you may find the "shocks" to be a lot for you. Whenever you find it to cause painful sensations, you can skip it.
You shouldn't use electro-sex toys during pregnancy. It may harm your baby and lead to unwanted complications. Also, you shouldn't use it when you are under the influence of some sort of drugs or alcohol.
These instruments may numb the nerve endings while increasing the threshold for pain. As a result, you or your partner would end up exerting more pressure than what is really needed.
Try not to use these sex toys above the waist. This is because the current flowing across the heart can damage the nerves.
The toys you choose should have a safety shut-off button and you must always start with the lowest setting when trying a new device, no matter how pro you are. Lastly, use a lot of water-based conductive gel or lubricant when playing with these toys.
How to Choose a Perfect Sex Toy?
Electrostimulation toys are available in a wide variety of shapes, designs, sizes, and styles. As a first-time buyer, it's natural to be overwhelmed with the choices. But there's nothing to fret about as there are some easy ways to determine the best sex toy for your physical needs.
Conductive components: As sex toys working on the mechanism of electrostimulation require effective transference of electricity from the instrument to the user's body, it is crucial that the toy is made from a safe and conductive material. Moreover, electrical impulses tend to generate heat which can be dangerous for the user. Thus, you should go for a sex toy that can maximize feelings while reducing danger. Go for toys that have rubber-coated grip and fabric stimulating pads.
High-grade materials: No matter what kind of Estim sex toys you opt for, it needs to be made from the best possible materials. It shouldn't have any allergens present and doesn't contain any potentially harmful chemicals. It may have thermoplastic elastomer, medical-grade silicone, PVC, synthetic rubber, or platinum-cured silicone.
Personalized pleasure: Your sex toy should be able to offer a customizable pleasure sensation with a hand gesture or a touch of a button. But all toys are not made with loads of settings, modes, or features. So, you should be aware of what you are signing up for so that you can get a truly amazing experience.
Great ergonomics:  A sex toy is of no use if it fails to serve the purpose and you will be least interested in using it as a paper-weight. So, you should invest your money in something that's ergonomically sound and can understand the user's individual anatomy.
There are a lot of different sex toys that can be used with the different electrostimulation sets – We did a ElectraPaddle review a while a go and a few probes style toys which are awesome.
The Bottom Line
Purchasing a pleasure tool that will work in sync with your body isn't easy and particularly stressful for newbies.
Given their price, the last thing you will want is to shell out a hefty sum of money for a piece of junk. Pay more attention to yourself, understand your body, and never compromise with quality.
Make sure that you use your Estim sex toys responsibly and pleasure yourself moderately for the long-term benefit of this sensational innovation.