Not so long ago we reviewed a number of electro stimulation products here at Kinky Testers, all rather interesting and facilitated some fun and interesting play sessions.
A couple of months ago, by total fluke I managed to win this ElectraStim Flick EM60 (along with a separate probe) in a competition. Not bad going at all! So, it's only fitting that after a few weeks of testing we review it here.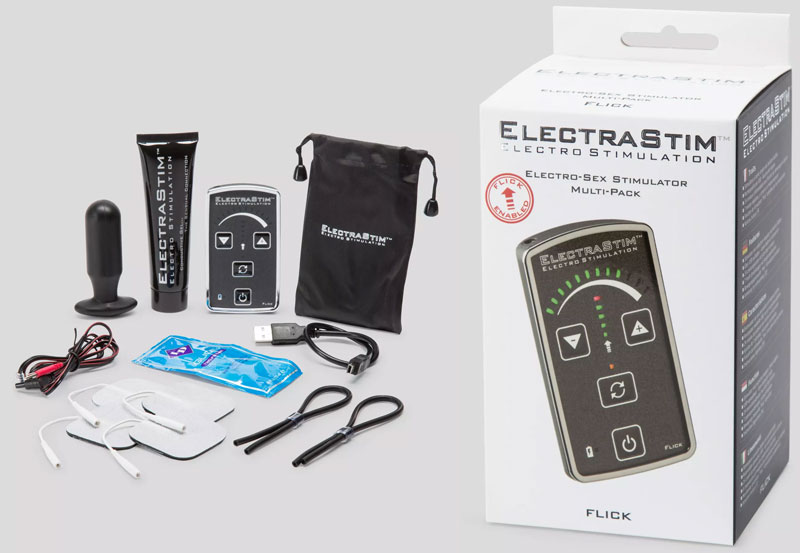 What in the box?
Packaging and presentation of the ElectraStim is top notch, more akin to the latest greatest smart phone. In fact, dimensions wise, it's not too dissimilar to an iPhone.
In the box, you get:
EM60 control unit
Cable to connect to your stimulation pads or probe T
wo pairs of sticky stimulation pads
USB charging cable
Little pouch
How does the ElectraStim Flick work?
It features an internal rechargeable battery, giving 6 hours of charge and mini-USB charging socket. There are 24 intensity levels, 7 pulse patterns and a motion sensing 'flick' operation mode, but more on that later.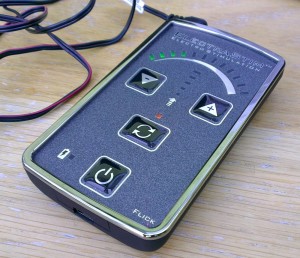 The EM60 has just one output socket, with an accessory cable with two standard 2mm plugs, to which you can attach the supplied pads or any other electrostim probe that takes your fancy.
Other models further up the range do sport dual outputs. The design of the control unit is very slick, smart and well thought out.
For example, the buttons are water proof and won't get excessive lube embedded under them.
Operation is far simpler than looks initially portray. Although the unit had some charge straight out of the box, it's best to first charge the unit up via any USB socket you have handy, lets you run out of power mid-way through a session – what a turn off.
Next plug one end of the accessory cable into the unit, then the two plugs at the other end go into the pads or probe you have. Finally, stick the probes onto yourself, partner, submissive or both of you. If you are using a probe, do ensure you cover it with ample water or oil-based lube, to ensure good electrical conduction between the probe and your body.
There are just four buttons of operation; on/off, pattern cycle and intensity up and down. Hit the on button and slowly increase the intensity as desired, very low levels are barely susceptible, but turn it up further and it becomes a gently tingle. Increasing further will give an intense stinging that will make your submissive squirm, jump and scream. Cycle through the patterns for various different pulse sequences, from slow on/off to fast pulsations and combinations of both. A little LED light on the unit flashes in time to indicate the nature of the pattern selected. There is another line of LEDs to indicate the current intensity and one to indicate low battery.
The "Flick" mode
The last feature, is particularly interesting and gives rise to the 'Flick' in this products name. For when you hold the pattern button down for 3 seconds, you enable the 'flick' mode and a motion sensor.
This lets you flick or swipe the control unit to give out a pulse of stimulation. The intensity of the pulse is initially low, but can be increased/decreased using the +/- intensity buttons. Think of it like the stroke of a flogger, a flick of the wrist to inflict a jolt of pain and pleasure.
Let's give it a try
In use, we naturally compared it to our existing Femme TENS unit. The EM60 pails feature wise due to only having a single output, so can't be used to power a vaginal and anal probe simultaneously (the more expensive Flick Duo can however). The rechargeable nature is a definite win and the motion sensor 'Flick' functionality is a fun addition. The EM60 can also supply a greater intensity, not that we could withstand either unit at max output! But certainly, something to note for the heavy S&M players out there.
We preferred the button interface of the EM60, in lieu of fiddly dials that can easily be knocked. As a 'top', it's crucial to know exactly what your submissive is feeling and when it comes to electro stimulation, we're dealing with a silent and invisible sensation, thus the LEDs on the unit were great at providing the feedback I needed.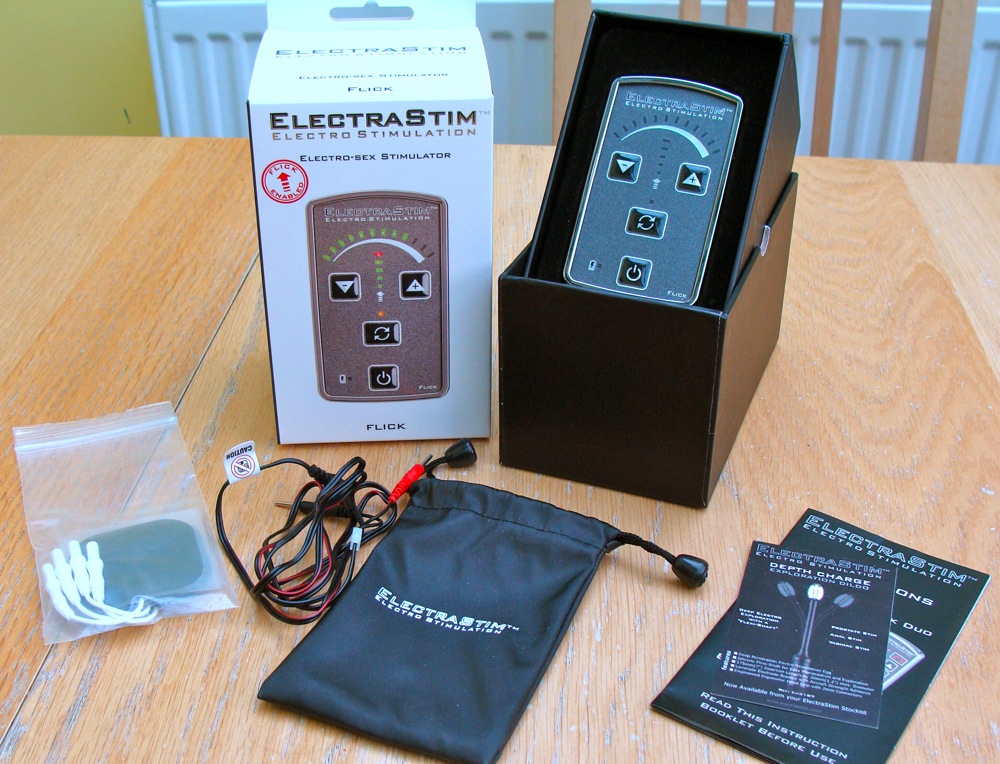 My final conclusion of the ElectraStim Flick EM60 review
Overall, Ms. Kinnk and I loved the stimulation this unit provided, finding most use when I gave Ms. Kinnk oral sex and used an attached probe to stimulate her G-Spot. Ultimately, we used the pads less, simply because they have a limited number of uses before they lose their stickiness and need replacing. As such, I would highly recommend you do also invest in a probe when purchasing this item.
The ElectraStim Flick EM60 is not a cheap purchase, but is certainly comparable in price to other electrostim products and much better suited to play than more common maternity TENS machines. It is a quality product and will not disappoint.
I recommend the ElectraStim EM60 Flick if you want to enjoy electro stimulation and want a good quality product that allows it.