I've always wanted to try an inflatable butt plug, something about the idea of pumping it up and up to fill you up has always appealed.
We purchased this Cock Locker inflatable butt plug from Lovehoney, who delivered it promptly in their usual discreet packaging.
The butt plug itself didn't have any fancy packaging, just a simple clear poly bag and no instructions. No problem there, it is pretty self-explanatory how it works and what you do with it!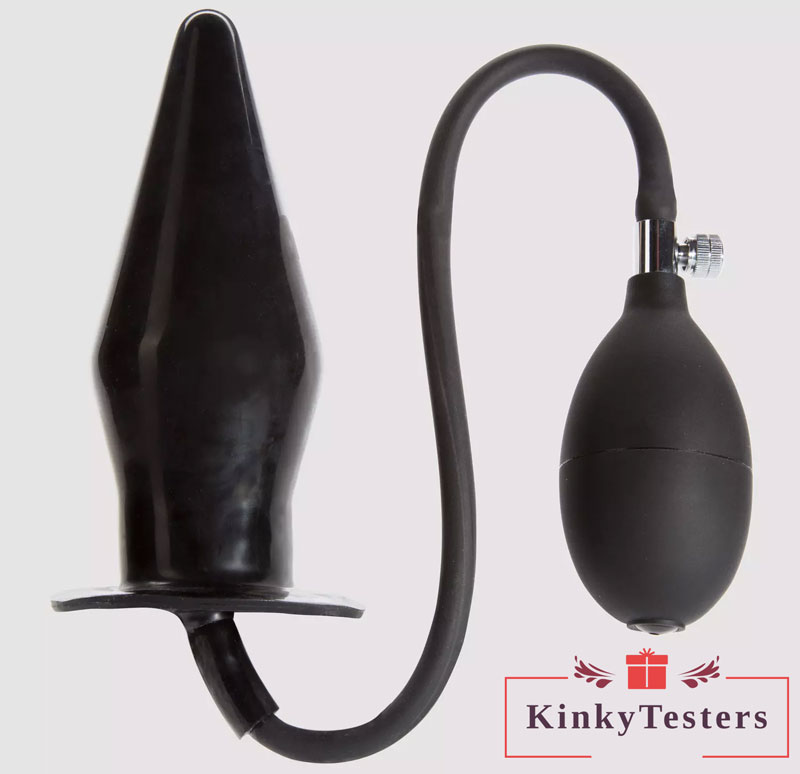 How is the quality and size?
Construction is satisfactory, with the bulk of the item being thick black latex, the exception being the release valve which is a chrome plated metal.
The plug comes in medium, large or giant size; we opted for the large due to many user reviews claiming the medium is too small. Those important dimensions for the large are: 15cm total plug length, 4cm diameter at the neck, the widest part has a diameter of 5.5cm at rest, but expands to 7-8cm.
There is a good flared base to prevent it being lost and the inflation pipe is 16cm long. The latex appears to be strong with no noticeable seams on the insertable plug, nice a smooth all over.
However, the edge of the flared base is a bit roughly cut, but this is not noticeable in use. Like all latex goods, I love the smell, but I know some people are allergic to latex, if that's you, this isn't the plug for you. Also, being latex, make sure you use a water-based lube.
Hard to get in – But worth it when it does get in!
One advantage of inflatable butt plugs is the fact they can be inserted whilst deflated, then pumped up, thus putting less strain on your sphincter, but still providing the sensation of being filled.
Ms. Kinnk struggles with large butt plugs due to some past scar tissue, hence this plug seemed ideal. However, in use the plug is really difficult to insert.
Did I say difficult? It's a big messy battle of lube, slippery rubber and hot ass! The problem is the plug is just too flexible when deflated or with little air in it. It just folds over and keeps slipping out.
But when pumped up enough to give it some rigidity, it's too large to insert (for Ms. Kinnk), even after warming up with other plugs first. Ms. Kinnk had similar problems when we switched and she tried to insert it in myself.
Not wanting to be defeated, I persisted with this inflatable butt plug on some solo sessions and did finally get it in!
The trick seems to be deflating it, then literally pushing the folds of rubber in with a finger all around its circumference, rather than trying to push in from the base. Once in enough you can start inflating to keep it in place.
After finally inserting the plug and pumped it up, it really does give an intense feeling of being filled. It provides a constant reminder of its presence and the urge to expel it.
As you get more accustomed to it, you can keep pumping it up further, pushing the intensity higher, compressing your prostate and bladder too. Although it's not rigid or focused enough to really stimulate your prostate.
My final conclusion of the Cock Locker Inflatable Butt Plug Review
In conclusion, this is an interesting product, not the easiest to get on with. I suspect the medium size would have suited Ms. Kinnk better, but that test shall have to wait for another day.
Either way, there's no escaping the fact it's a tricky item to insert and neither is it very cheap. Now if the plug had a thin rigid center, it would probably have been a very different proposition.
It's hard to get in but the battle is worth it and you're going to have a lot easier time if you're an experienced anal player to begin with.
I recommend the Cock Locker Inflatable Butt Plug if you're an experience anal player and with to expand you game.