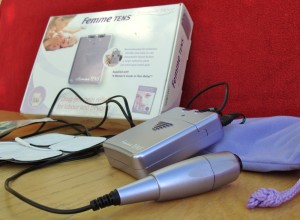 This Femme TENS machine is one we've owned for a while, having initially purchased it for labour. At the time, the price difference between buying and hiring a TENS machine was minimal, making it somewhat a no-brainer. Of course, now that childbirth is (thankfully) a distant memory, it's other uses have been occupying us somewhat. 😉
As this TENS machine is marketed as a pain relief solution for childbirth, the packaging features nothing sexual, just a photo of a mum and her baby. However, this is by no means the only use of a TENS machine, they can provide pain relief for back and muscle pain, but they can also be used to inflict tingling sensations and pain to a willing submissive. A quick peruse of UberKinky's electro-sex section for interesting attachments and insert-able electrodes will soon fill you with devilish ideas.
The machine is a small battery powered box measuring in at 85mm x 65mm x 25mm. On top are a pair of dials to control intensity. A slide down panel exposes the pulse width dials and a mode switch. Sliding it down further reveals the battery compartment (it takes a single 9V PP3 square battery). On the back is a handy clip for attaching to belt or strap. On the top are two socket for plugging in the wires. Each wire is about a metre long and terminates in a pair of standard 2mm connectors. Four electrode sticky pads are supplied with the machine. Additionally the machine is supplied with an extra thumb 'booster' button on a long wire, more on this later.
Other TENS machines aimed specifically for erotic electrostim can provide more power and wider pulse width options than this model, but we have yet needed to push this Femme TENS to the max. With 5 levels in total, we generally found level 3 pleasent and 4 our limit of tolerance. However, bear in mind the larger the size of electrodes in use, the less intense the electrostimulation felt.
The supplied pads can be used for play, to provide additional stimulation during foreplay or intercourse. Apply them to the thighs or buttocks, but do avoid the chest area, it is not recommended, as it can interfere with heart rhythms. The steady pulsating aids your build up, then the a press of the thumb button kicks in a strong constant stimulus, to push you through a climax.
However, the real fun starts when other more interesting electrodes are used. The Femme TENS machine has standard 2mm plugs which fit a multitude of accessories from many other brands. We recently used an Anuform Anal Probe and a Periprobe Classic dildo, which you can read about in their respective reviews. These probes can apply the electric current internally to you G-spot or prostate.
To sum up, there has been nothing to knock about the Femme TENS machine. It costs considerably less than other eletrostim controller boxes aimed for erotic play. Which makes it ideal for those put off by the high entry cost to electrostim play. It could also be handy should you yourself with a troublsome bump that needs pushing out.
Buy the Femme TENS machine from Boots.com
Buy the Femme TENS machines from Bodyclock UK (on Amazon)