When it comes to BDSM (Bondage, Discipline & Sado Masochism) in films, Secretary is right there at the top of the list. Partly because of it's very tasteful and well-acted introduction to the BDSM lifestyle, partly due to the high-profile cast (James Spader and Maggie Gyllenhaal), but also partly due to the dominant lead character named Mr. Grey. And we all know what that spawned…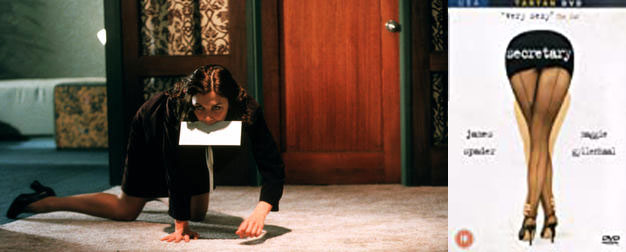 The story begins with Lee Holloway (Maggie Gyllenhaal) overcoming a self-harm mental illness and taking up employment as a legal secretary for Mr. Grey (James Spader), who happens to have a certain sadistic and dominant streak.
Over time Mr. Grey, turns Lee Holloway around and introduces her to BDSM. The film is a great mix of comedy and drama, it's well written, acted and shot. The characters are genuine, fallible and have their own set of problems to overcome.
The film covers both the sexual and physiological aspects of BDSM, it is thought provoking, uplifting and kinky viewing, without being overtly pornographic.
Maggie Gyllenhaal really is the star of this film and it is easy to see why this film propelled her career. If you haven't seen the film yet, you must watch it now!