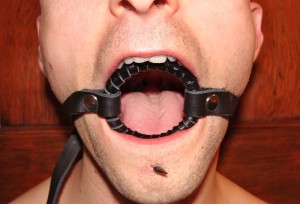 The lovely people at ÜberKinky recently asked us to review this leather ring gag. Gags can be a great way to control a submissive, whether to silence their protests or let them scream it all out as you build up the pain levels. However, gags are not something Ms Kinnk and myself have extensively played with as they are in fact one of Ms Kinnk's limits. So for the sake of this review we switched, myself playing sub and Ms Kinnk playing dom. Not something we do very often, but a nice treat for myself.
The leather ring gag arrived in the usual nondescript blue poly postage bag. Inside the gag had very minimal packaging, just a clear poly bag. The gag itself consists of a metal ring wrapped in leather. We have the large version, which has an outer diameter or 55mm and inner diameter of 40mm. From this ring are attached two soft leather straps, one of which terminates in a simple double ring buckle. The entire length end to end is 72cm, plenty enough to go around the biggest of heads! The large ring on this gag was in fact too big for Ms Kinnk to even insert in her mouth! Ms Kinnk does have a very small head and often buy glasses from the childrens range, has trouble with dental X-Ray guides and takes an XS size motorcycle helmet… 🙂 I had no such issue, but do double check sizing before ordering.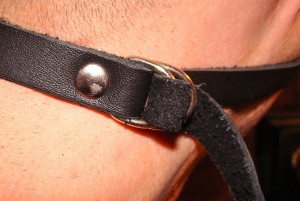 The craftsmanship and finish of the gag is good. The ring feels solid, and the leather wrapping it is laid such to give a smooth surface on the outer edge in contact with your mouth. Although it does overlap on the inside edge of the ring giving a stepped effect. The double ring buckle is basic, but functional. On the positive side, it has no pin, so doesn't need a tug tighter to release it. The excess strap does flap loose, an extra leather loop to thread it into would have been nice.
In use the gag is very effective, it is nigh on impossible to speak anything comprehensible, everything just comes out as 'ahhhhhh' or 'gahhhhhh' sounds. This gag won't silence a submissive, but it will remove their voice. The gag is fairly comfortable to wear, it doesn't dig in or rub thanks to the soft leather strap. However, due to the nature of the way it forces the mouth wide open, it can cause jaw ache after a while. Of course this is all part of the desired punishment. The other great part of the punishment comes from the way it causes extreme dribbling. That's right, your submissive will be drooling, slobbering and dribbling uncontrollable. A great way to remove control from them and cause humiliation.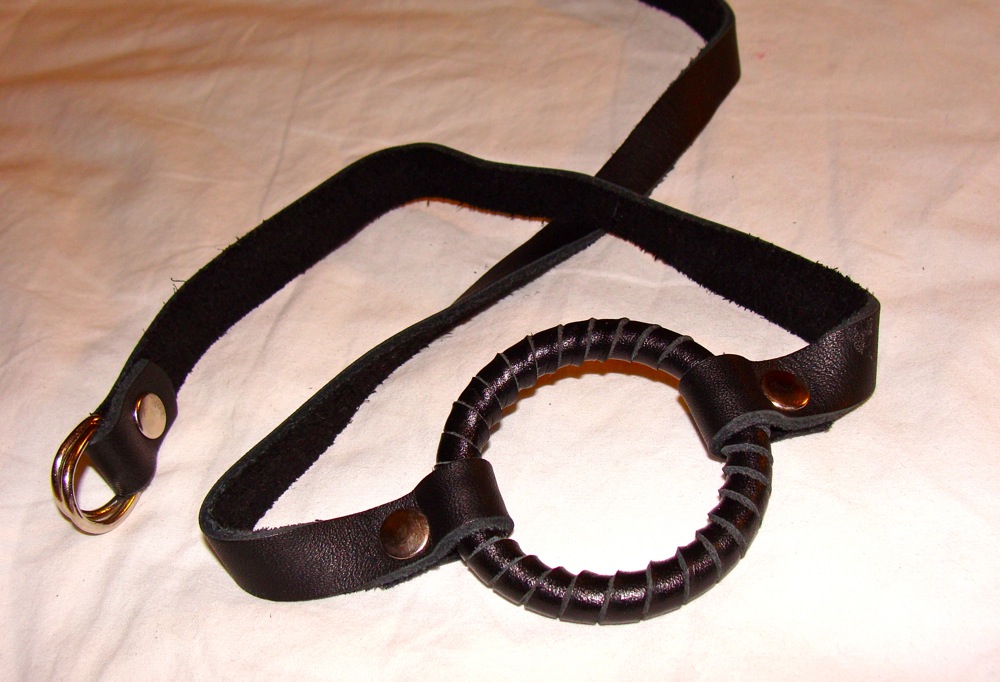 One fantasy I had involving this gag was to place it on Ms Kinnk, forcing her mouth open for oral sex, preventing any resistance. However this idea was not only scuppered by Ms Kinnk's small mouth but also because the ring is actually too small comfortable accommodate a penis. Oh well.
Overall, I have been impressed with this ring gag, it's a well made item, with lots of potential and available at a very reasonable price. However, due to Ms Kinnk's limits and natural tendency to be submissive, we probably won't be using this gag very often. I am sure others who enjoy gags and are looking for something new, will find it an invaluable addition to their play.
Buy this Leather Ring Gag from ÜberKinky