You can never have too many restraints, however these are a little different to many as they feature huge suckers on them.
Intended for use in the shower, but perfect for a lot of other play too. I picked these up from Lovehoney using up my loyalty points I had built up, so essentially a freebie.
That is what you get
In the box are just the two restraints, each made from neoprene with Velcro fasteners. Attached to each there is a large plastic sucker which you moisten and stick to smooth surfaces. I chose a pair with purple trim.
Usage is straight forward, the Velcro straps have ample length, so should cater for almost all sizes of wrist or ankle. In fact, I often found there was a good deal of extra slack going spare when used on Ms. Kinnk wrists, which was a little untidy.
How is the quality?
Craftsmanship is good, no visible issues and on par with what you'd expect for the price. The large suckers (8.25cm diameter) do stick effectively if moistened well and used on a nice smooth surface like tiles, glass, granite etc. Less well on wooden surfaces though.
However, a feisty submissive will be able to slide them about, even if they are unlikely to pull their wrists free from them.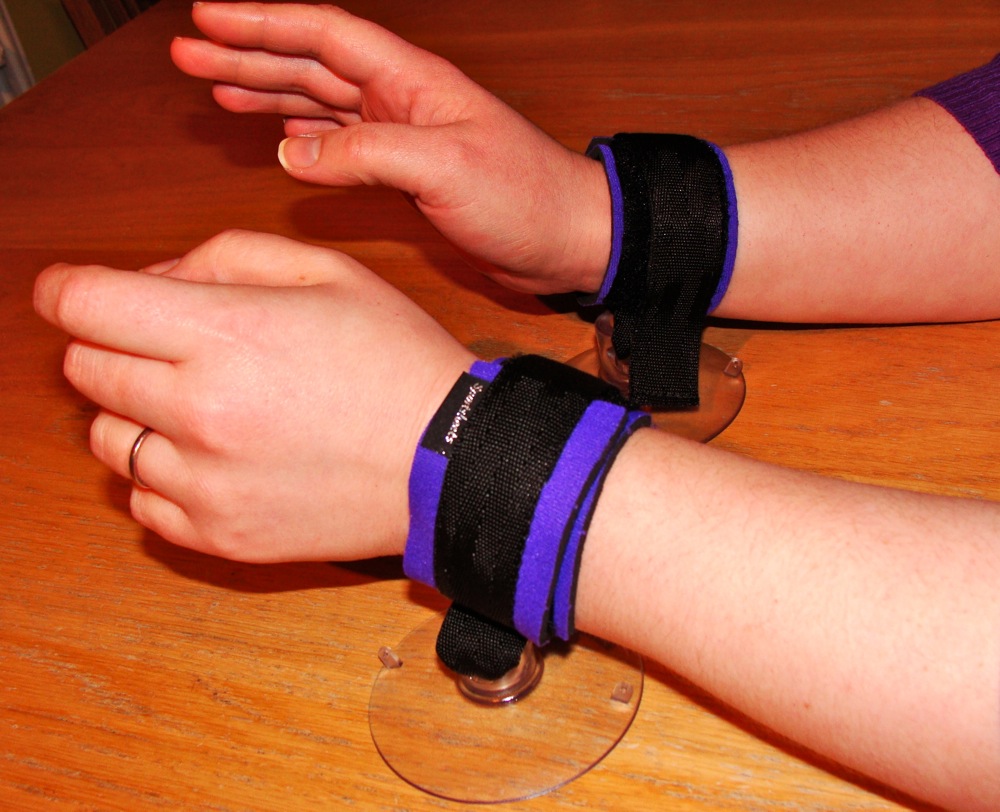 Let's give it a try
Picture the scene, returning home from a great night out, hot and sweaty after lots of dancing. I lead Ms. Kinnk into the shower room, strip off all her clothes and direct her into shower.
I fasten her wrists high up above her head with these restraints, letting the warm water drench her, beading down her body.
I delicately wash her long hair, massaging and lathering the shampoo and conditioner. I then clean and sponge her whole body, getting her all slippery and smelling sweet. My fingers glide over her entire body, but ultimately finding her clit and I gently tease her.
All the while Ms. Kinnk is at my mercy, unable to escape and getting more and more turned on, like myself. I pull up close to her and slide my penis into her very wet vagina. A great way to finish a night.
Care wise, the neoprene works well in the wet environment. Its driers quickly and leaves no water marks.
My final conclusion of the Sportsheets Sex in the Shower Cuffs Review
We thoroughly enjoyed using these restraints, they are simple, not too expensive and more than adequate for some fun.
Sure, they are not as strong as some pricier leather restraints, but still great for some light play in the bathroom.
They did however show up the limitations of our tiny bathroom, these restraints are better suited to larger bathrooms and shower cubicles. A good toy to pack for a night away in a posh hotel.
Update: Looks like they don't make them anymore ☹ There are however a lot of great alternatives, you can browse some of them here on LoveHoney.