I purchased this little cock cage from Lovehoney as a little extra to go in Ms. Kinnk's birthday goodie bag, thinking she would enjoy its ribbed texture.
Let's take a look in the box
This cock cage is from Doc Johnson, the well-known US sex toy manufacturer and is part of their TitanMen range, which is primarily aimed at gay male market. It's constructed from TPE and free from phthalates. Size wise, it measures in at 50mm long and about 38mm in diameter.
Three Colours are available, black, blue and white, I chose the black, as black wins every time! The TPE material is super stretchy, but as sliding it on your penis is still a little fiddly, some lube definitely helps.
How does the TitanMen cock cage work?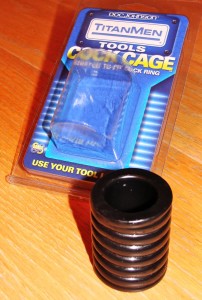 As with other cock rings, this cock cage helps you stay harder for longer, by restricting blood flow out of your penis. All good stuff, but Doc Johnson recommend you don't wear this for longer than 20 minutes at a time.
Other claimed benefits are for your partner, through the added girth and ribbed texture, both of which are intended to give extra stimulation during intercourse.
Giving it a try
So how did it perform? As mentioned, sliding it on was a bit fiddly as you stretch it wide open to go over your penis and then slide it down to the base.
Some lube and neatly trimmed pubic hair helps a lot. But once in place, the cock cage feels comfortable, not overly constricting and I did find it helped me get hard and maintain my erection during foreplay.  Ms. Kinnk's verdict was less glowing however.
She found it rubbed too much in an uncomfortable way, in particular where she has some scar tissue from child birth and isn't so flexible any more. As this cage doesn't cover the full length of your penis, there's a hard edge that hits the vagina on each thrust.
So, I wouldn't take this this as a conclusive bad verdict, more that this product just didn't work for us.

My final conclusion of the Doc Johnson TitanMen Cock Cage Review
Ultimately everybody is different, we're all different shapes and sizes and this makes sex toy reviewing very subjective.
Here we have a product that just didn't work well for us, but I can see it working well for others. At just a tenner, there isn't much to lose either way. If you like large, ribbed dildos, then this could be a great toy for you and your partner.