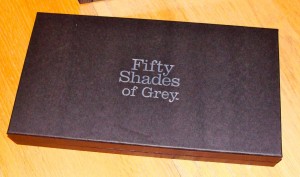 I'm not even going to talk about the Fifty Shades of Grey novels that this item is based upon. If you've no idea what they're about, never caught any of the media storm that surrounded them, never had one fall out of your packet of Special K flakes, or even stumbled upon any of the multitude of authors trying to mimic E L James' fame and more specifically her fortune, then I salute you! But I do question how you found this website.
As with any successful piece of media, it's the brand that really carries the marketing clout, everything from the movie spin offs to the themed toys. It is these latter items that are the focus of todays review. Here we have a Beginners Bondage Kit, inspired by Fifty Shades of Grey and officially endorsed by E L James.
The amount of media coverage and intensity of hype surrounding the Fifty Shades of Grey series, combined with it's clichéd descriptions of sex scenes left it wide open for parody. When this box first arrived through the post Ms Kinnk couldn't help but rib me on my latest Fifty Sheds of Grey acquisition. Even more reason to tie her up and punish her for such impertinence!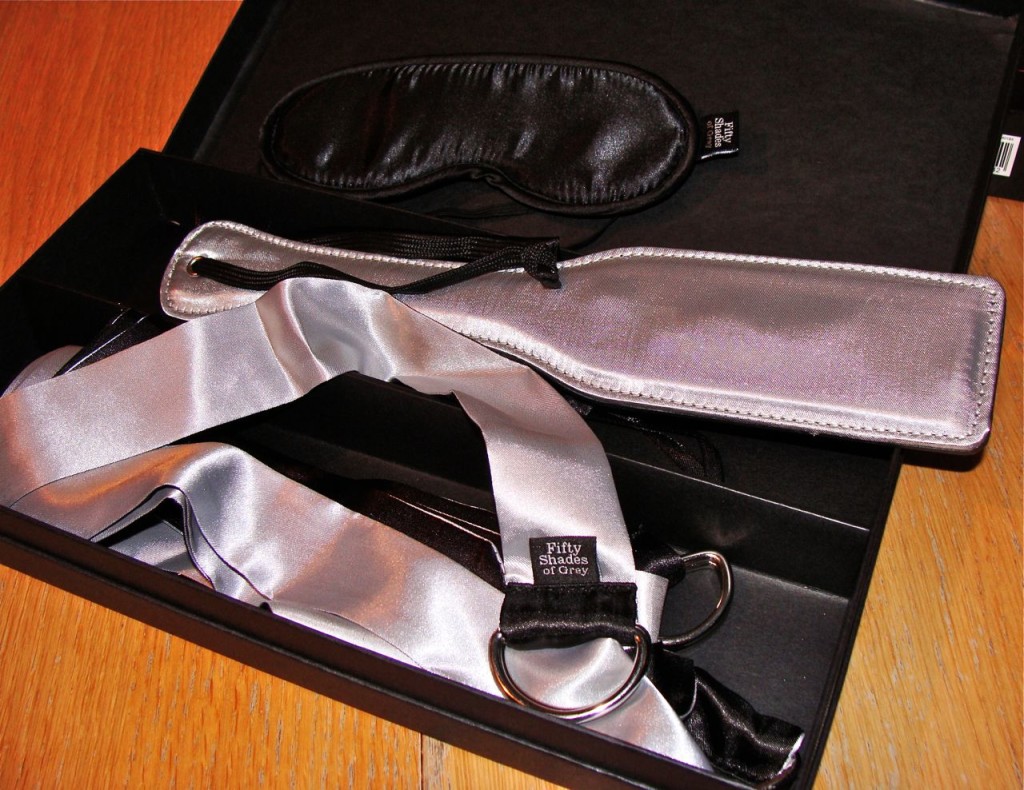 So, onto the product. Presentation wise it is top notch. A simple cardboard box exterior printed with just text and a small icon of the book cover (which is equally eluding). Then on opening it reveals another box inside, more sturdy and more minimalistically adorned with just the words 'Fifty Shades of Grey'. Removing the lid reveal the goodies inside, laid out in their own satin compartments, beautifully presented and more akin to an elegant piece of jewellery. The bondage kit you actually get is a soft satin blindfold, a paddle with padded satin on one side and faux leather on the other, four long satin restraints with double D-rings to tie them tight and finally a satin draw string bag for keeping your toys in.
For all the best presentation in the world, it is countered by the smell of the items. All reek from a very strong chemical smell, presumably from the manufacturing process or packing. Even after several weeks thus smell has subsided a little. The restraints and bag we can stick through the washing machine, but the blindfold and paddle will trickier to clean.
Smell aside, we still tested the kit thoroughly. Beginning with the blindfold, it is a fairly typical design, filled with lots of padding, a pair of elastic ties to go round your submissives' head and trimmed nicely. In use it was comfortable and did a good job of blocking out light. Just a little light leakage, put perfectly adequate to obscure your actions from your sub. Over prolonged use it didn't get too hot and sweaty. Only the smell in close proximity to ones nose really marred its use.
Moving on to the paddle, again very typical in design, but well executed nevertheless. The paddle is quite rigid with only a tiny bit if flex. One side has soft padding and finished with satin, the other side is firmer and in faux leather. Ideal for soft and harsh spanks, whether you like to alternate or just build up the pain levels starting with soft and then switching to hard. The stitching and finish is top notch, and stood up well during our testing over the last couple months.
Finally we come to the bondage restraints, although simple in design, they are surprisingly effective. The soft satin feels great, silky smooth and comfortable around the wrists and ankles, but still plenty strong enough to secure your submissive. Each of the four restraints measures in approximately 130cm long, which we found ample, whether you tie them to bed posts, chairs or merely to bind limbs together. The double D rings were sometimes a little fiddly to thread the satin through and later out of when removing them, not as quick as more traditional restraints with buckles. Care must also be taken to ensure the restraints to inadvertently tighten around limbs during play too.
Overall, Ms Kinnk and I really enjoyed testing this set. Presentation is first class, it is a great set of toys that look good and play well together. For the last couple of months it's been the goto toys to throw in the suitcase when staying away from home. Even with the slightly off putting odour, we can't help but be drawn to the items, they just look so elegant. The set is by no means the cheapest and I'm sure you could pick up similar (or maybe better) items independently for less, but the whole package works well and would make a perfect gift to tempt a partner into some kinky play. Hardcore players may prefer something more serious, but I'm certain beginners and those into light bondage will be more than delighted with this set.
Kinky Kompare!