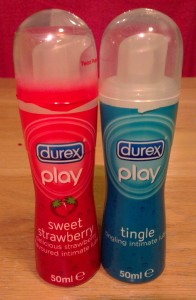 Time for a quick double barrel, mini lube review. Up for testing we have two lubricants from Durex, probably one of the biggest brands out there when it comes to sex products. Both are from their Play range and came in small 50ml bottles with a handy pump action dispenser.
Tingle
Who would say no to a tingle on their dingle? As such I was keen to give this Durex Tingle lube a try. As a lubricant it performed very much like Durex's other lubes, I suspect they all share the same base formula. However I was distinctly disappointed by the 'tingle' promised. I struggled to notice anything to be honest, just a very slight coldness – quite a let down.
Without a tingle, there's isn't a lot more to recommend this lube. One may as well plum for a more generic and cheaper lube.
Kinky Kompare!
Very Cherry
As you probably guessed from the title, this lube is cherry flavoured. In fact it's insanely strongly flavoured with cherry and quite an artificial and sickly sweet cherry flavour at that. Ms Kinnk likened it to Muller Lights yoghurt flavour, but found the taste and smell quite over powering. However myself, I didn't find it so bad, similar to some bright red cheap sweets, stuffed with flavourings and sweeteners. The lube is however clear in colour. My expectation was for a lurid red colour, but I'm glad it wasn't.
As a lubricant it faired well and performed as expected, both vaginally and anally.
Kinky Kompare!