Flashlight are to male sex toys what Gillette are to male grooming products. They are synonymous and the standard all other brands try to compete with. The entire Fleshlight range is made up of variations of a tried, tested and very successful formula. A male stroking tube, with unique soft flesh like SuperSkin central tube mounted in a hard plastic case. The variation lies in the textured pattern on the inside of the flesh tube and orifice presented at the end, vagina, mouth, or anus.
With the Ice Lady, Fleshlight have now varied the colour too. Moving away from a life like flesh tone, the Ice Lady is semi transparent as though forged from a block of ice. The orifice is still a realistically shaped vagina with accurate labia and clitoris. All in all resembling a sordid ice sculpture intended for pleasure and voyeurism alike.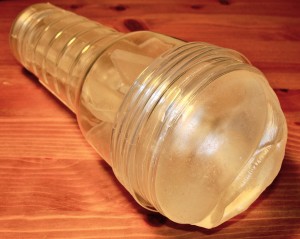 If you haven't seen and held a Fleshlight in the flesh before (pun intended), then the first thing to strike you is the size and weight. The hard plastic casing measures in at 25cm high and a diameter of 9cm at the widest end. Not insubstantial and not something you can slyly hide under your pillow. The large dimensions do mean it should accommodate all sizes if penis without issue. That is also not to say the main tube is loose fitting, quite the opposite. The opening is very tight, without lube and an already fairly hard penis, you will struggle to insert yourself. A small sachet of lube is provided to get you started, but any water based lubricant is compatible.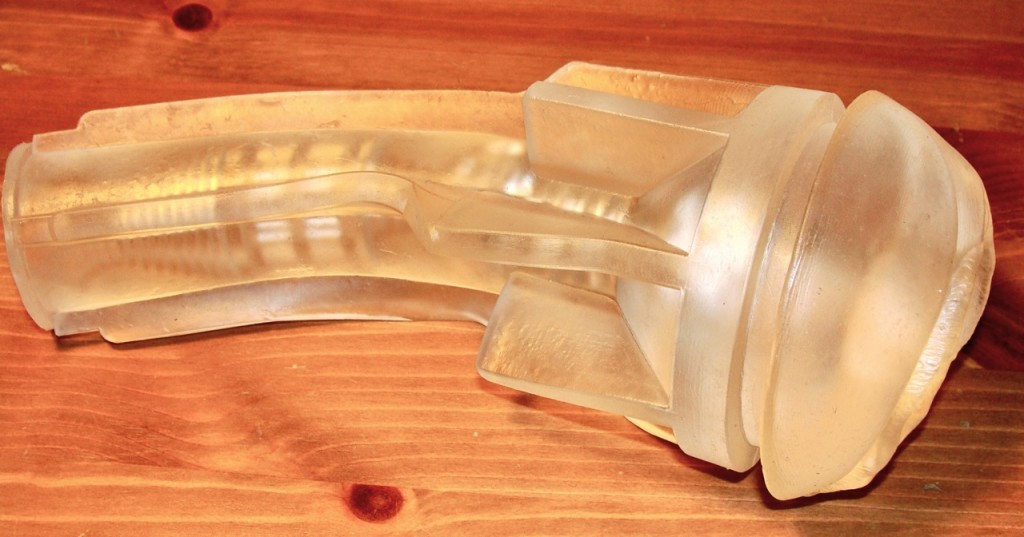 Once inside, the textured interior comes into its own. Covered in knobbules and bumps the Fleshlight will stimulate the entire length of your penis. An opening valve at the base controls the amount of air pushed out and sucked in with each stroke, tailoring the vacuum effect as preferred. All at the expense of some comedy squelching noises. Being translucent you (and your partner) can view your penis inside as you thrust in and out. The shape of the clear casing near the lid also magnifies your member, possibly boosting confidence but a good giggle nonetheless.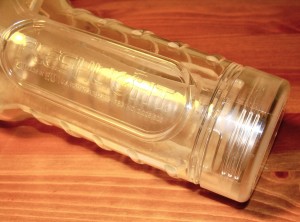 However to answer the burning question on all your lips; yes, it does feel good. £50 quid good? I think so. Once lubed up and hard enough to push yourself inside it feels very enclosing and tight around your penis, along it's entire length. Initially a little cold until it warms up, unless you've run it under a hot tap first. With the end cap closed you have to push yourself in with a little effort, but it feels good. Open the end cap a little and you can begin to build up a little speed, greater intensity and before your know it – bam! You cum. A long, intense and rippling orgasm as you will yourself to keep stroking and take the over stimulation, before finally giving in and withdrawing. Wow!
Then it's clean up time. Mundane it maybe, but crucial if you don't want your investment going all manky. Thankfully it's pretty straight forward to clean, just yank out the SuperSkin core and give it a good swill under the tap with a little anti bacterial wash. Give the plastic case a quick wash too, as you can often get a splodge of cum left at the bottom. Both ends unscrew, so all dead easy. The tricky part is getting everything all dry again… I found just dilating the SuperSkin vagina open, then giving it a good blow, to blast out any water left inside (god that sounds dodgy!), then just leave it to air dry.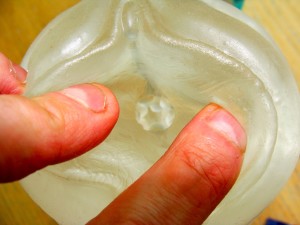 Once clean the SuperSkin benefits from some Fleshlight Renewing Powder or regular corn starch sprinkled over it, otherwise it can get too tacky, stick to everything and pick up dust and fluff. Go easy on the starch mind, the Fleshlight comes covered with it, requiring a quick clean before first use to avoid leaving your penis covered in white crud. Grim.
Now naysayers may dismiss this as an expensive toy for lonely blokes, but I disagree. Firstly, as a guy in a long term relationship I do on occasion find myself sleeping alone, whether away on business or when Ms Kinnk is away with friends or family. Then the Fleshlight is the perfect toy to whip out and even more exciting if used whilst on a remote webcam chat with your partner. Secondly, periods of abstinence can markedly reduce ones stamina and lasting power during sex. Using a toy like the Fleshlight can help ensure you last enough to satisfy your partner.
Overall, I have really enjoyed this Fleshlight, it's great toy to whip out when alone or away from your partner and need to let off some steam. Compared to my Fleshlight STU (Stamina Training Unit), there is only a small difference. The textured bumps inside differ with the STU providing a slightly tighter sensation, particularly around the end of the penis. As such I found I climaxed sooner with the STU compared to the Ice Lady. Aesthetically the Ice Lady wins hands down in my opinion, the mock Gold plastic case of the STU is just plain tacky. Granted these Fleshlight's are not the cheapest toy on the market and I dare say many men are less accustomed to spending such sums on personal toys, compared to ladies. However, it is well worth the money.

Kinky Kompare!
Fleshlight Ice Lady Crystal
Fleshlight have long been the master of outstandingly lifelike pleasure, but the Ice Lady is a new realm of sex toy. Taking your...
$79.99
Lovehoney (US)