So, what does $69 do, that my right arm can't do? Like many guys out there, I was initially rather skeptical of the Fleshlight Stamina Training Unit (STU).
While it is very acceptable and common for girls to own sex toys, for us guys it's unusual and still a bit taboo. We tend to be less open and rather coy when it comes to sex toys and masturbation.
The Fleshlight STU is a stroking toy, that is a toy to wrap around your penis whilst masturbating with your hand as normal. Its intention is firstly to increase your pleasure and secondly over time, increase your stamina, so you can last longer during sex with your partner.
Fleshlight in Detail
One look at the design and you can see how the Fleshlight acquired its name. Its cylindrical shape looks just like a large flash light torch. And large it is, at 25cm long and 9cm in diameter, it is certainly not discreet.
Twisting the top off the gold plastic case reveals the main attraction, a lush soft 'Real Feel Super Skin' pink vagina. "Real Feel Super What?!" – A super-secret material unique to the Fleshlight brand, neither latex nor silicone, but a complicated mix of gel and polymers, which does in fact feel like skin, albeit slightly squidgy, sweaty and sticky skin (making it a bit of lint/dust magnet).
Modelled with every detail, right down to the clit and hood, and as inviting as the real thing. Delving deeper you will find it extends inwards the full length of the case and is lined with large soft bumpy knobbles all away the way down.
The opening to the vagina is quite tight, tighter than previous Fleshlights', but the SuperSkin is supple enough to accommodate even the well-endowed of you. The SuperSkin does have a slight chemical smell, but not enough to be off putting, I'd be repelled more by a strong artificial perfume.
Finally, the of base of the case twists to expose vents, to adjust the amount of suction.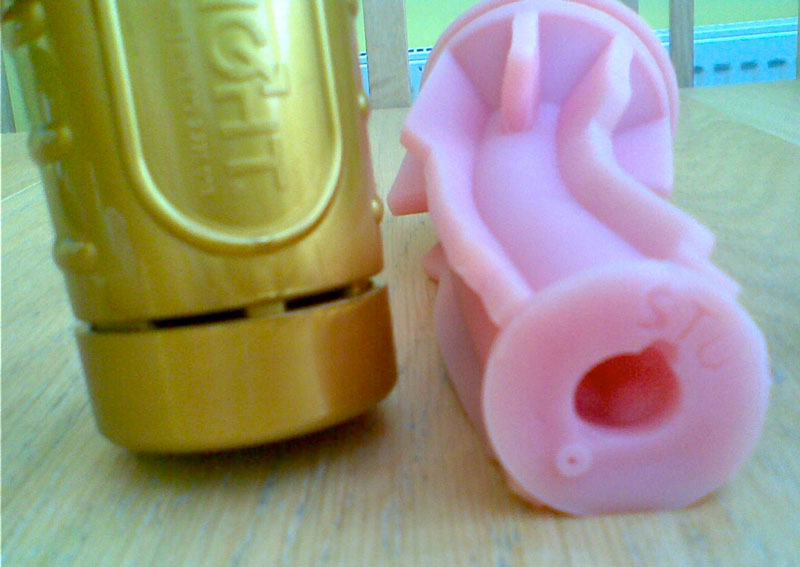 How does the Fleshlight Stamina Training Unit Perform?
So how does it feel? Slow down one moment, the first thing to do is lube up. A small sachet of which is included, enough for your first couple of uses. You don't need lots, but keep it water based (you can find some of the best water-based lube here).
Due to the tightness of the opening, you will need to be fairly hard already to push yourself in. But once in, the Fleshlight STU feels great, very close to the real thing. Its tightness around your shaft, the knobbly textured interior, the soft skin all add up to a positive experience that.. that- oooh, ahhh, yes!
And that's that.
Finished.
Yes, the first few times, you won't last long at all, it is just too good. In fact, I found it so intense, that as soon as I first hit my climax, I couldn't move the Fleshlight any more, the sensation was just too strong.
Which brings us onto the stamina part of this toys name. The idea is, with continued use, you will be able to last much longer during sex with your partner. Since it is so stimulating, you should become more accustomed to the strong stimulus and thus last much longer at other times.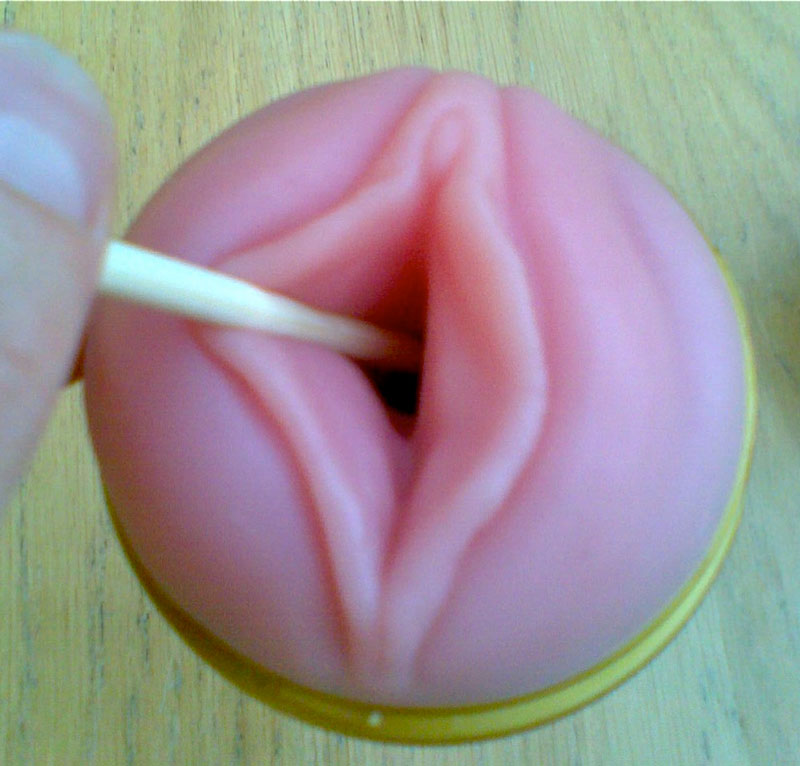 Certainly, a worthwhile cause, which I'm sure your partner would appreciate. I have only been testing for just over a week, but I have found I am lasting a little longer with the Fleshlight, however it is probably too soon to say for sure regarding sex. Trying to qualify its success is difficult, as so many other factors can affect one's performance. Come back in a couple of months, for an update on this point.
The Fleshlight experience can be tweaked by opening and closing the air vents at the base, which adjust the amount of suction on your penis as you slide in and out of it.
More suction is generally more pleasurable. The silicone skin can also be warmed up under a tap for more realism or cooled in the fridge for shock value.
Cleaning the Fleshlight
After finishing with the Fleshlight, it is important you clean it thoroughly. This is simple, as the SuperSkin core slides out of the case and can be popped under the tap and optionally with some isopropyl alcohol for tough cleaning.
Other cleaning products are not recommended, however Fleshlight do sell a suitable anti-bacterial cleaning spray. Drying it off can be trickier, as the interior is difficult to reach, so often best left to air dry. The cap at the bottom of the case can also be removed, to aid cleaning too.
Fleshlight recommend sprinkling some Fleshlight Renewal Powder onto the SuperSkin every so often to ensure it maintain is soft suppleness. However, the included instructions do also suggest using corn starch to powder it.
My final conclusion of the Fleshlight Stamina Training Unit review
In conclusion I have been very impressed with the Fleshlight STU, I have found it very enjoyable and it's already showing signs of improving my stamina.
Solely as a masturbation aid, it's worth the money purely for the pleasure it can provide. Throughout my time with it, I found very little to criticize; the cleaning procedure is a little faff, the smell is a minor issue. But neither of these issues would stop my recommending it or buying another.
And another Fleshlight sleeve purchase is definitely tempting, especially considering their large range: mouths, anuses, and exact replicas of many famous porn stars (both female and male) – all with different intriguing interior shapes and textures.
I highly recommend the Fleshlight STU for all guys who just want an amazing masturbator or want a stamina training device.