Lovehoney have a habit of running some great sales. In one such sale I picked up this hip whip on a whim. It is of the Cat-O-Nine tails variety, i.e. a solid wood handle with a large number of strands coming from one end.
Suede has been the material of choice here, from the strands to handle, soft, flexible suede in two-tone black and purple (also available in pink). The finish is good, no obvious flaws or questions on quality, it should stand up to many a good flogging. The handle is solid wood, 15cm long, 2.5cm diameter, wrapped in suede and has a good weight. The tendrils are 24cm in length.
In use the soft suede is not too harsh and doesn't give the strong stinging sensation you may get with other whips or canes. Only the very tips of the suede strands give a mild sting. The soft tendrils can also be fun to drag over your submissive's body to tickle and tease.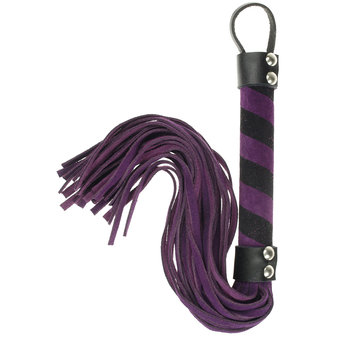 Overall, I can recommend this whip for those into light pain play and tease. It would also ideal for those starting out in the world of BDSM, discovering boundaries and not wishing to spend large sums yet. There is also a smaller version available with near identical design, but perfect handbag size.
Buy the Beyondage Large Hip Whip from Lovehoney.