Pocket blowjob sex toys is a great way to level up your masturbation game and get some diversity from all the pussy and anal masturbators.
I've tested some of the highest rated pocket blowjob sex toys and written a list of the best.
All the pocket blowjob toys have been rated according to their:
Realistic feel
Build-quality
Features
Price
Below are the best blowjob pocket toys you can choose from right now.
---
#1 FeelVictoria Mouth Masturbator
I originally made this list in 2021 but Kiiroo just released their first mouth version of their FeelStar's and it's pretty freaking good which is why I had to update this list.
The FeelVictoria is a replica of Victoria June's mouth and the internal texture has been made to feel just like getting a blowjob from her.
My Experience With it
It feels so good to penetrate the FeelVictoria mouth and the wide entrance (compared to vagina and butt masturbators) makes it very easy to penetrate even without holding your cock.
The internal texture has a lot of nubs that stimulate you all the way in and it feels like your cock is going down a throat. You can control the suction force by twisting the end cap of the device, the tighter you twist it, the tighter it's going to feel.
You can also mount the FeelVictoria stroker in Kiiroo's Keon which is an automatic stroker that makes it hands free blowjob toy. Or why not use their new suction pump that screws on the back of the device for an even more realistic feeling blowjob.
Bottom Line
I've had the pleasure of testing 100's of sex toys over the years but this is the first one that has been molded after a pornstars mouth, and it did not disappoint!
This is by far the best pocket blowjob toy that I've ever tested and it just becomes better and better the more products you add to it. You don't need the extra automatic pumps and strokers but it's a really nice addition.
You really can't find anything better than the FeelVictoria mouth stroker so that's what I'm going to recommend you. Sure, you can find cheaper options but they are not going to feel that good or last that long.
I recommend the FeelVictoria mouth if you're after a high-quality pocket blowjob toy that feels like getting a real blowjob.
Buy the FeelVictoria Mouth Masturbator here
---
#2 Thrust Pro Mini Ayla Realistic Blow Job Stroker
Now, compared to the anal and pussy Fleshlights, these mouth masturbators aren't as detailed. But that doesn't mean these blow job toys aren't worth your time. Horny pros like us, have a collection of Fleshlights. And it's always fun to switch things every once in a while.
So, can the Mini Ayla Blow job Stroker fulfill your wild fantasies? Read on to find out.
My Experience
Let's get one thing straight – this isn't a sex toy only for overly horny guys. Whether you are someone who's intimidated by anal and pussy Fleshlights, or someone who's really into blow jobs, this product could be just what you need.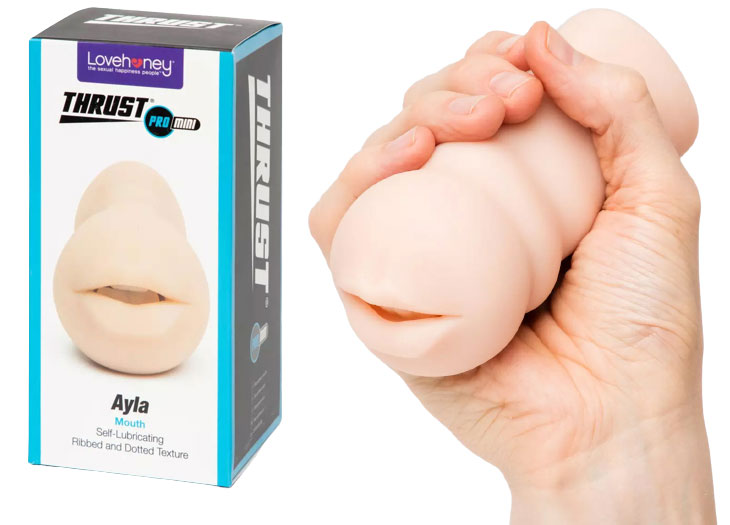 Sure, after using some intense products like Adriana Chechik's Butt Fleshlight, this seems to be a downer. But that would be missing the point of this sex toy. Sometimes even a blow job can be a lot of fun.
Just think about it – with this anonymous product, you can imagine any protagonist for your jizz fantasy! And that's exactly what we did! After lubricating it and warming it up well, we honestly couldn't believe how real the masturbation session felt. Except for the sucking sensation, everything felt almost as good as an actual oral sex session.
Moreover, we believe that this blow job stroker can be the ideal stamina training toy for beginners. It's far from intimidating, easy to use and loads of fun!
Pros
Great for beginners looking to improve stamina
Ease of use
Feels almost as good as oral sex
Cons
Bottom Line
Whether you are a beginner looking to improve your stamina or a seasoned professional (aka very horny guys like us) looking for the 'whole experience', this product could be a great buy.
Now, it might not be as emotional as experiencing your favorite porn star's cunt, but if you let your imagination run wild, it should very well be lots of fun!
Buy the Mini Ayla pocket blowjob here
---
#3 Doc Johnson Vicky Vette Pocket Blow Job Masturbator
Now, Vicky Vette may be yesterday's porn star, but we are quite certain that her fan club is still significant. So, if you happen to be her fan, this is one vibrating blow job toy you must check out!
My Experience
Come to think of it, this is the cheapest product on our list. But we can guarantee that it delivers the most bang for your buck (pun intended)!
In fact, with the vibration setting turned up to the max, this will surely cause a cum blast! However, if you are a blow job connoisseur looking for a realistic experience, this can't quite match up to the Magic Eyes Blow Job Stroker we reviewed earlier.
Now, apart from that we can't really say anything negative about this product. If you are not too picky about blow job realism, then this could be an epic experience!
We also liked the fact that this product is entirely waterproof, and you don't need to worry about using it in the shower. Moreover, it is relatively easy to clean as well. What more can you ask really?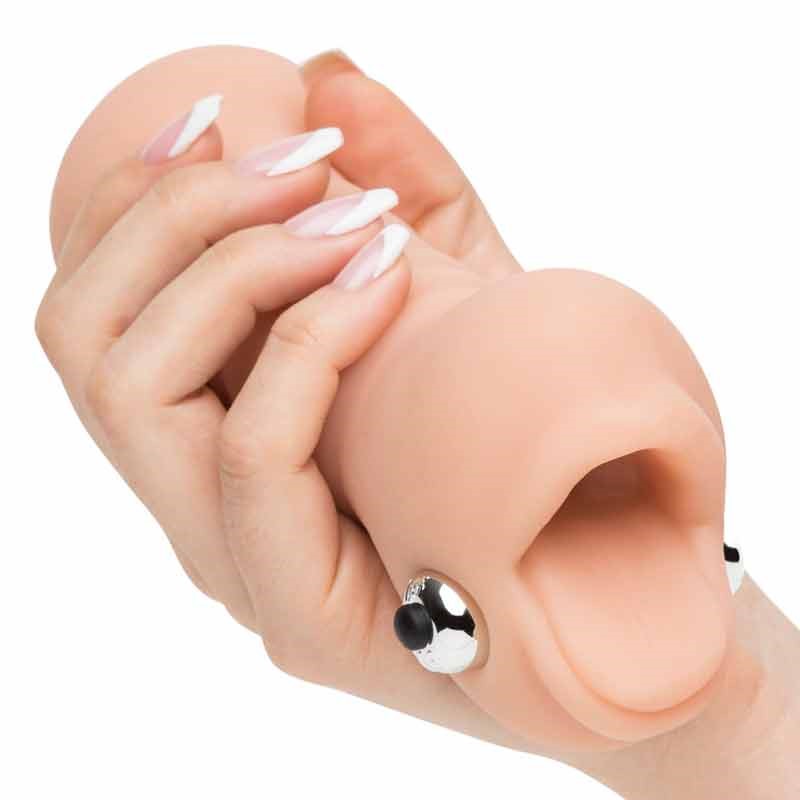 Pros
Can give you an intense orgasm
Offers excellent value
Easy to use
Cons
Not quite as convincing as Magic Eyes' Blow Job Stroker
Bottom Line
Simply put, Vicky Vette's Blow Job Sucker will swallow your cum but not your wallet.
This was quite a lovely surprise for us. In fact, if you are on a limited budget, you can buy this with your eyes closed. But, if you are looking for a realistic experience, you should consider Magic Eyes' blow job toy.
Buy the Vicky Vette's Blowjob sucker here
---
#4 Doc Johnson Sasha Grey Vibrating Deep Throat Sucker
The last product in the list of our blow job toys is quite a special one. And it belongs to none other than Sasha Grey!
Almost all of us here have wanked off to her at least a dozen times, and so it's only fitting that one of her products makes it to this list. Let's now find out whether this product can satisfy your needs.
My Experience
After having a great time with Vicky Vette's Blow Job Sucker, we were really looking forward to trying out this product. And needless to say, Sasha Grey didn't let us down.
Just like Vicky's mouth, this toy also has 3 speeds and 4 patterns for the vibration. And even has the same internal length of 5.5 inches. So, in our testing, we found the experience to be quite similar.
Once you warm it up properly and apply the right amount of lubricant, this blow job sucker can surely take your orgasm to the next level. And on top of that, the vibration adds another fun dimension to Sasha's mouth!
When it comes to the convenience, this sex toy is quite easy to use and clean. And it is waterproof as well. You can use it in the shower without any problems whatsoever.
Bottom Line
Honestly, this Deep Throat Sucker isn't significantly different from Vicky Vette's product we reviewed earlier. And it is priced a little higher too. So, unless you are a die-hard fan of Sasha, we would suggest going for the former.
However, if you have always dreamed of coming in Sasha's mouth, this is as close as it gets!
Buy the Sasha Grey deep throat sucker here
---
#5 Zolo Automatic Pocket Blowjob
The Zolo pocket Blowjob is an automatic toy that can create suction inside it for a very realistic feeling blowjob.
It has a suction-cup at the base which allows you to put it on your shower wall for a hands-free blowjob.
My Experience with it
I've tested a lot of different blowjob strokers and a few of them have vibrating bullets in them but this is the first with a suction feature.
I loved the deep suction which feels almost like getting a very deep blowjob all the way to your balls.
It's not the smallest sex toy and you're not going to stick it in your pocket but it's a lot smaller than other similar automatic blowjob sex toys.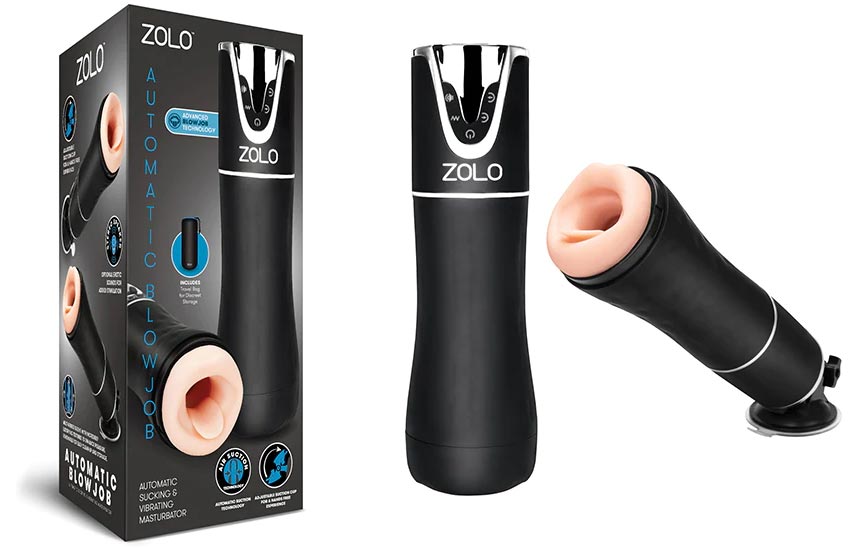 Pros:
It feels like getting a real blowjob
You can recharge it with the included cable
Shower mount for hands-free BJ
2 Different suction modes
It can play erotic sounds
Cons:
It's very expensive (but worth it)
It's bigger than the other toys
Bottom Line
The Zolo pocket blowjob sex toy is an amazing way to enjoy blowjob-like masturbation with a suction feature in a pocket toy size.
It simply feels a lot more like getting a real blowjob compared to the manual toys which lacks the suction sensation.
If you're after a realistic blowjob stroker then get the Zolo Pocket Blowjob toy.
Automatic options
There are also automatic blowjob machines available but they are way too expensive for me to test so I've let someone else do that. You can find a list of such blowjob toy machines here.
Just make sure you do your research before picking an automatic blowjob toy since they can be really expensive compared to the pocket blowjob toys.
Remember the lube
You're going to get a much more realistic blowjob experience if you use plenty of lubrication with your blowjob toys.
You should always use water-based lube for sex toys since it wont ruin the material and it's easy to clean off.
What's my final take on pocket blowjob toys?
I absolutely love my blowjob pocket toys because they give another kind of stimulation when you use them.
The only downside is the cleaning part, but that's the same with all sex toys, especially male masturbators which are super difficult to clean.
I personally recommend the FeelVictoria for the most realistic blowjob toy.