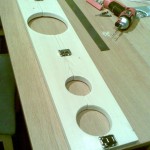 The classic wooden stocks are a popular restraint in BDSM play. Whether it is floor standing stocks of a simple plank of wood to clamp the victims limbs in. Buying a set of bondage stocks can be a costly affair, yet with a little time and some basic carpentry skills, it is not hard to construct your own bondage stocks.
Building your own bondage stocks allows you to customise them as you see fit, tailoring them for you submissives' physic, play preferences or with whatever additions you find useful in your BDSM scenes.
In this guide I will be showing you how to make you own simple bondage stocks to clamp in place your submissives' ankles, wrists and/or neck.
Continue reading "DIY Bondage Stocks – Howto Guide" »