Being naughty but nice is every woman's dream. Some women like to bring men's fantasies to life and this article is for them.
If you are one of those who doesn't like sexy role-play with your man, then you might change your mind after reading this article.
Dressing up in costumes is fun and sexy and if you want to vamp up your costume and go for sexy styles then these are some ideas for popular sexy costumes.
French Maid
The hot French maid is another really popular costume as it instantly increases your sex appeal. You can get a bustier type dress, one with a plunging neckline with a cute apron.
The Sexy Nurse
The sexy nurse is one of the bestselling sexy adult costumes. Get a short white dress in various sexy styles, you can wear stockings and tilt your nurse hat at a provocative angle and you are ready to go.
Naughty School Girl
A naughty school girl costume is really easy to pull off and all you need is to wear a really short skirt, preferably in plaid and a midriff baring white shirt and you increase anyone's temperature.
If you are really daring you can use pasties as opposed to wearing a shirt. Pair this look with knee high socks and a pair of stiletto Mary Janes.
Cheerleader
Cheerleader costumes are an easy option if you want to go for a sexy look. You can wear hot pants for that extra sex appeal or you can go with a really short flirty skirt.
Sexy Cop
The sexy cop costume can be a short skirt or a mini dress with stockings and killer stilettos. Tilt your cop hat sexily and you can carry a cop stick with attitude to complete the look.
Cat woman
Cat woman costume remains a top seller since the curve hugging full costume is designed to bring out your assets really well. If you want to increase the sex appeal for this costume pair it with thigh high stiletto boots or just plain stilettos. You can also use an eye mask to increase your mysterious sex appeal.
Sexy Secretary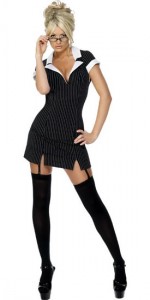 Sexy secretary costume is really versatile as you can wear any sexy top such as a bustier crop top, a short flirty miniskirt and stockings. Be creative and adventurous so you can pull off this look with style.
She Devil
She devils costume will make you look sexily evil. You can wear a tight leather mini dress with a plunging neckline in red or black. You can accessories this look with knee high boots and a hair band accessory with horns.
Like Marilyn Monroe
Marilyn Monroe costume is the epitome of womanly sexiness. It has to be a white halter neck bustier kind of dress with a short flirty A line dress. For the complete look get a blonde wig in a Marilyn Monroe bob and wear bright red lipstick.
Sexy Airline Stewardess
The sexy airline stewardess costume is one of those must have costumes if you are looking for an attractive look. You can wear a short dress with a plunging neckline or if you are feeling really risqué, then you can go for a cut-out mini dress.