If you and your partner are thinking of getting tied down, you will find plenty of choice when it comes to restraint options.
How far you take things will be a personal choice between the two of you, whether you seduce her with some gentle silk scarf restraints, or totally dominate him by tethering him to the bed and having your wicked way!
In the Passion Shop, the single best-selling restraint item is still the good old chrome handcuffs. When we talk about restraints, everyone automatically thinks of handcuffs. Any why not… they certainly have their place, but there is so much more to bondage play than just tying your partner's wrists together.
Check out our round-up of 5 interesting restraints you may or may not have considered:
Cotton Bondage Rope
Non marking cotton bondage rope can be used alone to make wrist cuffs, ankle cuffs, hog ties and many, more unique restraints too. The beauty of cotton bondage rope is it is very versatile, softer on the skin and prevents leaving tell-tale marks.
Some people become experts at rope bondage (Shibari) and spend years learning this practice as an art form.
A quick Google search will bring up lots of useful tutorials on getting the most out of your bondage rope, whether you are making simple or elaborate ways to restrain your partner.
Bondage Tape
Often overlooked as a bondage play accessory, Bondage Tape is not sticky like gaffer tape, but instead it sticks to itself, so once you wrap it around once, it clings and forms a bond.
Regular tape is a big no-no in the bedroom, and will cause pain to your partner but not in a good way, as it removes their body hair and even some skin when you try to remove the tape!
So, unless they want a messy wax-to-go, make sure you use only proper Bondage Tape specially designed for the purpose.
Bondage tape is versatile, coming in different Colours – black and red popular as always, but you can also buy purple and even pink.
It is cheap, looks good and does the job well. Try it!
Spreader Bars
An adjustable spreader bar is a great accessory for restraint play. The bar comes in 3 sections which are pinned together at various points allowing the bar to be adjusted in a width to suit your requirements. There are hook eyes at each end of the bar allowing you to attach a restraint of your choice.
Can be used to keep the arms or legs wide open, or restrain one limb to another using your own cuffs, collar, tethers or rope.
Torso Restraints
The Torso Restraint is a two-piece, soft vinyl restraint that laces around the waist, and secures the arms and wrists to the torso whilst the second piece ties the wrist to the thighs. Both pieces of the Torso Restraint could also be used separately if desired. It will adjust to suit most sizes and is easy to put on too.
It really looks the part with all the buckles and lacing, whether worn over clothing or in the buff – and the vinyl material means it is non-marking on the skin.
Easy Access Restraint System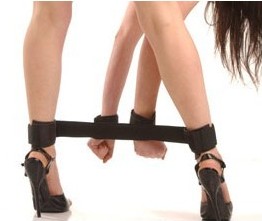 This is a super simple system that renders your slave virtually unable to move! Cheap, easy to set up and really effective, it is a nylon covered bar with fixed position Velcro cuffs for the wrists and ankles to keep legs spread, and to force the arms to behave themselves!
Great for trying out new positions and for keeping your partner just as you want them. Also, this item is perfect for beginners as it is so simple to use.