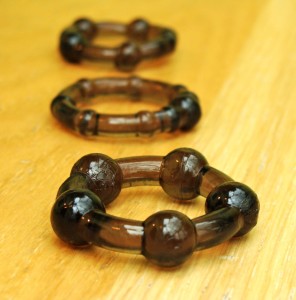 On a recent order from Lovehoney, I happened to notice these little cock rings were on special offer and spontaneously threw them in the cart.
Since then, the main items of that order have occupied our attention, and it has only been later on that we finally had change to review this set of little cock rings.
What do you get?
Sold as basic and basic they are. Packaging is minimal, just a simple blister pack with a card insert. No fancy graphics or imagery here.
But who cares?
Once opened, who keeps packaging? The rings themselves are made from a strong and stretchy rubber, so look elsewhere if you suffer from a latex allergy. Three sizes are supplied, with diameters of 0.75, 0.9 and 1.1. inches, so whatever your size, you should be catered for. All do at first appear rather small, but relax they do stretch. Of course, one need not just wear one at a time…
How to use the Basic Triple cock ring set?
For those who haven't yet tried cock rings, they are placed around the base of the penis, where they can slightly restrict blood flow to give a stronger and longer lasting erection.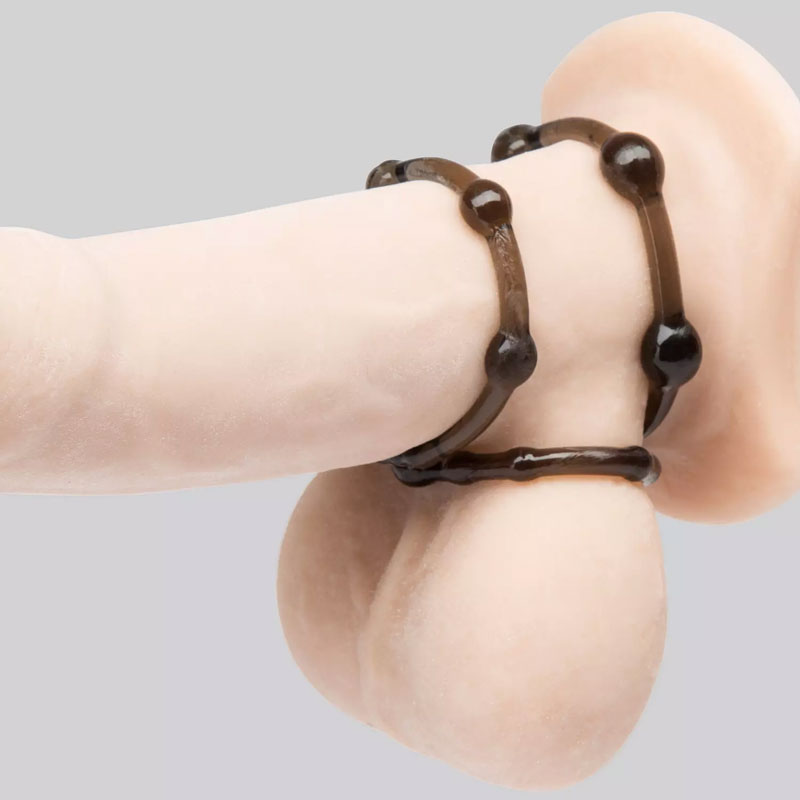 Simply slide one on when flaccid (use a spot of water-based lube if needed), then wear for the duration of sex and remove when finally flaccid again. These cock rings feature knobbly bits which can provide further stimulus to both you and your partner.
Placing all three of these cock rings down the length of your shaft can also provide an exciting ribbed effect for your partner.
Let's give the basic penis rings a test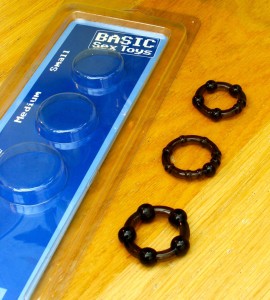 I have to admit, before our testing we didn't expect much from these, they are just small, cheap and basic sex toys.
However, in use, slipping one on did make a marked difference, providing more enjoyment. I found the feeling of tightness around my penis a turn on, aided by the little knobbly bits as I penetrated in and out.
Regarding improvement to longevity, this is difficult to quantify, but I did find myself less likely to dip when our scenes were momentarily interrupted to dive into the toy box and rummage for further items to play with.
My final conclusion of the Beginners Basic Get Hard Cock Ring Set Review
At the end of the day, they'll cost you about the same as a beer in town and will provide you and your partner with a good deal more pleasure and far less likely to make you flop!
I recommend the Basic Cock Ring set if you wish to give penis rings a try without breaking the bank.