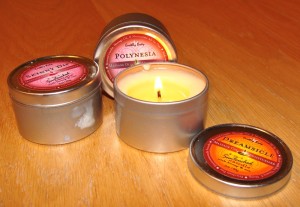 Candle play can be a fun and erotic addition to the bedroom repertoire of any couple, and these Earthly Body Trio Mini Massage Candles are designed as the ideal introduction to the world of wax play.
At its most basic level, wax play involves the use of of hot wax, (usually a candle) being dripped over a bottom by a dominant. The hardened wax can then be peeled off the skin rather pleasurably. Many people use ordinary household candles for this purpose, although some care has to be taken to ensure that they are not coated in lacquers or made from bees wax which burn hotter than an ordinary candle. The Earthly Body Candles eliminate the worry about using an unsuitable produce because they are especially designed to burn at a lower temperature than ordinary household candles. They produce a lovely soft glow which adds to the overall ambiance of the room.
The mini trio of candles are supplied in an organza bag and would make a lovely gift. Each candle is housed within a metal tin, which looks nice and also makes them practical to use, as one can hold the tin. The lit keeps the candle clean and free from dust when not in use. Once lit, the melted wax can be dripped, poured or spooned onto naked skin, and massaged in. As the candles are made from oil rather than the more traditional wax, this will not set hard and cannot be peeled off as with traditional candles. However, the natural oils make an excellent moisturiser and are great for a slow massage, either to warm up a session, or to relax after sex.
The candles themselves are made from soybean oil, coconut oil, hemp seed oil, apricot oil, jojoba oil, avocado oil, vitamin E and essential oils. They are 100% vegan and are cruelty free. The melted oil can be licked from the skin, but I wouldn't go overboard with this, as they are quite strongly fragranced.
This set contains three scents: Skinny Dip – which has a vanilla-like scent combined with cocoa butter, Dreamsicle – which is a pleasant citrus, and Polynesia – which is quite strongly florally scented. I liked both Skinny Dip and Dreamsicle, but found Polynesia a bit sickly, although Mr Kinnk quite liked it.
All in all, I would recommend this little kit as a lovely gift for yourself or others. The oils are very moisturising, and, as the candle does not burn very hot, they make a gentle and pleasant introduction to wax play. They are not for you if you are a person who prefers the wax to become hardened on contact with the skin, but are perfect for massage and adding a subtle ambiance and scent to the room. Do you have any experience of wax play, or an idea for using these candles? Let us know in the comments below.
Kinky Kompare!