It's rare these days for us to buy toys on the high street, but one sunny winter afternoon we did exactly that. Drawn in by Ann Summers' sale, Ms. Kinnk and I took a peek, beyond the racks of lingerie and fancy dress to the rack of interesting boxes at the back of the shop.
With so much heavily discounted, it was tough choosing, but this Rampant Rabbit Cock Ring took our fancy. Lovingly wrapped in tissue paper by the staff, we couldn't wait to get home, rip it open and play.
What's included in the Ann Summer cock ring box?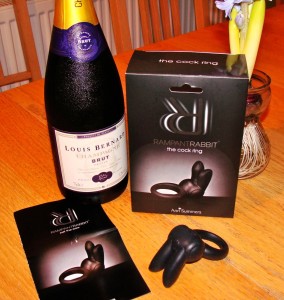 The box was very tastefully designed in a monochrome theme, and contained 2 sets of batteries to get us started. The Rampant Rabbit Cock Ring takes three LR44 wrist watch style batteries.
The toy is essentially a vibrating cock ring with two firm rabbit ears designed to press and direct vibrations to clitoris whilst having sex.
The ring part has an internal diameter of 30mm, but has a reasonable amount of stretch, so should accommodate most. It is however quite tight, which may or may not be to your liking.
How does it work?
The vibrating body is quite chunky and features a front button hidden beneath the silicone exterior to turn it on/off/toggle pattern. There are 7 patterns: 3 constants at different intensities and 4 that varied on and off pulsing.
Oddly the battery compartment has a plastic cover on the side, which detracts from the otherwise entirely silicone finish. Finally, we come to the two rabbit ears, again silicone, appear to have a firm interior coverer in a softer outer layer.
Let's Go – Give the Ann Summers cock ring a try!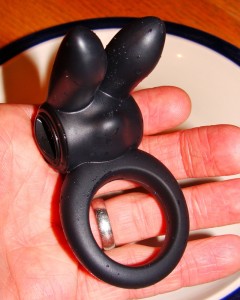 Pop in the batteries (three LR44 included), slide on your penis, push the button and get busy! The batteries are a little fiddly to slot in, get the right way round and then rotate the cover shut, but thankfully they last for a few sessions.
As mentioned, the ring is quite tight and can be a struggle to pull over an erect penis, but a good lubing helps. However, this tightness can be beneficial to keep one erect longer and you really feel all the vibrations.
The next issue we hit was the chunkiness and weight of the cock ring often caused it to swivel round (especially once lubed up or things get very wet). At best this meant the rabbit ears didn't hit the spot and at worst caused it to press into other parts causing discomfort.
With these issues aside, when the Rampant Rabbit Cock Ring hit the spot, Ms. Kinnk really enjoyed it. Like all vibrating cock rings, it will only be in contact with the clitoris when you thrust in, so you're never going to get the constant stimulation like you would with something like a We-Vibe II.
This does make the pulsating modes rather redundant; you can easily fall out of sync and then she gets no vibes. Overall Ms. Kinnk preferred our Tantus vibrating cock ring, purely because it tended to stay put and not slide round.
From my perspective I rather enjoyed the Rampant Rabbit Cock Ring, I liked the feeling of its tightness and its powerful vibrations it sent into my penis. Preferring it to our Tantus vibrating cock ring, which has a larger, looser ring that sits behind my testicles.
The Tantus only had a basic bullet vibrator which stopped working after a few months. This Ann Summers cock ring has a much better vibrator in it, more powerful, better pattern choice and appears to have better build quality.
My final conclusion of the Ann Summers cock ring review
This review has been rather mixed, there is no clear-cut recommendation here. There's are some good points; build quality, vibrations, price! But there are also some negative points; positioning and that hard battery cover.
Ultimately, for the $30 we paid in the sale, it compares well against other vibrating cock rings on the market and certainly don't feel disappointed.
Update: This version of the vibrating cock ring is no longer available, but you can find a really good alternative at Adam & Eve.