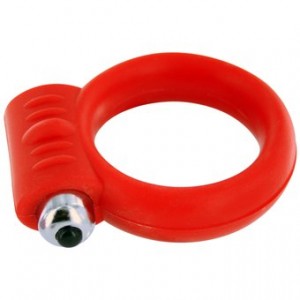 Cock rings are a great toy for gents who wish to stay harder for longer. Vibrating cock rings take this one step further, by providing extra sensation for oneself and one's partner. This Tantus silicone vibrating cock ring is no exception, delivering on both counts.
The design of this Tantus cock ring is simple, but effective; just a basic red silicone ring with an extension on the top to slot a small bullet vibrator into. This extension is ribbed and is placed perfectly to rub against your partners clit. The silicone is 100% Ultra-Premium Platinum Silicone, so it is free from phthalates and other nasties that can cause irritation or allergies. It can be boiled and it is dishwasher proof, so cleaning is no problem either.
The included bullet vibrator takes 3 small LR44 button batteries. It provides ample intensity and it isn't too noisy. One thing that I have found with use however, is that battery life is not very long. In fact, one set of batteries will only give you two or three sessions, depending upon your staying power!
Putting the cock ring on can feel a bit tight at first, as one pushes each testicle through. To help with this, use lube and keep your pubes well trimmed! Once on, it is very comfortable, even after extended lengths of time. The bullets vibrations can be felt deep into the base of your cock and hits your partner's clit on deep thrusts. Swivel the ring 180 degrees and you can give your balls some attention too. The more domineering person may also like to keep their partner wearing the ring outside the bedroom too, pushing them to the brink of frustration.
Overall, this product comes highly recommended. The extra sensation for both partners is great, and is ideal for couples looking for a little extra something to spice up their love life.
Buy the Tantus Silicone Vibrating Cock Ring from Lovehoney here.