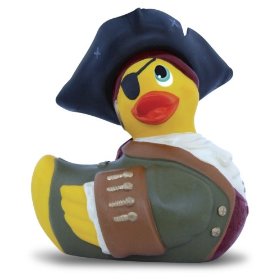 The Limited Edition I Rub My Duckie Pirate vibrator is sadly no longer available to buy. However other I Rub My Duckie's are readily available here at Pabo.
This little duckie is a travel version of the larger I Rub my Duckies. The whole range of vibrators is a lot of fun, especially for those who like to collect and admire their toys as well as play with them.
Picture the scene, you are home, and having a hot foamy bath, either alone or with your paramour. In the hot sudsy paradise what could make your relaxing evening even nicer?
A conveniently located bath toy that with a little twist of the dial will set your whole-body quivering.
The duck is completely waterproof, so when you are not using the massage function you can play with it in the bath like a normal duck. It is also easy to clean with any normal sex toy cleaner as well as just plain soap and water.
On use over a considerable time, it has proved a reliable and fun way to have some titivating times either alone or with company. It is powerful enough to achieve orgasm, and has a fairly good battery life. It takes just one AAA battery.
The only downsides I can really think of it that it can be tricky to remove the battery from its housing. Similarly, it can be a little tricky to turn the duck on without using a fingernail to turn the small switch on.
However, these are minor points, which can be excused when one considers the discreet and fun nature of the Duckie in question.
I'm very fond of my little duckie. Do you have any Duckies? If so which ones, have you got? Let us know in the comments, as well as what you think of them.