Although I have tried out a number of nipple clamps, including many home made alternatives, I have yet to try a set of nipple suckers. So when ÜberKinky offered this MAXtwist Clit and Nipple Sucker Set for review, I jumped at the opportunity.
The suckers arrived loosely packaged in a simple cardboard box, thankfully without any tacky photos adorning it. Beyond the brief description on the back of the box, no further instructions or bumpf was included. Not that it wasn't pretty obvious how to use the suckers.
The suckers are made primarily from hard plastic, but do appear to have a metal centre and have rubber washers to maintain the vacuum. The inside of the suckers came with a little oil coating the inside, to help maintain the vacuum for suction and ensure the central plunger moves freely. Construction is good, but one of the suckers did have a tiny patch of the smooth plastic finish on the screw handle missing. Maybe a manufacturing issue, maybe it got rubbed when rattling about in the box. Either way, a very minor point and in no way affected their use. Size wise they fitted nipples and clitoris without problem, measuring up with a 2cm internal diameter and 3.5cm internal depth when fully unscrewed. Overall length is about 10cm.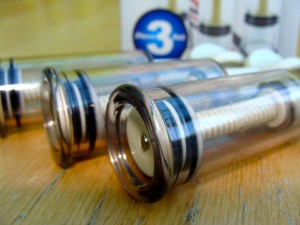 Use is very straight forward: turn screw until plunger is near base, place firmly over nipple, turn screw handle, raising plunger to create a vacuum and secure sucker to the nipple. Then the fun begins as you watch the nipple getting engorged with blood and pulled up into sucker, causing a mixture of pleasure and mild discomfort to your submissive. Keep on screwing the suckers to put even more pressure on the nipples, before finally tugging them off suddenly with a satisfying pop!
When suckered onto the nipples, don't expect the most secure attachment, they can easily be knocked off with some rough play. Even just their weight pulling them downwards can cause them to pop off. The attachment doesn't hold well to sideways force, however they do resist pulls directly out from nipple better. Moistening or even lubing the nipples prior can help provide better suction help secure the suckers. It should be noted that we did notice some slight bruising on the nipples after use, akin to that of love bite or hickey.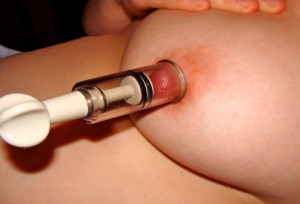 Using the suckers on the clit is similar to the nipples. Ms Kinnk described the sensation like that of pressure on her clit, unique and difficult to compare, but not painful like they can be on her nipples. However she ultimately didn't derive much pleasure from them on the clit, even whilst I wiggled and tugged on the sucker.
To sum up, we found these MAXTwist Nipple and Clit suckers an interesting toy to play with, whether you use them on your nipples or clit alone, or on all three at the same time, they're certainly a fun toy for a Dom to have in their arsenal. To the nipples, they can deliver a low level of pain, much less than nipple clamps, but more prolonged and persistent unlike a bite or pinch. At less than £20, they are very affordable and well worth checking out by any Dom looking for new sensations and fiendish devices to try on their willing Submissive.
Kinky Kompare!