Are you tired of the same ol' foreplay routine and want to spice up your sex life?
Well, let me tell you, foreplay doesn't necessarily have to begin and end in the bedroom. If you get one of the best vibrating panties, "foreplay" might just take up the entire day 😉
Don't be shocked! You can indeed be on the verge of orgasm 24 hours a day and experience a new way of living life. Or better yet, hand over the vibration remote to your partner and see how far naughtiness and spontaneity takes you.
Add to that the risk of "getting caught" while you're getting the 'orgasm face' in public, and you both got yourselves a great game to play!
But how do you choose the best vibrating underwear when there are so many out there? It's easy, just follow my guide and take your pick.
#1 Desire Luxury Rechargeable Panty Vibrator
The first product on my list is the very popular Panty-vibrator combo by Desire Luxury. What sets this product apart from the competition is its whisper quiet operation and up to 12 speed and 8 pattern settings. Seriously, before using this panty, I used to think that my boyfriend's tongue was the best thing in the world.
To use, all you have to do is wear the panty and gently slide the saddle-shaped vibrator inside so that it is in direct contact with your clit. I hand over the remote control to my boyfriend, regardless of whether we're going out to get groceries or on a date night, and always end up getting a different experience every time.
Your lover can flick through the settings from as far as 8 meters and give you the most intense orgasms. Also, I must mention this vibrator is waterproof (you know what types of water I'm talking about) and can be cleaned easily after use. Oh, not to forget that the vibrator carrying case comes with a small opening so that you can charge it discreetly using a USB cable.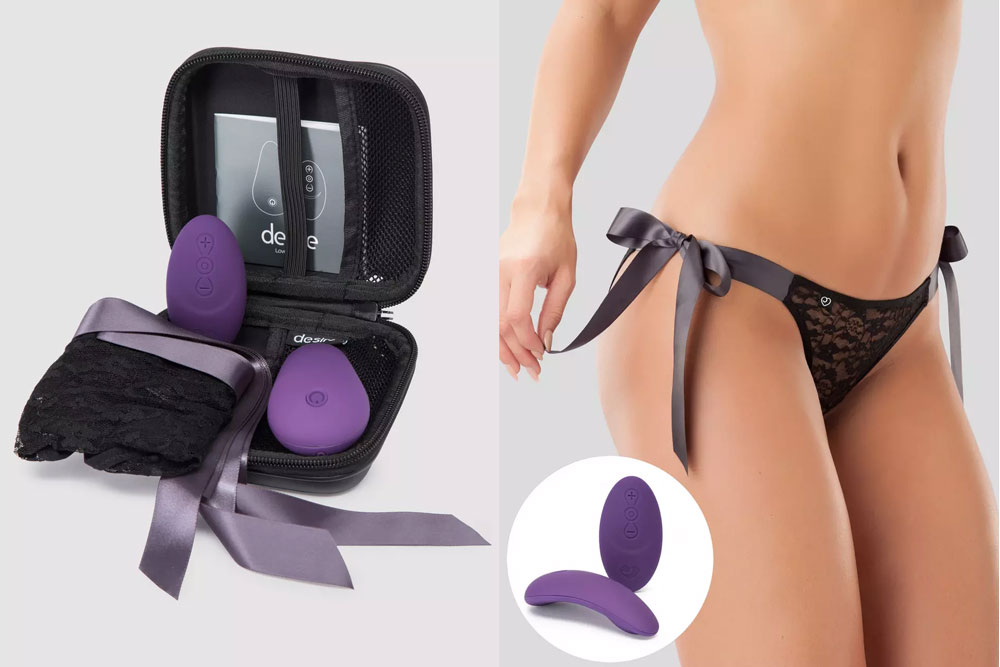 Pros
The panty is sexy and comfy to wear
Vibrator offers 12 speed and 8 patterns
Doesn't create a lot of noise
Can be operated from 8 meters away
Cons
The controller buttons feel same

#2 Love to Love Secret Vibrating Panty
The secret to a happy and healthy relationship lies NOT in dependence, but on self-fulfillment. So, when I decided to get this vibrating underwear for myself, the boyfriend was visibly confused. After all, the sex toys that I've owned before have all been gifts. But this time, I'm glad I got this for myself and experienced all the joys it was able to bring.
This product comes with 10 vibrating speeds and discreet yet smooth operation to bring you to climax anywhere you desire. My boyfriend and I experimented with this in many different settings (with the risk of getting caught, mind you) and every time it managed to make me twist and moan with pleasure. Heck, I had to run to the bathroom a couple of times to use a tissue.
One feature that I really like but my boyfriend hates is the switch on/off button on the vibrator. I love it because it lets me switch off when the heat gets too high (if you know what I mean) and the boyfriend hates it because he loses control over me lol. Also, I'd advise against wearing light/thin pants over this as the light on the vibrator might show. How embarrassing!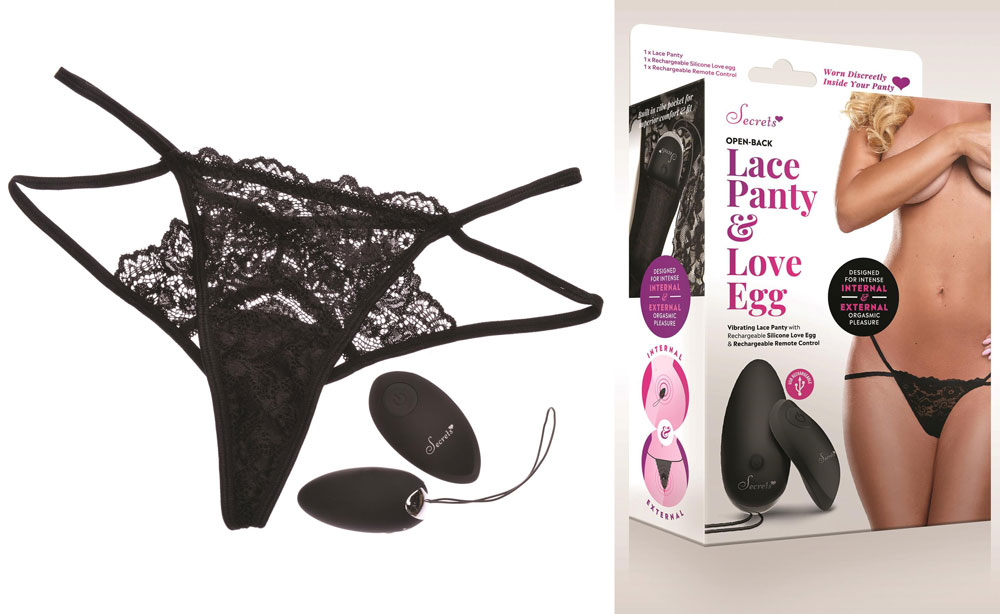 Pros
10 vibration speeds
Easy to wear and operate
Discreet in operation
Switch on/off button in the vibrator
Cons
The vibrator light might show over soft fabric

#3 LoveHoney Seduce Me Vibrating Garter Thong
My boyfriend got me this product for valentine's day, and to be frank, I wasn't expecting it. After all, I already had tried close to half a dozen vibrating panties before. But when I saw that it was produced by LoveHoney, I couldn't control my excitement! This thong is made of silky microfiber and comes with pink ribbons and the brand's signature floral lace.
As far as performance is concerned, it is top-notch! The vibrator offers as many as 6 speeds and 10 patterns as well as a remote that can switch the settings from 3-5 meters away. We decided to put this baby to use on our V Day date and every time my bf switched it on, I couldn't help but squirm and wobble with pleasure.
It started innocently enough with a movie but soon the people beside me started noticing what was going on but couldn't tell exactly what it was. I credit this to the vibrator's silent operation that gets masked easily outdoors. Then we went on our fancy dinner but the naughtiness didn't stop. The night ended with a passionate session (or three) of lovemaking.
Pros
Incredibly high-quality fabric
Vibrator is easy to control
Available in a wide range of sizes
Cons

#4 Eve's Rechargeable Vibrating Thong
Next on my list of top vibrating underwear, comes yet another exciting thong by Eve. This product claims to have numerous features that are exclusive and for the most part, it's true. It offers 12 powerful vibration patterns, which I think is incredible! My boyfriend and I experimented with this (him having the remote) and for the most part, we had loads of fun.
Since the vibrator offers 12 different patterns, we could switch between quick pulsation, steady speeds, quick escalation and much more. And another good aspect is that the rechargeable batteries last up to 90 minutes, depending on how you're using it. I wore this around while doing chores around the house, and the day just seemed to fly!
Something that I did wish was better though is the fit of the panties. Oftentimes, it felt like it would slip and the vibrator too got displaced a couple of times. But I wouldn't go so far as to call these flaws a deal breaker because the positives far outshine them.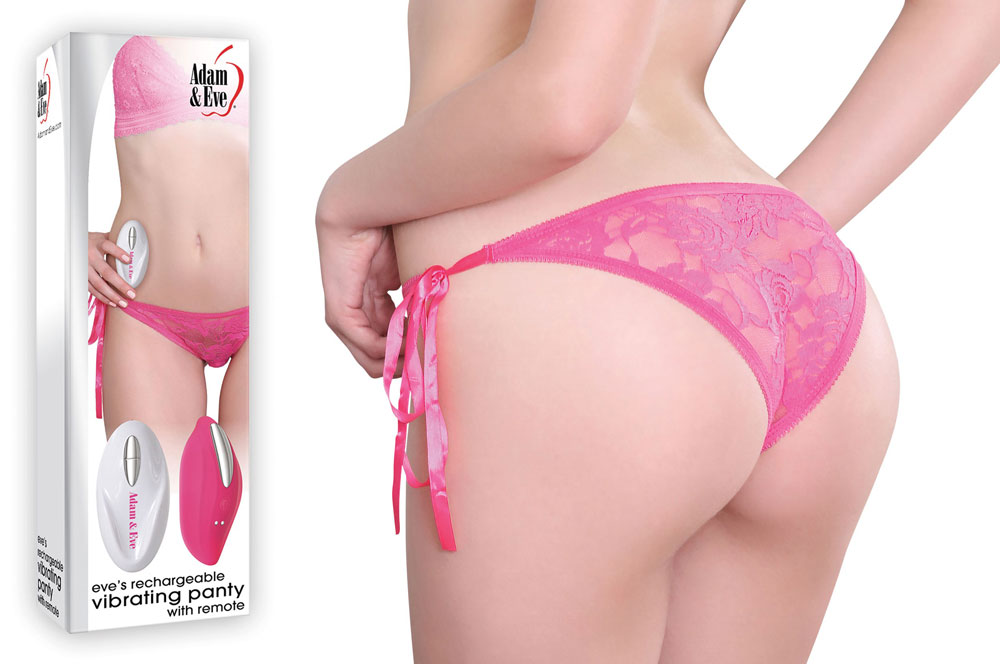 Pros
Excellent set of vibration settings
Decent battery life
Easy to use
Cons

#5 Fifty Shades Freed My Body Blooms Panty Vibrator with Remote
HOT HOT HOT! That's what you'll be saying when you lay eyes upon this unique panty vibrator combo. Inspired by Fifty Shades of grey, this product can provide innumerable sexy times, be it solo or with a partner. Crafted using satin and complemented by a stretchable lace, this beautiful piece of lingerie can flatter any size and proportions.
If I have to mention what's special, then we'd have to begin with 12 vibration and 8 speed patterns. Toggle through the modes yourself or pass the remote to your partner, and see how your ordinary days and regular movie & dinner nights turn into extravagant, steamy affairs. I love the fact that my bf can make me squirm and shake from up to 8 meters away thanks to the remote.
When it comes to possibilities of having fun, your imagination is the limit! Use this for solo pleasuring sessions, or take things outside and risk getting caught being naughty. The choice is yours! The vibrator is a bit loud, but it's hardly noticeable when there's some ambient sound. And there's something called 'Travel Lock' too, which prevents the vibrator from turning on when you don't want it to.
Pros
Looks incredibly sexy
Adjustable laces and super smooth fabric
12 vibration and 8 speed patterns
Travel lock
Cons
Might be a little too loud for some

#6 Screaming O My Secret Remote Control Panty Vibe
I don't know what impression the name of this product creates in your mind, but I can tell you that it's not far off "screaming." While this might be one of the cheaper panties + vibrator combos available out there, one thing is for certain, it is definitely close to the other products in my review.  What features make me like it so much? Keep on reading to find out.
Well, to start, this vibrating underwear offers 10 different vibration modes that can tease, arouse, and even annoy with the press of a button. The vibrating bullet is powerful, and slips in quite nicely inside the panty with side lie laces. And what makes using it even more fun is the fact that the remote control can be used from as far as 50 feet away.
This is an intriguing product to experiment with and if you're like me, someone who likes to push the zones of comfort, I'm sure your partner will have a ball too. Wear this sexy vibrating panty from Scream O and let your partner call the shots. Will you scream or will you squirm and quiver in pleasure? Find out for yourself once you try out the product.
Pros
Value for money
10 different, powerful vibration modes
Can be used from 50 feet away
Cons
50 feet claim is a bit dodgy

Vibrating Underwear: Frequently Asked Question (FAQ)
Question: Are vibrating panties easy to clean?
Answer: Yes! All the good ones are, at least. For the vibrator, you can use your regular toy cleaner and for the panty, wash it in cold water. Don't forget to hang it out in the shade to dry.
Question: Can I wear these anywhere I like?
Answer: Yep, you can. There's no law prohibiting people from wearing vibrating panties, so go ahead and experiment indoors or outside of home. There will surely be no repercussions as long as you don't go overboard with your facial expressions, or have an "Oops!" moment.
Question: Can I get an orgasm while wearing these?
Answer: Absolutely! Isn't that the whole point? But if you think you'd like to NOT get an orgasm because you prefer to stay in a constant state of arousal, then keep mixing and matching the vibration patterns. For best results, throw the remote to your partner and let them call the shots. Orgasms are easiest to reach when you're in control of how the vibration feels.
Question: Do the sellers provide discreet shipping?
Answer: Yes, since vibrating panties come under the category of 'adult toys,' the companies do offer discreet shipping around the world. Having purchased many varieties of toys so far, I can guarantee you'll not face any embarrassment while receiving.
Final words About Vibrating Underwear
Vibrating panties are amazing products that can bring lots of new ways to enjoy and spice up your sex life. And the products mentioned here are all good enough to let you do so! So, don't wait any longer, buy one of the top seven today and see how your life becomes more exciting.
Till next time!