Part 1: Back Rubs Aren't Just for Your Mom Anymore
by Jesse Woods from SexSearch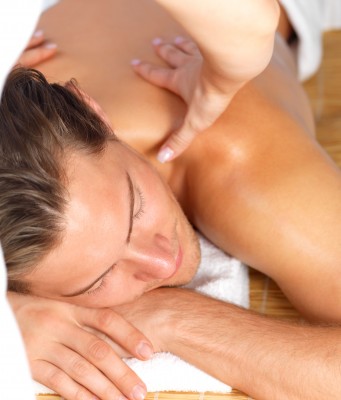 When most people think of foreplay, their minds are automatically drawn to oral sex and other activities involving sexual acts, but one of the most stimulating things two people can do to get themselves excited for intercourse has little to do with their most sexual body parts.
In fact, experts at the UCLA Sexual Health department say that arousing parts of the body that are generally not associated with sex can actually better your experience.
"Engaging in foreplay that doesn't engage the sexual organs can actually release more oxytocin than something like oral stimulation would."
Says UCLA School of Public Health professor Pamina M. Gorbach.
"The anticipation of the act will allow your body to better enjoy the act itself. Oral sex releases some of that anticipation, which is why foreplay like massages are so satisfying."
Giving a massage opens the door to enjoy your partner on an entirely undiscovered platform. It's been found by professor Gorbach's research team that 80% of people who can't achieve orgasm have difficulty doing so because they've applied so much pressure to climax that they've often mentally blocked themselves from allowing their bodies to reach that point.
But because massages don't have an expectation to end with either party climaxing, you're able to relax and actually enjoy the experience. Instead of feeling the need to rush to orgasm, people are more likely to simply enjoy the experience.
Unlike traditional foreplay, massages aren't a one-way street. There are always going to be people who enjoy giving oral sex, but chances are the only person truly enjoying the experience, and that's the person receiving it.
With massages, both people involved get to enjoy the sexual experience. For the person receiving the massage, they get to have a euphoric luxury of having their muscles and skin touched in an enjoyably intimate way, but the person giving the massage gets to enjoy it just as much– From exploring their partners curves to having the opportunity to getting to touch an entire body of skin, it's as pleasurable for the person doing the touching as it is for the person being touched.
But massages are like meals: You can have the best cook in the world making your dinner, but if the food has gone bad, your meal won't be good. With massages you can have the ability to touch a body properly, but unless you have a good massage oil to help you along the way, you'll be left with a lackluster touch.
We over at Sex Search asked our friends and fans which oils they prefer for their experience, and we've collected the top 5 favorites to enhance your massage!
The 5 best massage enhancers
The Body Shop's Sensual Massage Oil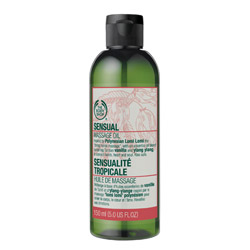 This is the perfect alternative for organic lovers. While most massage oils have synthetic materials in them that can be harmful to sensitive skin, The Body Shop's intimate product is made of community trade organic soy oils, so you're getting the most natural experience possible.
The oil only has a slight hint of yang yang and kukui, which is a big bonus– The less you're smelling of your body oils, the more your other senses, like your sense of touch, are heightened. And as an added bonus, the Polynesian and kukui blend repairs the skins moisture, which kills two birds with one stone!
Kama Sutra's Mediterranean Almond Massage Candle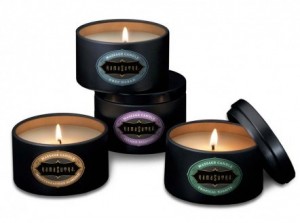 Natural nuts, especially Brazilian and almond, have a scent that is actually a sexual stimulant. The scent of almonds promotes the brain to release oxytocin, which is a chemical that allows the body to feel sexual pleasure.
Kama Sutra's almond scented candles are a great way to get your blood flowing with the smell, and the pleasure continues after it's been lit for a while. The wax of the candle actually doubles as a massage oil which can be used in its thick, solid form, or after it has been melted by the flame to add a little heat.
Lust Cosmetic's Edible Warming Massage Oil
Nothing ruins an experience like a foul taste in your mouth. As many people have experienced with latex, after a condom is removed, so is the desire to have your mouth anywhere near that area.
Since massages have a tendency to wander, you wouldn't want to taint any area that you may be placing your mouth on later. Lust has created an edible oil that not only feels great on the skin, but tastes amazing, so you won't have the fear of accidentally getting some on your wondering tongue.
Victoria Secret's Vanilla Craving Kissable Massage Oil
In studies that gauged men and women's reactions to scents, it was found that the two sexes prefer very different smells.
While women are most turned on by a man's natural pheromones, men had a more physical reaction to vanilla. They saw that a man was more likely to be attracted both physically and mentally to the white bean.
The VS oil isn't too overbearing, but it's noticeable enough to arouse a man before even having to put the effort in to massage him.
KY Brand's Touch 2-in-1 Warming Oil and Personal Lubricant
There's no need to be coy about it– When you're giving someone a full-bodied massage, chances are the end goal is to have a happy ending.
KY's warming oil gives the body a great heating sensation during the massage, but it works double-duty as a lubricant. Many oils contain products that can be harsh and damaging to latex, which can weaken condoms to the point of breakage.
Luckily with KY, you can transition easily from massage to sex without worrying about the state of your rubbers, and it contains no ingredients that may damage your balloon.
If you want to give a good massage, you need a good oil! Try one of these trusted selections and you'll both be happy with the results!