Nipples are fun little things to play with, highly sensitive and the source of much pleasure and pain. Tweak them, suck them, pinch them, bite them, twist them, pull them, the fun never ends.
For even more daring fun, try some of the following implements for added variety more intense sensation.
Clothes Pegs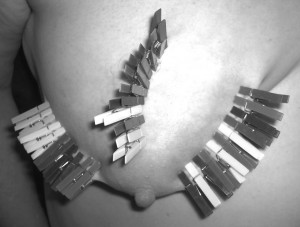 Always readily handy, clothes pegs are perfect for make-shift nipple clamps. But a large number of them can be fun when placed all over your submissive's breasts and body.
The pinched skin initially gives a sharp sensation, before subsiding to a dull throb. However, when removed another wave of warm pain is induced as blood flows back to the nipple of pinched skin.
By threading a length of string or wire through the tops of numerous pegs, one can tug them off one after another, as quickly or slowly as desired. Commonly referred to as the zipper.
Bulldog Clips
These can be used in a very similar fashion to clothes pegs, but with a more vicious bite. Perfect for those who really enjoy the pain. Just go careful, some can be too strong and some have rather sharp edges.
Clothes Hanger
For clamping nipples, you will need a hanger with a pair of clamps on it, as more commonly used for clamping skirts. The clamps often have rubber grips, which are perfect to prevent too sharp a bite.
Ideally, choose one where the clamps can slide along to match the distance between your submissive's nipples. Once clamped, the hook on the hanger is perfect for tugging or tying up to induce added strain.
Chop Sticks
After finishing your sushi, your chop sticks can be fashioned into nipple clamps by simply wrapping elastic bands around each end of the pair. I've written a small DIY nipple clamp guide here if you're more interested in this.
They can then be pried apart and placed around the nipples. The tighter the bands, the tighter the clamp. Just watch out for left over wasabi!
These can also make an effective gag if placed on the tongue.
Hair Grips / Bobby Pins
These innocent pins can be clipped over the nipple for some mild clamping pain. Do pick good quality ones, cheap ones are just too feeble and don't provide enough pressure.
Further fun can be had by tying the pair together with string around the loops in the ends and then pulling them slowly off. Or better still place the string in your submissive's mouth and let them pull them off themselves!
Rope
The classic tool for all bondage is of course rope. Almost all bondage ties descend from the Japanese school of Shibari. You don't need to be a master of knots to get started, but I would recommend following some step-by-step guides to begin.
For tit torture you need a classic Shinju tie, that wraps around the breasts and torso, tightening around the tits, forcing them outwards and placing strain on them.
Rope beginners should not attempt suspension ties, consult an experienced master to learn all the safety aspects.
Safety
Please remember to be careful and possibly avoid any heavy impact play with the breasts. Without care, it is possible to rupture milk and lymph glands and cause fibroid cysts, which although not critical, can affect future plans to raise a family.
Do report back on your favorite ways to play with breasts, what works best for you and any other ingenious items you have found around the home to use. I've written an article with the highest rated nipples clamps if you want some paid options.