I arrive at the Knightsbridge hotel at 10pm, I am greeted by a handsome yet slightly nervous 30 year old man so I cheekily asked 'So are you going to invite me in then or should I just stand here…' to which he stutters
'Oh sorry, of course come in.'
I introduce myself as Grace, put my bag on the table than ask him where he wants to go. He shyly says the bedroom I can tell this is his first time having a sensual massage so I agree the bedroom is a good place but first we need to shower together. I pick up my bag and follow Ben to the bedroom where I ask him to change into a robe and wait while I go and set up the bathroom. I set up my iPod and speakers to play some relaxing music, while I also light some candles and incense. Ben makes conversation by saying
'I like the smell what it is?'
'It is white jasmine, one of my personal favourites.'
I see this conversation eases him and makes him relax slightly.
Once I have finished setting up I go to the end of the bed where Ben is sitting and take my jacket off to reveal a nearly transparent shirt so he can see my bra underneath, I instantly see his eyes widen I can tell he likes what he sees. I undo my shirt slowly to reveal my peachy colour bra and I toss it on the chair where my jacket it. I see Ben move about on the bed and he is trying to hide his erection I give him a smile and say
'Don't worry, I would feel a bit offended if you didn't get one.'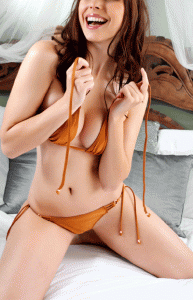 He gives me a broad sexy smile and stays still his erection in clear view. I then turn around so my back is to him and slowly undo the zip, wriggle slightly and my black pencil skirt drops to the ground to reveal my lingerie. I then stay with my back to him and undo my bra, and throw it onto the chair, then I quickly turn around to reveal my pert breasts and now erect nipples which are standing to attention for him. I notice Ben bites his lip, I carry on teasing and undo the two strings at the side of my panties, I pull them quickly in one swift move and they drop to the floor to reveal my well maintained pussy.
I ask Ben 'So do I meet your expectations then?'
Ben manages a whisper and replies 'Very much so, you are absolutely gorgeous.' I give him a smile move over to him and slowly undo the tie on his robe, biting my lip as I do so and I lean in and whisper in his ear 'it is not fair you being dressed while I am naked all by myself.' He nods in agreement, I take off his robe than take his hand and lead him to the candle lit bathroom where a soapy massage begins.
I turn on the shower and get in myself first, I then grab Ben's hand and lead him in. I get some peachy shower gel and start rubbing it into my breasts and torso, I push Ben up against the tiled wall and start sliding my wet soapy body against his chest, with my hands running all over his body especially between his legs. I can feel his cock harden, it is right up against me, so I grab one of his hands place it on my tit, then grab his cock in my hand tightly and after a couple of minutes and after trying hard to resist Ben cums hard across my stomach. I give him a cheeky smile and say 'well at least you can relax properly for the massage.'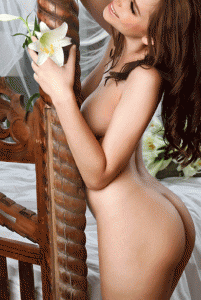 After drying him off I lead him to the bedroom and ask him to lay down on his stomach which he does immediately. I start the tantric massage by putting warm oil into my hands and I start massage his shoulders, Ben has really relaxed and is moaning with pleasure as my breasts rub against his back. I then climb onto his back and start rubbing my whole body against his up and down so my breasts are now massaging him, he really likes this. I then lean over and whisper in his hear
'okay time to turn over.'
When he turns over I bite my lip as I am greeted by his big hard cock standing to attention at me, this is when the real teasing begins. I lay down on top of him and slide up and down his body, my breasts linger over his mouth, my erect nipples begging to be suck but he restrains himself and just bites his lip. I then put some oil on my hands turn myself around so I am in the 69 position, I tease him by keeping my pussy far enough from his face so he can't touch it but close enough so he gets a good view of my pink jewel. I increased the tempo on his cock and rub my breasts against his tight torso, I can tell he is about to cum so I stop and start teasing him by running my finger along his cock. I then start rubbing his hard cock between my breasts and he lets out a big moan and erupts hard and fast all over them. While steadying his breathing he murmurs 'thank you my peachy goddess.'
Grace
Peachy Massage London
True sensual massage stories from an erotic massage agency in London
Thank you so much Grace for sharing your story at KinkyTesters.