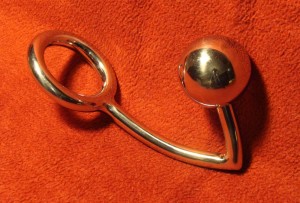 Here at Kinky Testers, we have always been big fans of ÜberKinky, their store is full of unique sex and bondage toys that you just don't find elsewhere.
Our last order from them included this rather serious looking cock ring and butt plug. Posted in their usual nondescript blue poly bags, inside our toys in simple and understated poly bags.
This is the ÜberKinky way, quite far removed from more mainstream sex toy brands that seemingly put as much (or more) effort into packaging and presentation as the product itself.
But never judge a book by its cover, for here we have one of the best cock rings we ever come across.
Let's take a look at the cock and anal ring
The first thing that struck me about this cock ring and anal ball, is the sheer weight of it. Made from solid body safe stainless steel, it tips the scales at a mighty 425g.
The ball and the cock rings internal diameters are both 4cm and the total length is 15cm. The workmanship is top notch, the finish is spotlessly smooth and polishes up as quite an attractive piece of metal work.
How do I use it?
The ball unscrews and can be replaced with other sizes as desired.
Wearing this combined cock ring and anal ball may appear tricky, but in reality, is quite straight forward. First one just pops one's penis through the cock ring part, then with a good dollop of lube applied, insert the anal ball.
The bar between them will then naturally push one's testicles apart and sit flush with the perineum. The 4cm diameter ball is perfectly round, so needs a little persuasion and/or some warming up to insert.
ÜberKinky also stock a 3cm, 4.5cm, 5cm and 5.5cm versions, catering for all appetites.
With this cock ring and anal ball locked in place, I had a strong feeling of restraint and quickly got turned on. The way the joining bar pushes your balls to the sides, and your butt pulls the ring down, keeps one's foreskin retracted and the sensitive parts of the penis exposed.
During sex, each thrust can be felt right into the anus and prostate, alternating between tugging on the anus and pressing the prostate. The cock ring part being rigid, kept me very hard, even for some time after ejaculating. Ms. Kinnk didn't get any specific stimulation from it, but did remark on how much harder than normal I was… The solid steel is also great for temperature play and opens up various electro-stim options.
My final conclusion of the ÜberKinky Cock Ring and Anal Ball Lock Review
Pleased, would be quite an understatement, we really enjoyed this cock ring and anal ball and can see it being used regularly for quite some time.
We have reviewed a number of cock rings recently, but this one certainly wins the award for giving most pleasure. Priced at $80, this really is a great toy, that every guy should own.