When ThatPosition asked us to review some items for them, this distinctive whip caught my eye, I just had to check it out.
Who wouldn't want to play with a cute little octopus?
This Octopussy whip is mad by BS Is Nice, a small company based in Madrid who specialize in quality hand made goods and are better known for the funky multi-colored silicone dildos.
The first thing that surprised me about this Octopussy whip is its size. It's a cute little mini finger whip! Measuring up at just 175mm long and 30mm wide and very light weight. Don't let the glossy product photos give you false expectations, dig out a rule and get a feel for it's true size. None of which is a negative point on the product, just a point to consider with all online purchases.
The whip is constructed from a strip of very soft leather folded on itself and pinned with a pair of eyelets and then cut into thinner strands at the ends. The outer surface is shiny and smooth, whilst the inner surface is a soft suede.
Great quality leather whip
The quality of the finish is without fault, simple, yet elegant. Presentation is also simple and tasteful, packaged in a clear zip lock poly wallet with the BS Is Nice stamp on it. The whip is available in three Colours, black, brown and blue denim. Unsurprisingly we opted for black – oh come on, black wins every time!
Being such a small and light weight whip, it is perfect for tickling and lightly whipping more delicate areas, like the nipples and vulva. Across the buttocks even hard swipes just give a light tickling sensation rather than anything painful. You will need to work hard to achieve red cheeks with this whip!
I found the diminutive size of the whip can make use a little tricky with my large hands. Its short length means flicks from the wrist are less effective and larger swipes are required. Ms Kinnk really enjoyed this whip when we used it for warm up and for some light play for when time was more constrained.
A great beginner's whip
The BS Is Nice Octopussy whip is a great option for those enjoying their first tentative steps into BDSM and pain play. It is perfect for light pain play and those still unsure of their boundaries.
I'm hesitant to label this as a beginner's whip as that often equates to cheap and naff, which is not the case here. It is very reasonably priced, just very well made too. It is suited best for light play and tickling, be that your limit or just a warm up step, it won't disappoint newbies and seasoned players alike.
It's size and lightweight nature makes it a great whip to pack for travel, it will neatly sit in your handbag or pocket. Ideal for an alfresco session one summers day, or a night out to your favorite fetish club.
Update: This is no longer begin sold ☹ But there are many great alternatives, I love the "Beat Me Please" Whip that's made in vegan leather and has amazing colors.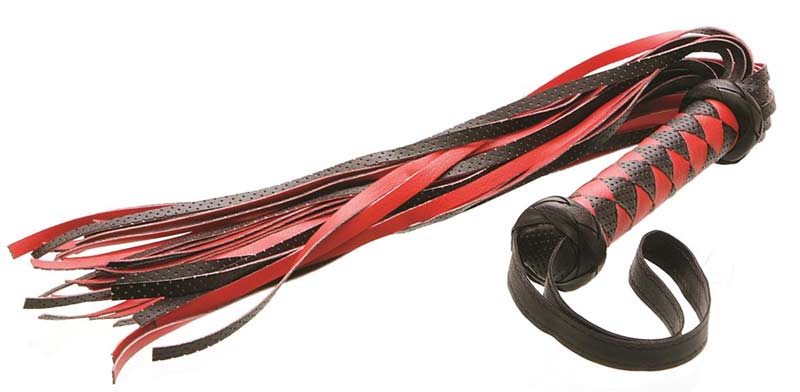 I recommend the "Beat Me Please" whip if you wish something similar to the Octopussy leather whip.