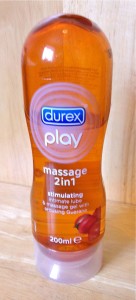 Everyone knows the Durex brand, however they're not the first to spring to mind when it comes to massage products. What we have here is a 2in1 product that can be used as a massage gel or as a lube. Bonus, but best of all no worries about your massage oil affecting the integrity of your johnies. The base oil in many massage oils can degrade latex condoms.
This 2in1 gel is presented in a large squeezy bottle and comes in a bright orange colour. Annoyingly the bottle is rounded top and bottom, so will only stand upright when the screw cap is on. However the bottle does have a self sealing cap, so will only dispense when squeezed. This may seem pedantic, but when in the middle of massage you don't want to be faffing about opening, closing bottles with a hand full of product and neither do you want you product rolling off the side table and spilling everywhere.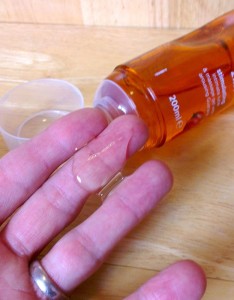 The gel is strongly scented with Guarana, but comes across quite potent and artificial and medicalised smelling. Not offensive, but certainly not a favoured scent. The lurid orange colour stands out too, but this is just the bottle, the lube is actually clear. In use the gel is thick and gloopy, spreading well over the body. However, it quickly takes on a sticky and tacky nature, not good for massage. It becomes difficult to work into muscles with your hands and so you find yourself applying more gel to compensate. Shortly afterwards the gel dries and rather than being absorbed, it starts to peel and flake off the body, giving skin unpleasant feel and filling your bed with bits. A big turn off.
As a lube, the Durex 2in1 performed better, with no real issues. Internally we didn't hit any problems with it drying out, however I'd still be hesitant to use it for longer sessions.
In conclusion, I find it difficult to recommend this product. It had several faults and better alternative products exist. Being a well known brand may mean it's more readily available in your local supermarket, but I'd still stick to a getting a separate bottle of lube and a bottle of massage oil and just keep the latter away from genitals and your condoms.
Kinky Kompare!