The Gun Oil range of lubricants really take gender stereotyping to a new level.
Here we have the Gun Oil H2O lubricant, presented like a bullet and marketed like a new secret weapon for budding army marines everywhere.
This masculine overdose is countered by the company's pink range of lubes that are just pink, not gay pink, just super fairy pink; perfect for all the feminine ladies.
Maybe.
Putting aside the company's marketing and branding choices, let's take a look at this product and see if it's actually any good.
What is special about the Gun Oil lube?
For review I had a 120ml bottle of their H2O lube, which non-surprisingly is a water-based lubricant and thus should be compatible with pretty much all your toys.
Added ingredients include a little Aloe Vera and Oat, which apparently help reduce irritation; plus, Ginseng and Guarana extracts, which are supposed to help increase blood flow.
Scent wise it is pretty low key with just a hint of the Aloe Vera coming through. The lube also has very little discernible taste, certainly nothing unpleasant or off putting and finally it is uncolored.
What in the pack?
When it comes to packaging, the bullet shaped bottle is certainly distinctive. However, the brown metal-like bullet tip is just some colored wrap, which is quickly lost/discarded to leave a clear plastic top.
Pop the top off and you have a standard press down/flip up lid for easy dispensing/closing. A good choice in my mind, if thrown on the floor in the heat of the moment, you won't be left with a huge puddle of lube to clear up later.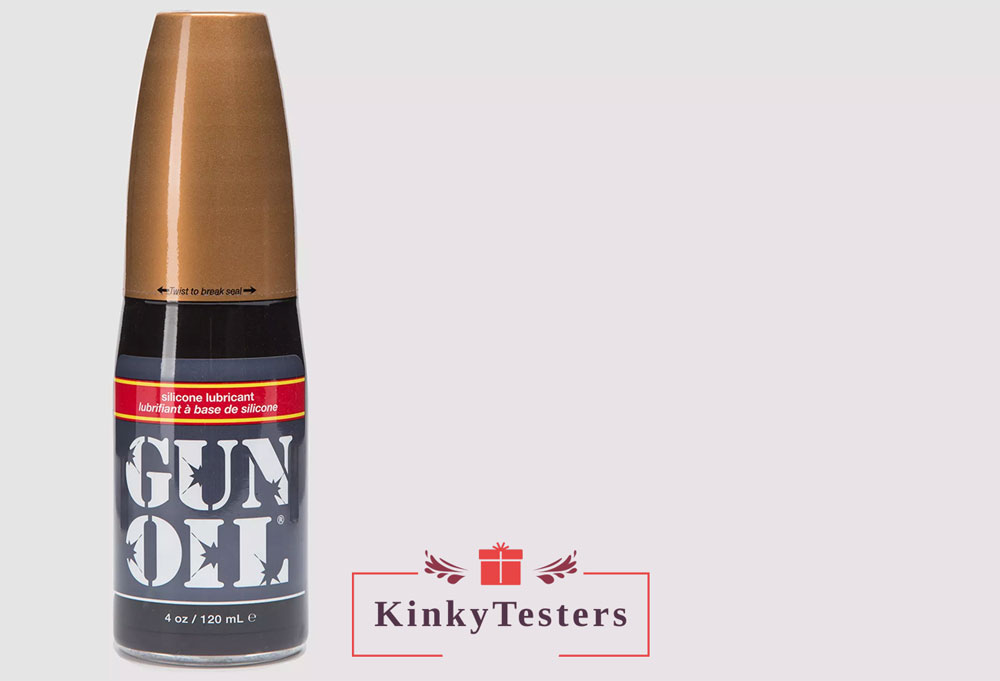 How does the Gun Oil lube do in a test?
To test this lube, I have been using it for a few weeks with my Fleshlight, Tenga Polygon, CalExotics Prostate Locator and when playing Hans Solo, which should fit well with this products target market.
Throughout my testing the lube performed well, a little went far, providing more than enough lubrication for my needs. The lube lasted well, didn't dry out too soon I never felt the need to apply more to keep going on longer sessions.
My final conclusion of the Gun Oil
To sum up, I cannot fault this product at all and would happily buy more. I am not a fan of their marketing direction, it does nothing for gender equality and only pushes gender stereotypes to even further extremes.
Some of fall between the macho muscle man/gay toy boy and fairy dust pink extremes.
I recommend the Gun Oil if you want a decent water-based lube suitable for most sex toys.