A 24ct gold dildo. Yep, you read that right. When we saw these on show at Erotica last year they certainly stood out. Super shiny, gold plated and presented in their own little wooden chest. So when Cocoa London asked us to review one of their products, we obviously jumped at the opportunity.
Roll on the knock on the door of our local Postie, thankfully handing me a non-descript package. Frantically opening it, I was presented with a small wooden box, with an ornately carved lid. Definitely not your run of the mill toy. I lifted the lid of the chest, half expecting to see a huge glow like some Pulp Fiction briefcase, inside was the beautiful gold dildo delicately sunk into a block of perfectly moulded foam. Snuggled in there, gleaming wonderfully, all shiny and reflecting back my cheesy grin.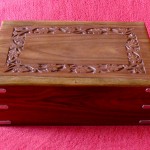 I carefully ease the gold bullion from the chest and by gum, this is a heavy weight toy, just shy of 700g. It feels like solid gold, of course, it isn't, it's not intended to back a currency, unless you're dealing in the currency of love. Rather this Small Curved Dildo is machined from solid 316 grade stainless steel. It is then polished super smooth to a surgical standard and finally gold plated with 2 microns of 24ct gold. Running your fingers over the dildo, it's plain to see the workmanship that has gone into this toy. It is perfectly smooth from top to bottom, with its undulated curves and ridges. It may be named small, but it is still a reasonable size, measuring up at 15cm long and 3.5cm diameter at it's widest part.
For all the bling in the world, the real question on all your lips: is it any good? This Small Curved Dildo was particularly fun during oral sex, Ms Kinnk found the double ridges at the business end particularly agreeable, the large bulbous end massaged her G-Spot, whilst the middle small ridge teased her vagina. Combined with my tongue on her clitoris, she climaxed in no time at all. As you would expect the smooth polished finish gave zero drag, but thankfully the large end gave ample grip, not too slippery and perfect to angle the dildo exactly where you want it. Occasionally it did live us longing for a longer version, as you thrust deep with it. The sheer weight of the dildo certainly made it's presence noticeable, however Ms Kinnk found that under gravity it rested on her perineum and quickly became uncomfortable. Almost certainly due to past scar tissue Ms Kinnk has there, but once aware I could keep the dildo supported and avoid this issue.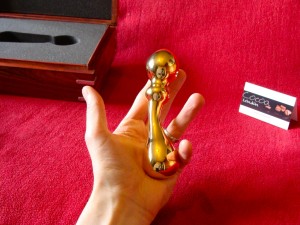 The dildo is also enjoyable when used anally. With the help of some water based lube, it really gives the feeling of fulfilment. For you guys, the curve is perfect for hitting that prostate, again great fun combined with oral sex. The solid stainless steel core is great for temperature play, though it can be quite cold to touch when first out of the box, so best warm it up before use if you aren't intending to make your partner squeal.
Cleaning the dildo was a breeze, warm soapy water, baby wipes etc, though care should be taken to avoid anything too abrasive or nasty chemicals. Whatever you do, don't stick it in the dishwasher with your glass dildos. Speaking of cleaning, the polished finish will inevitably bring out the OCD in you, as you keep polishing out your finger prints! Being gold plated and stainless steel core, there should be minimal risk of allergies. Cocoa London have confirmed for me that there is no nickel under-plate, which is good news for those of you get a reaction from nickel.
To conclude, both of us at Kinky Testers found this Cocoa London 24ct gold dildo quite special. Not simply because it is gold, but in the presentation, the workmanship, finish and shape, it is clear a lot of thought went into this product. It certainly isn't a cheap product, for this money, you could buy a whole lotta Lelo, but this isn't your usual silicone wibbly wobbly vibe. Ultimately Cocoa London have produced an item of luxury, the perfect gift for someone special who has everything. Something they can treasure for a great many years, something you both can have fun with until you're old, have grey pubes and reminisce of that time they first opened the chest to discover your heart of gold.
Visit Cocoa London's website to find out more and buy the Small Curved Dildo.