Using chopsticks for nipple clamps is one of those things you have heard about numerous times before, or will be something you wondered why you didn't think of it before yourself.
Utilising materials you probably have already at home, or can pick easily and cheaply, these are a no brainer and should be in everyone's toybox. This is such an quick and easy howto, it barely warrants a whole post at all, but here goes anyway.
Materials Required
2 pairs of chop sticks. Avoid wooden ones you snap apart to avoid splinters.
4 Elastic/rubber bands.
Method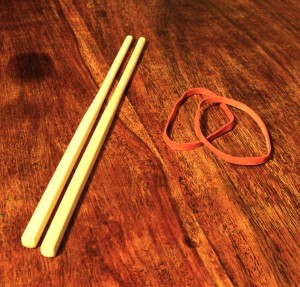 Take one pair of chopsticks and hold them together. Wrap one elastic band around two of the ends, looping over multiple times as necessary to hold the chopsticks together. Repeat with another elastic band for the other two ends.
The more times you wrap the rubber bands around the ends, the tighter the nipple clamp will be. Try prising them apart and placing you little finger between them, to test the severity of the clamp. Add or remove rubber band loops as necessary to adjust them.
That's it! One chopstick nipple clamp finished. Just repeat the above to make another for the other nipple.
Variations
Although I intended these for use as nipple clamps, they are also very effective as a clamp for your tongue or for some CBT (Cock Ball Torture).
For the lazy, you can buy some nipple clamps here