Who would have thought our old TENS machine would get so much use? After discovering the selection of electro-stimulation probes and attachments over at ÜberKinky, the sparks have quite literally, not stopped flying.
What we have here is a small butt plug with metal electrodes down two sides. These trail off with a short cable terminating in a pair of standard 2mm sockets. These can then be plugged into almost any TENS machine (Transcutaneous Electrical Nerve Stimulation) of electrostim controller you have. When switched on, a low frequency current is passed to the electrodes, which depending on intensity can produce anything from a light tingling sensation though to inducing muscle movement.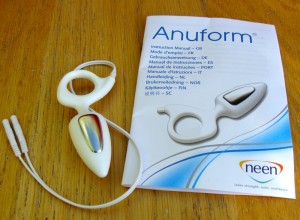 Although sold by ÜberKinky as a electro-stim sex toy, the Neen Anuform anal probe is in fact intended as a medical device to treat incontinence! As such, it is packaged in a sterile sealed zip lock plastic bag and supplied with a very dry multi-lingual manual. It is also rather small compared to many other butt plugs you've probably come across. All of which didn't stop us having some fun with it. But first, lets go through it's vital stats: insertable length is 50mm and width is just 25mm at its widest point. There is a handy finger loop that sticks out, preventing it getting lost and aiding easy retrieval. The trailing wires are 27cm in length. The metal electrodes measure up at 27mm x 18mm at their extremes. Do note, these contain nickel, which some of you maybe allergic to. The rest of the body is solid white plastic. It is not water proof, not that you'd play with electricity in the bath…
My initial impression was very much "what can this little thing do?" So I blind folded Ms Kinnk, tied he down, lubed up the anal probe and slid it into her. Ms Kinnk at this point hadn't seen this delivery yet and merely thought it was a plain old but plug…  I plugged it in, turned on the TENS machine and proceeded to go down on her. l started on a low intensity, then slowly increased the intensity, whilst I worked away with my tongue bringing her closer and closer to climax. Ms Kinnk groaned, squirmed and giggled at the unexpected sensation, trying to work out what she was feeling. Afterwards, could only say "interesting…" through a cheeky grin from ear to ear.
On low, the Anuform anal probe gives a light tingling sensation. Pleasant, if not massively stimulating. But as the intensity is increased, it starts to make the anal muscles contract with each pulse. This gives the deception of something much larger being pushed in and out or the anus. Quite astonishing how such a tiny toy can produce such a large sensation. Combine this with vaginal intercourse and we have a winner, as who doesn't like double penetration?! Even solo, with my Fleshlight, this anal probe was very pleasurable and fun.
Overall we have been very pleased with this Anuform anal probe. At £26, it's priced similar to a normal silicone butt plug and very cheap compared to other more substantial electrostim insertables available. Of course you do need to factor in the cost of a TENS machine to use in conjunction (check out the Femme TENS we used). Either way, this is a great introduction to electrostim. The only downside is perhaps its lack of size, should you want something you can physically feel more; and secondly the nickel electrodes, should you be allergic. I just hope I never have to use it to treat incontinence…
Buy the Anuform Anal Electrostim Probe from ÜberKinky