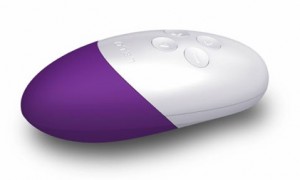 As with all of Lelo's products, the Siri is built to an amazing standard, making it very much top of the range and in to the luxury product category.
Made with a tip of medical grade silicone you can get amazing pleasure at body temperature in less time than most other toys.
I liked best about the Siri was its staying power, with one two hours charge you can get up to four hours of play, not to mention the charge lasts up to 90 hours before going dead. That's a whole lotta play to be had!
Perfectly shaped to fit in the palm of your hand, with various speeds and stimulation modes, this clitoral vibrator is also great as a massager for full body teasing and sensual stimulation. Visually it's so very pretty, coming in three different colors.
Lelo package the Siri like the luxury product it is, sending it to you complete with satin pouch, charger, full instruction manual and a TEN-YEAR guarantee. Yeah, ten years!
With lockable controls, you can pack this little baby away in its pouch wherever you go, secure in the knowledge it won't turn itself on at the most inopportune moment. It has the quietest motor, when it is on you won't be able to hear it, great for those nights away where discretion is called for.
The four-button control panel is easy to operate, either yourself or by a partner, and allows you to quickly move through the different settings with ease to give greater variation in sensation and teasing.
With its powerful (but quiet!) motor, the Siri can provide intense stimulation in both its pulsation and vibration modes. The only downside is that it's not water-proof or splash-proof.
With its port for the mains lead at the bottom, play is restricted to outside the bathroom. Otherwise, Lelo have done it again! Another amazing product!