Glass is very much in vogue as a material for dildos and butt plugs. It is easy to see why, the weight and rigidity intensify the sensation of fullness, it can be warmed up or cooled down to provide further stimulus, it is very easy to clean and lastly it can look very elegant.
After really enjoying the Tracey Cox glass dildos, I was very keen to try a similar butt plug. This Love Labs Twin Ridge Butt Plug unlike many, has two bulbous ends stacked on top of one another, to be inserted one after another. When it appeared in a Lovehoney sale, I just had to purchase it.
First Impressions
As with all Lovehoney deliveries, the butt plug arrived in a discreet brown box. Inside the butt plug was packaged in a tasteful, if basic box. Opening revealed the butt plug in some rudimentary polystyrene which just about protected it, but covered it in white polystyrene bits. Thus a quick initial clean was necessary. A small black velvet draw string bag was also provided to store it safely.
When first holding the butt plug for first time, you really get a feel for its size and weight. At 150mm long, the two ridges are 38mm and 44mm wide and the narrow necks parts are just 25mm. Thus, this is probably not best choice for anal virgins.
As with any butt plug, lots of lube is required. But do make sure both ridges are lubed, to ensure the second also slides in smoothly. This plug is also quite large and goes deeper than most, so some initial warm up with slimmer toys is advisable. Once in this plug really fills you up and is very pleasurably. We enjoyed using it both in conjunction with normal vaginal intercourse and to massage the prostate. The twin ridges came into their own as I pulled the plug out of my partner just as she climaxed, acting similar to love beads. She came hard and intense as a result.
Like other glass toys, you can experiment further by changing the temperature of the glass prior to inserting. Just pop it in the fridge or under a hot tap, but don't freeze it lest delicate skin sticks to it – ouch! Cleaning wise, this butt plug is a breeze. It is even dish washer safe.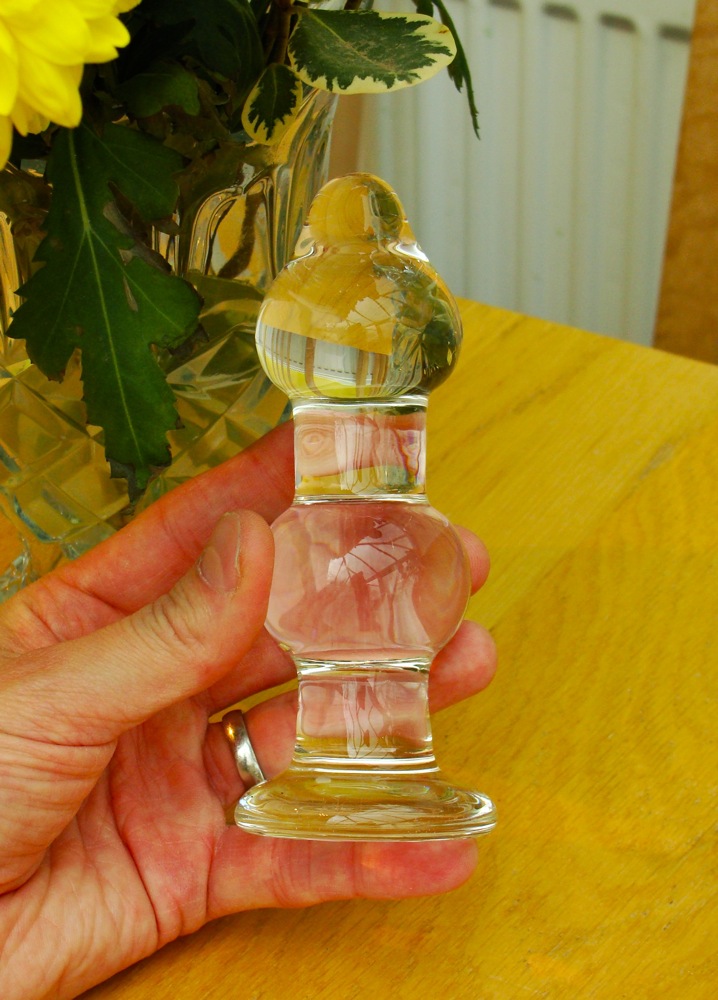 The only downside, was this plug was just a little too wide for my partner. A tear from child birth has left her with some scar tissue that insertion threatened to rip. A shame, as once in she found it very pleasurably. As such we'll now be reserving this toy for myself only.
Conclusion
Overall, if you are looking for something filling or want to move on from a slimmer beginner plug, then this butt plug comes highly recommended. The design is simple, no decorative colouring and packaging basic, however there don't detract from it's use and easily forgiven due to it's very reasonably price tag.
Kinky Kompare!