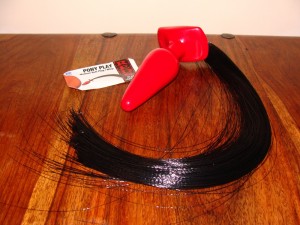 The lovely people at ÜberKinky recently sent us this medium pony tail butt plug for our review. It is certainly an interesting product, and is aimed squarely at those who want to dabble with the fun area of pony play.
When I was younger, I used to dream about owning my very own pony. I'm not sure Mr. Kinnk ever wanted a pony, but now he too could own his own real-life pony!
And what could be more essential to pony play than a lovely long swishing tail. Once this is installed, one is hot to trot!
Let's take a look at the Pony Tail Butt Plug box
Full marks go to ÜberKinky for their discreet packaging. The parcel arrived double wrapped in a nondescript and blue polythene bag, with bubble wrap packaging just as one would expect from a decent sex toy store.
The pony tail butt plug is made by market leaders Doc Johnson, who as well as being one of the US's largest sex toy manufacturers, have been in business since 1976. The plug itself is made from PVC, and appears to have a harder inner 'core' with a smooth outer layer with a bit of 'give.' The tail, which can double as a whip, appears to be made from a nylon-type material which gives quite a realistic impression of pony hair.
Okay, enough talk let's give it a test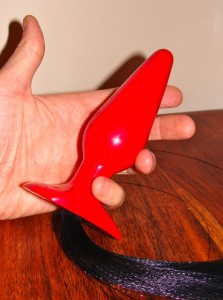 So, to the fun part: testing! How did we find it? Very good as it happens. Mr. Kinnk, has a very particular attention to detail, as well as restraint.
Once he was completely satisfied that I was indeed well restrained and not going anywhere the fun could begin. And this is where the Pony Plug showed how versatile it was in comparison to other butt plugs.
The tail could be used to great effect to tease me. Once blindfolded, the naked skin takes on a heightened sensation and vulnerability which is left wide open to the gentle caresses of the swishing tail that Mr. Kinnk dragged slowly across my buttocks, haunches and bare breasts.
Whilst it is marketed as a whip, and can be made to feel stinging as well as tender and gentle, one would not be able to be as vigorous with this particular whip as one could with say a cat o'nine tails or a paddle as the hair may become detached from the plug itself.
In a similar vein, we noticed that a couple of the strands of hair became detached from the plug, but overall, this is a fairly minor point. I have read of other players grabbing the hair itself to remove the plug once inserted, but this would be inadvisable as the tail is not designed for this purpose and would detach wholesale from the plug flange.
So where was I? Oh yes, I was trussed up, being teased and ready to trot. From a submissive's point of view, one of the most attractive things about kinky play is the ability to be completely vulnerable and open, in the physical as well as in the emotional sense.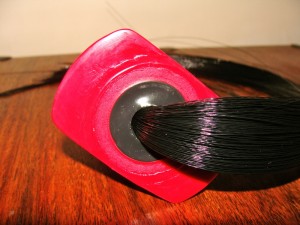 Butt plugs can enhance these feelings, and the sense of being completely and utterly possessed by another person. The insertion of the butt plug is very intimate experience and requires that the person receiving the plug is completely relaxed. Mr. Kinnk used water-based lubricant designed for anal use for this and inserted it slowly, teasing me as he pushed it into place.
From our perspective, using a thicker water-based lubricant designed for anal sex makes this much more pleasurable, and being water-based means that there is no worry of incompatibilities with any of the materials used to make the butt plug.
Well, Mr. Kinnk couldn't hold off any longer. The feeling of being completely filled up when being fucked was such a turn on. The flange prevented the Pony Plug from travelling too far inside and made retrieval straightforward.
The second minor point Mr. Kinnk made was the outer edges of the flange felt a little rough and uncomfortable when having sex from behind. This caused a little bruising to the base of his penis; thus, I wasn't the only one to get it rough.
Experimentation with different positions can get around this issue however, and it was not enough to detract from the overall positive experience. Feeling the tail swishing around whilst I was being taken from behind, and having Mr. Kinnk move the tail and plug felt very good too.
Clean up is simple too, and the Pony Plug can be washed in hot soapy water, otherwise a sex toy sanitizer can be used.
My final conclusion of the Doc Johnson Pony Tail Butt Plug Whip Review
So, would we recommend it? Yes, we would. It is a fun addition to any kinky toy box and comes in two sizes. The small Pony Plug has an insertable size of 9.5cm (3.75 inches).
The medium Pony Plug that we tested has an insertable size of 10.16cm (4 inches). Diameter-wise, the small plug has an overall diameter at the widest point of 2.5cm (1 inch) and the medium Pony Plug that we tested has an overall diameter of 5cm (2 inches).
The neck of the medium Pony Plug, is 4cm and the flange is 7cm by 4.6cm. The pony tail length of the medium plug is 40cm.
Update: This is no longer being sold, but there are some great alternatives. The Tailz Hot Pink Pony Tail butt plug is such an alternative that's even cheaper and really good. You can buy it at Atoyz.com here.