On a recent toy order, Ms. Kinnk added this small tub of Hardware Wank Wax Heavy Duty Masturbation Wax. Hailing from California and marketed with a good sense of humor, Hardware Wank Wax promises to polish one's penis to a high glass shine!
The wax is thick, odorless and is very similar to Vaseline in consistency. But then again, the first ingredient is paraffin jelly. Other ingredients include beeswax and it's suitable for vegetarians.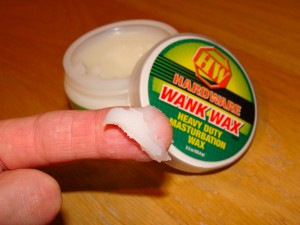 So, there I was, late one night, Ms. Kinnk fast asleep, wiped out from hard day's work and giving me the cold shoulder. What's a restless chap to do? Crack open a tub of Wank Wax, wax on and whack off! Scooping out a generous blob and applying it to one's knob, it soon melts to give a glossy sheen and slippy smooth lubrication.
The wax soon gets things moving quickly, providing an enjoyable and friction free wank. It does exactly what it says on the can.
Afterwards, the wax does leave one glistening, but doesn't wipe off easily. Greasy genitals aren't funky. Ideally a shower would be required to clean off fully. Do bear in mind, this is not water-based lube, so it won't mix well with other sex toys or condoms.
Overall Wank Wax gets a big thumbs up. It comes in at a good price for a decent size tub that goes far.