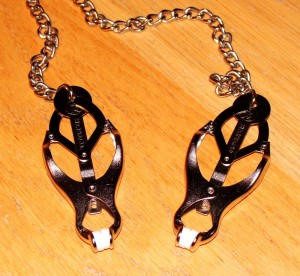 Everyone likes nipples. Tweak them, lick them, twist them, pinch them, suck them, play with them however you will; nipples are a great source of pain and pleasure. But when it comes to intensity, nipples clamps rule the roost. Which brings us to these Spartacus Butterfly Nipple Clamps, sent to us for review by Vibrations Direct. After posting about numerous experiments with DIY nipple clamps, it's high time we reviewed something more serious. Hailing from the USA, Spartacus have been producing high quality, serious fetish and bondage gear for over 25 years.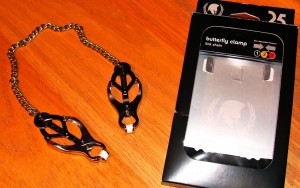 Arriving in discreet packaging, the Spartacus nipple clamps were presented in a tasteful black and silver cardboard window box. No tacky images of open mouthed naked girls here. Upon opening, first impressions are good, the clamps are well made, finished with care, sturdy and feel satisfyingly robust. They measure in at 9cm x 3.5cm, with a 30cm chain between them. The jaws of the clamps have white textured silicone pads, so no risk of metal edges cutting your skin, or slippage after some oiling. The metal employed is stainless steel, but I cannot confirm if they are suitable for those with a nickel allergy. The pair are finished with the Spartacus brand stamped into the metal and a joining chain, perfect for tugging or tying up. Butterfly clamps (also known as clover clamps) are special in this respect, as any tugging on them actually forces the clamps tighter! What better way to persuade your submissive to remain still and obey you every whim?
The springs in these clamps are strong, they are certainly a step up from clothes pegs and not for the faint hearted. Warm up your submissive well, slowly build up the pain levels and then apply these nipple clamps. Watch your submissive shriek and squirm, they will most definitely not forget the clamps' presence.
Picture the scene, Ms Kinnk has been tied up for half an hour. Standing tall in heels, back to wall, wrists tethered to a hook above her head, blind folded and collared; exactly where I like her. I have been tickling and lightly whipping her with a soft suede flogger, whilst licking, kissing and biting her from ears to nipples. She is aroused and moaning, wiggling in excitement and anticipation, aching for me to pleasure her. I start to bite her harder, make her scream; flog her harder, make her shriek. I apply the butterfly nipple clamps to each nipple in turn. Immediately she responds with a sharp intake of breath and deep a moan of agony. I tease the chain between the clamps, she shrieks again loudly. I tie a thread from the chain to a ceiling bolt, pulling her breasts outwards and bringing on more guttural moaning as she arches her back to lessen the strain. Satisfied with the setup, I sink to me knees and pleasure her clit with my tongue, bringing her close to orgasm, but pulling away moments before. I repeatedly tease her such, occasionally shaking the chain to the clamps, not that any reminder of them is necessary. And so our scene progresses until I finally give her release, flicking my tongue frantically and give the chain one last tug to push her over the edge.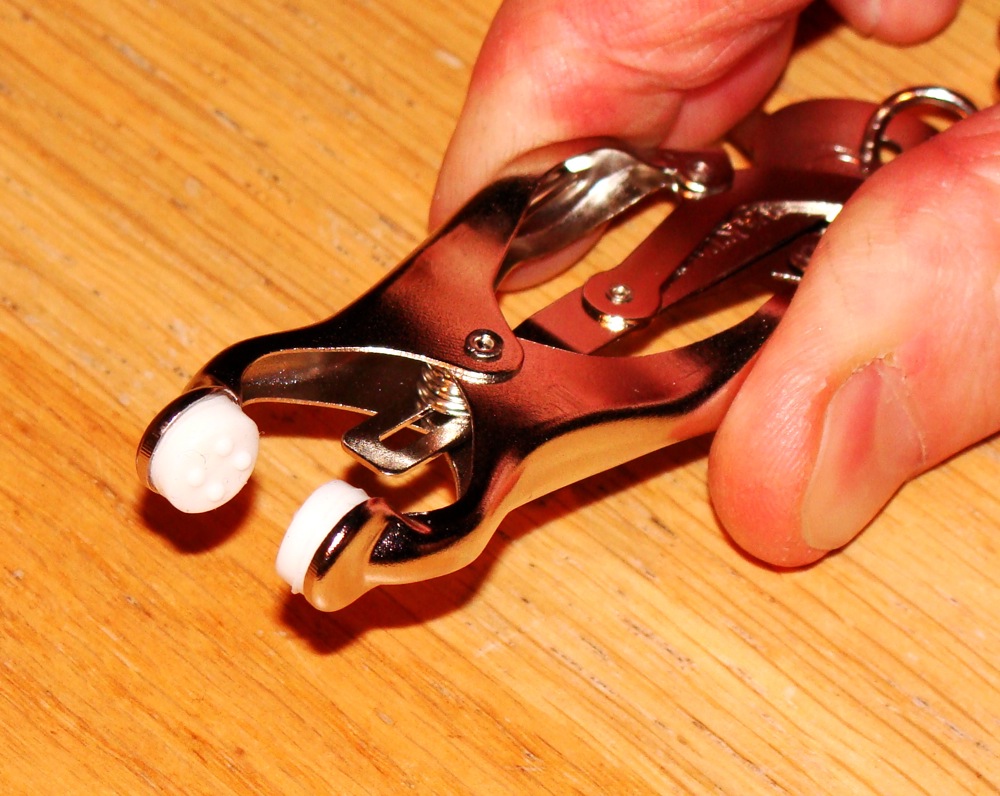 In closing, we were very impressed with these nipple clamps. Their construction and finish cannot be faulted, they are fun to play with and are available for a very reasonable price. For lovers of nipple play, they should be considered a toy box essential. Also, for those of a darker persuasion, these clamps are also available in a black oxide finish, albeit for a slight premium in price.
Kinky Kompare!