It has been a little while since we reviewed any vibrators at Kinky Testers, and with the Minna Ola gracing my bedside table for a while now, it is time to write a review.
The first thing to say is that the packaging for Ola is very stylish. It looks modern, sleek and well thought out. The packaging doesn't scream SEX TOY AHOY MATEY! The vibrator itself comes in either purple (my favorite color) or rose pink and comes with a plug for charging, a base for resting Ola on, and a silver drawstring bag for storage.
How is the quality of the Minna Ola?
Ola is made from a velvet-feel silicone and has curved shaft which is designed for either direct clitoral stimulation or G-spot stimulation when being penetrated. The lower button is used to turn the vibrator on and just requires a simple squeeze.
When it is on, the Ola will vibrate to indicate how much battery power it has. Three times means fully charged, if it only vibrates once or not at all, then it requires charging. The button will stay alight to show it is on.
The programming feature
The main attraction of the Ola is the ability to program your own patterns into it. To program a pattern into the Ola, just press the higher button. The button light will pulse on and off to indicate it is ready to record your pattern.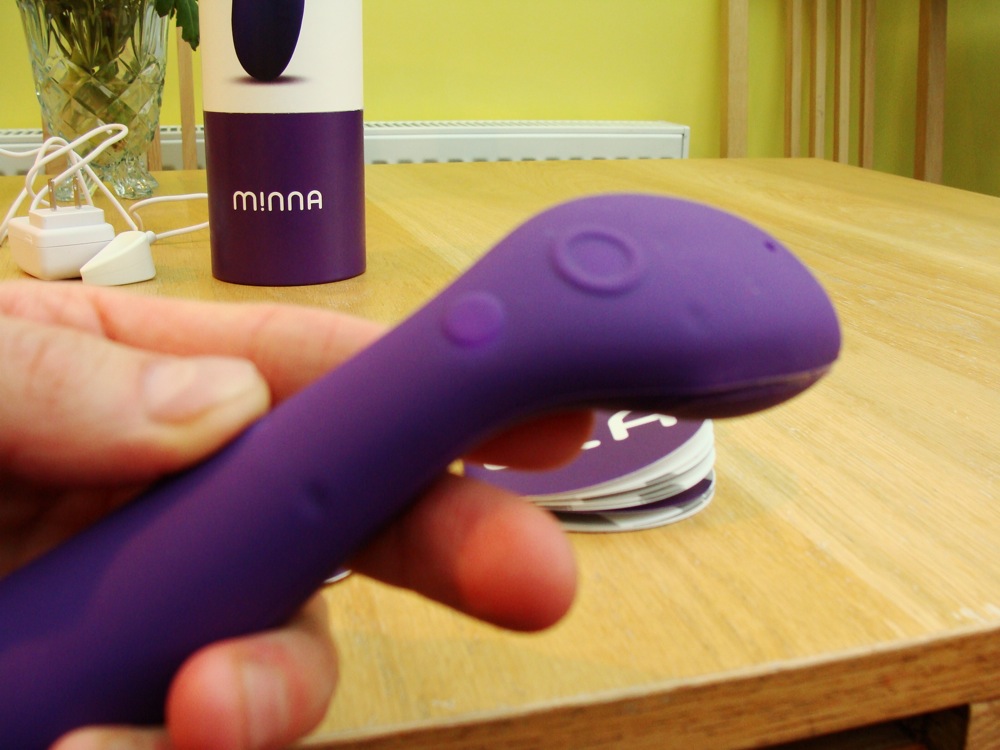 Then, simply squeeze the soft spot behind the buttons on and off to the required intensity and the Ola will record the pattern. Once you are happy with the pattern, simply press the top button again and this will lock the pattern, which will keep playing.
I found this worked really well, it is easy and fairly intuitive to use. A play partner could also have great fun recording their own pattern and using it on other sensitive body parts, especially the nipples!
When in lock mode the lock button light will remain on without pulsing and the vibrator will not respond to the soft spot. To exit the loop mode simply press the button again and it will turn off. Once the loop mode has been exited, the vibrator can be used as it is by simply pressing the soft spot for the required intensity.
Ola is fully waterproof as well and can be taken into the bath, which can be a lovely treat with plenty of bubbles and a glass of wine. Me time has never been so fun!
I do think that this is a very clever little toy and very stylishly designed. It is fairly powerful, but is also quiet, so can be used in shared accommodation without worrying about the flat mates asking what you have been up to!
Giving it a test drive
Being rechargeable is also brilliant, no faffing or worrying about batteries. Just remember to keep it charged, as being flat when you are feeling horny is such an anticlimax. Also please note that it cannot be used whilst it is plugged in.
My only reservations about the Ola are from using it for penetration. The side seams of the toy, in common with many silicone toys, have a ridge, presumably from where it is joined after molding.
I did think this felt a bit rough, especially in comparison with the finish of the silicone which is very soft and smooth. Some users may find this uncomfortable; I did a little. Ditto for the charging terminal which consists of four small magnetic pins in a small plastic point at the back of the toy. This felt rough against my perineum when it was used by Mr. Kinnk to penetrate me.
The use of water-based lubricants can help mitigate this a little, or a condom could be slipped over the whole toy. However, as one of the attractions of silicone toys is their velvet smooth feel, using a condom does somewhat miss the point of this.
Cleaning is simple: you can use any silicone-safe sex toy cleaner, or just plain soap and water. Minna recommends that the Ola is never washed in a dishwasher, although I've yet to meet anyone who washes their sex toys with their dirty crocks. I certainly can imagine the reaction of any dinner party guests 🙂
Update: The Minna Ola, is no longer being sold, but the We-Vibe Rave is almost the same product, but with way more features and better overall quality. You can check it out at Lovehoney here.