Electro-stimulation is something we at Kinky Testers have not played with extensively. Ms. Kinnk does however own a TENS machine, but this is not something we have incorporated into our bedroom play. Rather it was used mostly for relieving the pain of labor and bad backs.
So, when ÜberKinky asked us to review this Fetish Fantasy Shock Therapy Butterfly Stim from Pipedream, we jumped at the opportunity. As with all ÜberKinky's deliveries, the Butterfly Stim arrived promptly in discreet packaging. Good job too, as our next-door neighbor is a postman!
What's in the box?
The Butterfly Stim is presented in a simple cardboard box with the contents wrapped in a bubble wrap bag. The box does feature a rather dodgy looking couple in the nip, with over-exaggerated sexy time expressions. Ms. Kinnk cringed and laughed a bit.
Not a good start, but we don't like to judge a book by its cover here at Kinky Towers.
The main control unit itself is a simple silver plastic affair. It takes two AAA batteries (included) and sports a couple of push buttons and LED lights. It's quite dinky at just 8cm x 6cm x 2cm.
How is the Shock Therapy Butterfly quality?
Build quality doesn't stand out, but it is more than adequate. Onto this unit, we attached the butterfly shaped electro pads, via a pair of poppers. These measure in at 21cm x 10cm and have sticky areas for attaching to the body.
It is through these areas and the sticky gel that the electric current is passed into the body. The kit includes two of these butterfly electro pads and each can be used numerous times, thanks to the durability of the sticky gel. In the box you also get a free blindfold, however it's cheap, scratchy and not very effective.
Let's give it a try
Plugging it all in is nice and simple; stick some butterfly pads to the control box, un-peel the plastic film covering the sticky gel, apply to body and press the on button. Done!
The on and off buttons double as 'increase' and 'decrease' functions to change the intensity of the electric current (10 levels in total). The lowest setting is hardly noticeable, whereas the max setting is enough to make one jump and scream!
The third button cycles through different programs, i.e., patterns of on-and-off. Though none vary the intensity, just different combinations of bursts of varying durations. There are 6 programs available, including a constant on. A big plus point, is the unit is completely silent, no distractions or worrying if others can hear you.
As fate would have it, for the first couple of days after receiving this Butterfly Stim, I suffered some aggravating lower back pain, so ended up using it for pain relief.
On a low setting, it was surprisingly effective. The Butterfly Stim is essentially the same as a TENS machine, in that it sends current through the skin, via the pads, to disrupt the nerve receptors beneath.
However, once we were all better, we were keen to get started. To begin with, I applied the unit as I have described to Antonia's lower back before we engaged in a nice session of anal sex. I'll hand over to Ms. Kinnk now so that she can give you the 'low-down.'
Antonia Kinnk's View
The butterfly unit was comfortable to wear and would be small and discreet enough under clothes. Chris applied the butterfly stimulator to my lumbar back and started the pulses on fairly low until I was used to it, and then ramped it up a bit.
The Butterfly Stim cycled through different cycles which felt really good when Chris was getting into our sex session, and added variety. Cycling through different patterns prevented me from becoming used to the Butterfly Stim in the same way as one attunes to a TENS machine.
From the point of view of sex, it created another area of sensation which added to and enhanced the sensations from having sex. It would also be great used as part of foreplay or in a play scenario, with appropriate consent and safe words of course.
The unit provides for a wide range of stimulation, ranging from very low for beginners, to more intense sensations for those with more tolerance. The Butterfly Stim would also be an interesting addition to solo-play and can be used on most parts of the body.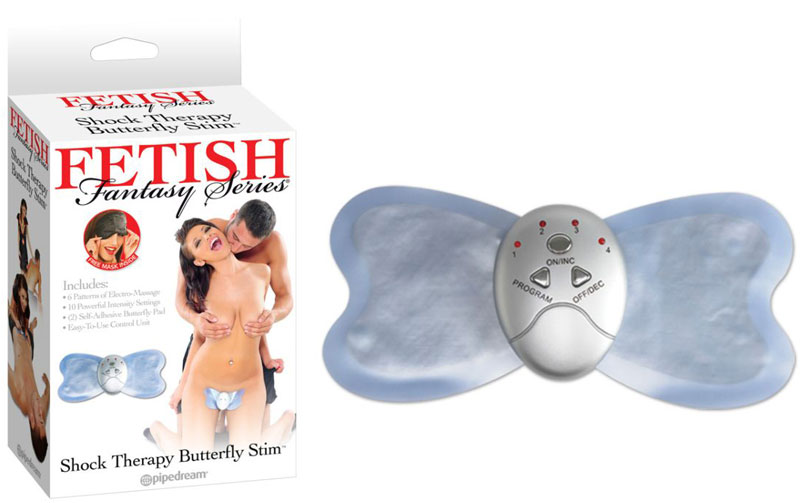 My final conclusion of the Series Shock Therapy Butterfly Stim Review
So, all in all, we would both recommend the Shock Therapy Butterfly Stim for some electrifying fun times. It is not perfect, but at just £30 it is a veritable bargain, that any niggles can be overlooked to provide a great introduction to electro-stimulation.
Have you bought the Shock Therapy Butterfly Stim? What did you think about it? Let us know in the comments below.
Buy the Pipedream Fetish Fantasy Series Shock Therapy Butterfly Stim kit from ÜberKinky.