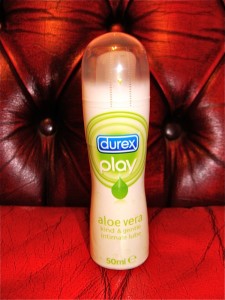 Durex is a brand everyone is familiar with. For me it was that first packet of condoms tentatively purchased from a pub vending machine as a teenager. Today however, we are reviewing a small bottle of their lubricant purchased from Lovehoney. It is however commonly available at a multitude of places, from local pharmacies to your favourite supermarket.
This lube is water soluble and marketed as being being kind and gentle, which it certainly lived up to. It's clear, tasteless and also odourless. However, it is supposed to be scented with aloe vera, which I wasn't able to detect. The bottle has a pump action nozzle, which is great for fuss free dispensing and no spills.
In use, the lube was effective and being water based could be used with all of our toys without worry (and would be safe with condoms too). It's not the thickest and is not super long lasting, but satisfactory for getting started with dildos or a session with the Fleshlight. Overall, a good product you can depend upon and easily available anywhere.
Kinky Kompare!