At Kinky Testers we have been enjoying a number of electro-stimulation toys for some time now. However when we recently visited the Erotica show recently we stopped by the ElectraStim stand and discovered their brand new toy on the market, that stood out as something a little different. On the face of it we have a good solid leather paddle, no surprises so far. The paddle then has three metal plates on it, OK, fair enough, we've seen plenty of paddles with metal studs and other adornments. However on closer inspection you will notice in the base of the handle has two electrode sockets hidden away discreetly – Ooooh hello!
Yes, you guessed right, those metal plates are electrodes that can deliver a little electric shock to your submissive as you spank them. Interested? We certainly were and soon the credit card was handed over. The ElectraStim ElectraPaddle is packaged simply, just a plain box with a large image of the paddle within. No instructions are provided, not that any are really needed. Equally as obvious, you will require an electro-stim control box to connect the paddle too, which isn't included. For our testing we used the ElectraStim Flick, which we reviewed previously. However the electrode connectors are of the standard 2mm variety, so you should be able to use many other controls boxes or TENS machines.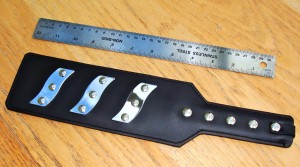 Construction of the paddle appears very good, solid and quality materials throughout. Made from two leather halves stitched and and studded together. The three metal electrode plates are similarly studded to the leather. The rear of the paddle is plain leather, so you can switch to a non-electro spank as required. The electrode connectors in the handle are set between the two leather halves and are barely noticeable until you plug your control box wires in.
When it comes to play time, the paddle gives a sharp stinging pain over a large area, red and warm cheeks are the name of the game here. My only criticisms would be the flex in the paddle where the handle joins the body, at times it felt a spot on the flappy side and had me wanting more rigidity. Secondly, getting a good swing with the cables attached can be a bit awkward. Getting tangled up in wires would be a big Dom fail.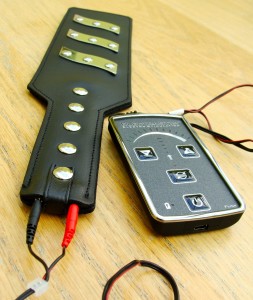 The metal plates look harsh, but are not as brutal as appearances have you believe. The effect of electro-stimulation through these metal plates was not as I first anticipated, on tougher skin areas, like the buttocks, electric current doesn't pace so readily. I had to crank my control box right up and hold the paddle against the cheeks to achieve a tingling sensation. Applying conductive gel (or even just a water based lube) to the body prior, does increase the sensation felt. At the point of impact the electro-stimulation wasn't perceivable, it was completely masked by the impact. When held against more delicate areas, like inner thigh or genitals, the electric current was definitely more pronounced. As such I had most fun alternating between traditional whacks and gentle caressing with sharp electro-stim tingles.
To sum up, we had a lot of fun playing with this ElectraPaddle and can definitely recommend it to those who enjoy a good paddle and also like to dabble with electro-stimulation. This paddle will let you combine both sensations, alternating between the two to surprise your submissive, without the hassle of swapping toys mid session.
Kinky Kompare!
Retailer
Product
Price†
† Price excluding postage.
More information over at the manufacturers website.